Man Praised for Throwing Stepson's 'Mocking' Father's Day Gift in the Trash
A man has been widely praised for throwing his stepson's father's day gift straight in the the trash, after he mocked his sobriety.
The 38-year-old took to Reddit's Am I The A**hole forum, under username u/Tinted-Board5966, where he explained he's not drunk alcohol for years, after struggling with alcoholism for three years.
After getting sober, he married his wife, who has a 16-year-old son, Jake, in 2021. He wrote: "Jake and I aren't really close but we have a cordial relationship, his dad's in the picture so it's pretty clear that he never sees me as a dad."
His relationship with the teen has been rocked by numerous arguments, as he wrote: "Jake has done a number of things in the past that caused us to fight like getting into trouble and making me pay for damages, or damaging my own things and having me pay for them.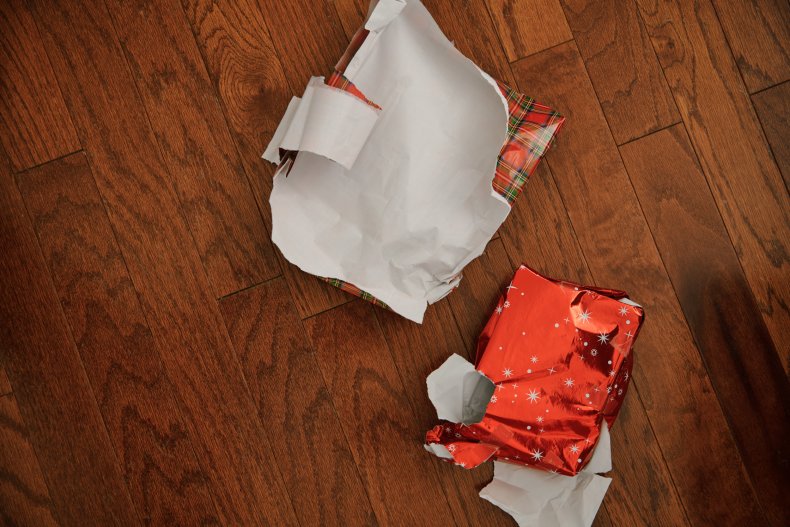 "He also constantly mocks my sobriety every chance he gets. Some issues got worked out with time but the 'mocking' is pretty much still there. I told him, told my wife how this makes me feel but got nowhere."
But tensions boiled over on Father's Day, June 19, as the man revealed his wife's family joined them for lunch.
He said: "We had dinner and then Jake surprised me with a gift saying it was for me for Father's day which I thought was sweet (completely out of character for him to get me anything). However, from the way he was smug smiling I just didn't feel comfortable.
"Anyway... I opened it and behold... there was a flask and a glass....... frankly? I felt like he just made fun of, or mocked one of the biggest, most difficult struggles in my entire life. I froze... I didn't know what to say or how to act since everyone was literally watching me."
Tinted-Board5966 said Jake was "giggling hard," and that's when he "got p****d."
He continued: "I put everything back, then grabbed the box and told him 'this doesn't belong in my house' then I opened the door, walked up to the trash can and threw the entire thing in there. My wife, her mom and my stepson were at the door watching.
"Jake went downstairs and my wife started arguing with me about what I did, we got into an argument that's when her parents left.
"My wife got more upset saying how I reacted was childish and that Jake was just 'teasing' me and I should loosen up and stop being dramatic.
"I refused to get engaged any further and now there's just so much tension in the house and silence from my in-laws."
The post, which can be read here, amassed more than 14,000 upvotes and comments, as people backed his actions.
StanTurpentine commented: "Yea, I wouldn't trust that kid with anything. I'd honestly say that divorce is definitely on the table if OP's [original poster] wife isn't going to support his sobriety."
IzzyDranik pointed out: "That giggling was a clear tell he knew what he was doing."
Pure-Fishing-3350 admitted: "I would be mortified if one of the children I raised did something like this."
Missplaced24 said: "I wouldn't even call this choosing her son. This is sh**ty parenting IMO [in my opinion]. Who defends their kid harassing someone over their addiction? I'd be having serious words with my kid if they ever pulled a stunt like this on anyone."
Lotex_Style reckoned: "Even worse, it's straight up sabotaging OP and his accomplishment."
The graph below, provided by Statista, shows what parents wanted as gifts for Mother's and Father's Day.
Such_Option7830 observed: "NTA Your stepson has an obvious resentment & is an AH. Wife is also a bit clueless and also an AH. It must be hard to even be around the stepson, and I suspect that's what the kid wants."
Ksharonisok replied: "Definitely this but I'm appalled at your wife's reaction towards you and lack of response to her son's horrible behavior. NTA but are you sure you want to stay married to this woman?"
While TruckPure6828 added: "Agreed! OP should reconsider his marriage. I can't believe she had the audacity to defend her son, who is definitely old enough to know better."
According to the National Retail Federation (NRF), Americans were forecast to spend $20 billion this year for the annual celebration of dads.
The NRF said: "Consumers plan to spend an average of $171.79 to honor their fathers and other important men in their lives, nearly mirroring last year's expected average spending of $174.10."
In 2021, alcohol was among the top gift choices, according to a YouGov study. When asked, 11 percent of American dads said they were eyeing up beer, liquor or wine from their children.
Newsweek reached out to u/Tinted-Board5966 for comment.