Man Pranked with Fake Job Interview by Roommates: 'Too Stunned to Speak'
A college student went viral after sharing footage from a job interview that was actually an elaborate prank by his roommates.
Caleb Moore, or @cmoney42, posted the TikTok on April 9 where it received more than 750,000 views and 600 comments, many saying they would be devastated if they were tricked into preparing for an interview for a fake internship.
While the job search is stressful for most individuals, many college students feel the pressure to receive a summer internship before graduation as a way to help with future job searches and networking.
The National Survey of Student Engagement estimates that 50 percent of college seniors had participated in either an internship or some sort of field experience prior to graduation.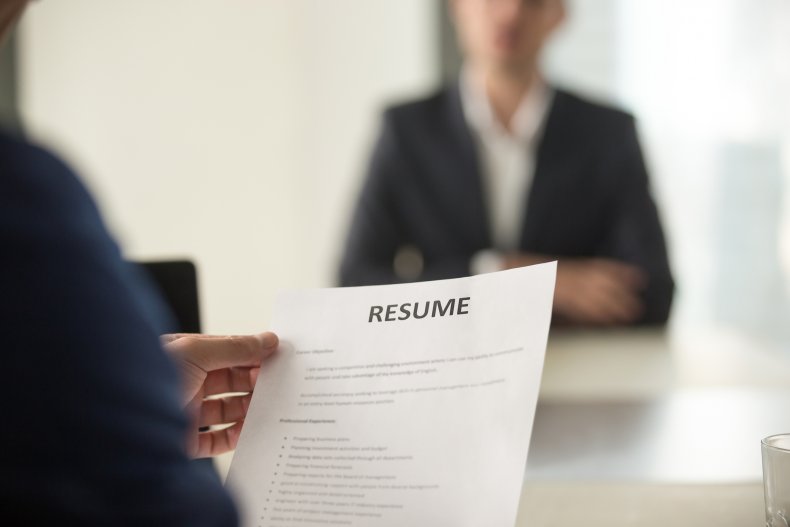 However, the National Survey of College Internships 2021 found that nearly 70 percent of students without internship experience faced obstacles in finding a position.
The survey found that about 44 percent of students faced internship cancellations due to the pandemic and that 41 percent said there were not enough opportunities.
"My roommates took April fools pranks to the next level this year," the caption of the video read.
In the video, Moore explained that he received an email from a man named Roger Filmen offering a summer internship and asking if he'd be interested in an interview.
The email included a fake photo of "Roger" and a headshot with contact information in the signature block.
Moore then showed screenshots of the email chain with Roger to set up the interview.
"Here is the zoom link for the interview today at 4:30. Do not stress out, it will be a very laid back interview," the email from Roger read. "My co-worker and I will conduct the interview."
The TikTok then cut to the roommate's laptop screen, showing three men in suits and ties waiting on a Zoom call and holding back laughter.
At 4:30, Moore entered the call with his camera on. At first, he looked confused but then his mouth dropped open as he realized his roommates pranked him.
As Moore's roommates laughed, he sat there quietly staring at the camera with his mouth open. He then covered his mouth with his hand.
"April fools," one of the men said before another jokingly asked questions about Moore's resume.
Moore then laughed and put his dead down on his desk before calling his laughing roommates "a**holes."
More than 600 users commented on the TikTok, many offering support to Moore and others praising his roommates' elaborate prank.
"The man was too stunned to speak," one user commented.
"Imagine going through all that effort for a degree to be played like this," another joked.
"Homie dying inside after this being the only company that replied back," another wrote.
Newsweek reached out to Caleb Moore for comment. In the comments section, he revealed that after looking more carefully at the email, the first word of each sentence spelled "April Fools."
Other individuals have recently come under fire for ill-judged April Fools' Day pranks, including one boss who "jokingly" fired an employee.
The employee wrote about the prank on Reddit's popular r/anitwork forum, where it received nearly 90,000 upvotes and 6,400 comments, many from users calling the boss "cruel."
In Kansas, a woman was arrested after she pranked her daughter by texting her that she was shot, prompting emergency services to respond.
The woman was arrested on suspicion of an unlawful request for emergency service assistance after the 2021 April Fools' prank.