Man's Reaction to Hearing 'Gunshots' Outside Caught on Ring Doorbell
A video of a man reacting to what he thought were gunshots has gone viral on TikTok, where it has received 6 million views.
The clip shared by TikToker @magsphot0 was posted with a caption reading: "my roommates boyfriend getting spooked last night, ring footage is unmatched #jumpscare #ringdoorbell."
According to a message overlaid on the Ring security camera footage, the boyfriend "thought he heard gunshots."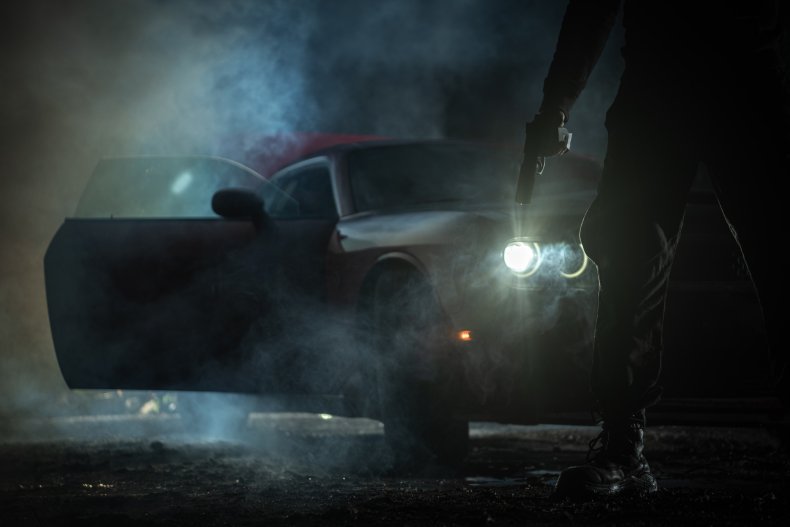 As a man was seen walking across a sidewalk and stopping at its edge, a subsequent message on the TikTok video read "*car backfires*."
Suddenly, what sounded like loud shots and a car racing across the road was heard followed by flashes of light. The man in the video was seen ducking to the ground before hiding behind a car.
"We were laughing so hard, poor guy. Fully stops, drops and rolls," another message overlaid on the clip said.
As dramatic as the man's reaction in the latest viral video may have seemed, his precautionary measures can be understandable because of gun ownership in the U.S.
According to a Pew Research survey of U.S. adults conducted in June 2021, four in 10 say they live in a household with a gun, including 30 percent who say they personally own one.
Nearly half of Americans (48 percent) see gun violence as "a very big problem" in the U.S., while 24 percent say it is "a moderately big problem," according to a Pew Research survey of U.S. adults conducted in April 2021.
In a Gallup poll from August 2019, gun owners were most likely to say personal safety or protection was their reason for owning a firearm.
Several users on TikTok applauded the man for his "survival skills," and others thought his reaction was understandable.
User @joeshmoeloedoe wrote: "I mean this is the US so it's a proper assumption sadly [that there may be gunshots]."
Pecanpie posted: "Bless him. This is how we have to reach because of this sick world."
In a comment that got over 17,000 likes, Maggie McGaugh wrote: "Who WOULDN'T react this way though?? I jump if my husband coughs too loud," while Lydia Menasria commented: "that would 1000% be me like what."
In a comment that received more than 43,000 likes, user @jslotca posted: "Honestly some good survival skills I would have just stood there lmao."
Kendall Hamlin wrote: "...You know that man will react well in an actual dangerous situation."
Some TikTok users were left wondering what the flashing lights seen in the video may have been, with some thinking that there could have been actual gunshots.
NR34 asked: "So what were the instant flashes on the windshield before the car passes?"
User jjlikesmoviescars wrote, "that backfire don't have a flash of light from the inside," while shannaeasonI posted: "...not to be funny but there is flashes before that car even passes."
Newsweek has contacted the original poster for comment.
Do you have a similar video to share? Send them to life@newsweek.com with some details and your story could appear in Newsweek.