Man Receives Double Transplant After Lungs 'Irreparably Damaged' by Vaping
Staff at the Henry Ford Health System in Detroit, Michigan, performed what is thought to be the first double lung transplant in the U.S.in October to save a male patient whose lungs had been 'irreparably damaged' by vaping.
The 17-year-old patient was admitted to St. John Hospital on September 5 with pneumonia-like symptoms and was connected to an artificial lung. However, his condition continued to deteriorate and he was taken to Henry Ford Hospital on October 3.
His condition was so severe, the hospital placed him at the top of the transplant waiting list.
"This teenager faced imminent death had he not received a lung transplant," Hassan Nemeh, Surgical Director of Thoracic Organ Transplant at Henry Ford Hospital, said in a statement. Nemeh performed the transplant on October 15 with two other surgeons and a team of experts.
"This is a preventable tragedy," he added. "And we have so much respect for this family for allowing us to share their pain to prevent the same from happening to others. The damage that these vapes do to people's lungs is irreversible. Please think of that—and tell your children to think of that."
The hospital released a statement on November 12 to say the 17-year-old patient that received the double lung transplant is doing as well as can be expected. He is currently working to build up strength and walk. However, a full recovery could take months.
Concern over the possible health implications of e-cigarette use is growing as more people take up vaping and vaping-related injuries become more commonplace. But Dr. Panagis Galiatsatos, a medical spokesperson from the American Lung Association, told Newsweek, lung-related illnesses caused by vaping like these are rare.
"However, more common lung diseases (e.g. asthma) are likely to be made worse by vaping and increase in prevalence. Overall, vaping is likely to create a surge on prevalence of common lung diseases (due to the chemical nature of the contents of electronic cigarettes) as well as create a new cohort of pulmonary diseases."
Studies have recently come out suggesting vaping could be "potentially even more" damaging than conventional smoking.
Only yesterday, vaping-related injuries made headlines across the Atlantic. British teenager Ewan Fisher told BBC News "I thought I was going to die" after months of e-cigarette use caused his lungs to collapse and left him reliant on an artificial lung.
Fisher had switched to vaping from conventional cigarettes in 2017 when he was 16 years old, in an attempt to focus on his amateur boxing career. However, he increasingly found it harder and harder to breathe and after just months of use, Fisher had to be rushed to the emergency room where he was diagnosed with hypersensitivity pneumonitis and had to be put on life support.
Rachael Hodges, Senior Policy Officer at the British Lung Foundation, told Newsweek the illness "appears to have been an allergic response" to the content of e-cigarette vapor.
"This previously well young person presented with a catastrophic respiratory illness," said medics, writing in the journal Archives of Disease in Childhood, published Monday. "For such to be the very first presentation of asthma would be virtually unheard of."
Two years later and Fisher has mostly recovered, but says he is "still not back to normal."
The authors of the case study conclude "we consider e-cigarettes as 'much safer than tobacco' at our peril."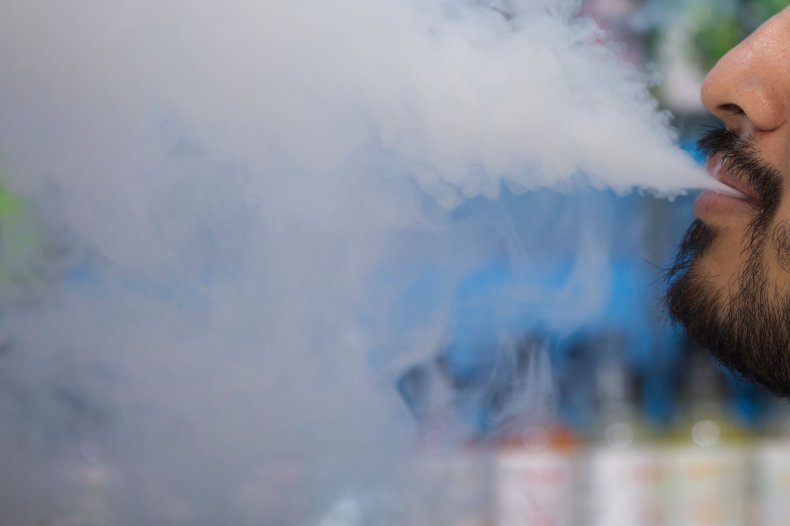 E-cigarettes are thought to have fewer toxins than traditional cigarettes, which release more than 7,000 chemicals when burned (at least 69 of which are known carcinogens). However, they can still contain nicotine, heavy metals, volatile organic compounds and other harmful substances.
E-cigarettes have also been linked to an outbreak of a vaping-related illness—"e-cigarette or vaping product use associated lung injury," or EVALI—which has affected more than 2,000 users in the U.S., 39 of whom have died as a result. Experts have not yet conclusively determined what causes EVALI but have observed certain similarities between cases that may offer some clues.
Of specific interest is the fact cases often involve products containing THC, the main psychoactive compound in cannabis, and lab testing recently published by the CDC suggests vitamin E acetate may be a major factor. However, "evidence is not yet sufficient to rule out contribution of other chemicals of concern to EVALI."
Other adverse health effects linked to vaping include DNA damage and emphysema.
Professor John Britton, Director of the UK Centre for Tobacco & Alcohol Studies and Consultant in Respiratory Medicine, University of Nottingham, told Newsweek we can expect to see vaping-related cases of lung cancer, chronic obstructive pulmonary disease and pulmonary fibrosis in the future.
"But the numbers involved are likely to be low, and substantially lower than those currently caused by smoking," he said. "It is inconceivable that vaping will turn out to be as harmful as smoking."
Other studies have suggested there are no adverse effects linked to long-term vaping, while some espouse the benefits—finding smokers could gain 86 million years of life if they switched to e-cigarettes. A review published by Public Health England in 2018 concluded vaping was 95 percent less harmful than conventional cigarettes.
"We maintain our support of the evidence-based Public Health England position that e-cigarettes are 95 percent less harmful than cigarettes," said Hodges.
"We need further research into the long-term health effects of e-cigarette use on the lungs in particular and on the specific effects of different chemicals and components."
"What we do not know at present is the degree of harm that these products will result in," Professor Jørgen Vestbo, the European Respiratory Society Advocacy Council Chair, told Newsweek. "As was the case for cigarette smoking, we will not know the full effect for many more decades, and by then millions of people will have been harmed."
The official line released by the CDC is that vaping has "the potential to benefit adult smokers who are not pregnant if used as a complete substitute for regular cigarettes and other smoked tobacco products," but advises non-smokers "don't start." Young people and pregnant women are also advised against vaping.
The article has been updated to include comments from Rachael Hodges, John Britton, Panagis Galiatsatos and Jørgen Vestbo, correct the time of the operation from Monday to October, and include new information released in a hospital press release on November 12, 2019.