A teenage boy suffered potentially life-threatening lung failure after vaping, in a case which doctors say highlights the potential dangers of young people using e-cigarettes.
The unnamed 16-year-old was admitted to a hospital in the central U.K. city of Nottingham, after his family doctor initially believed he had developed asthma. In the week prior to visiting the facility, the patient had come down with a fever, suffered from a cough he couldn't shift, and had found it harder and harder to breathe. He was prescribed antibiotics and an inhaler, but his symptoms did not improve.
At the hospital, the boy's condition quickly worsened until he had respiratory failure. This is where the lungs are unable to pass enough oxygen into the blood. Hospital staff hooked him up to a special machine to help oxygenate his blood. Doctors also gave him antibiotics and steroids through an IV drip.
The boy told doctors he had started vaping relatively frequently before he fell ill.
Tests showed the boy had developed what is known as hypersensitivity pneumonitis. This is an immune reaction which can happen when certain toxins or irritating chemicals are inhaled into the lungs
After 10 days, the boy was in a critical condition and had developed severe muscle weakness. Some 35 days after he was first admitted, doctors deemed the boy well enough to go home.
But almost two months after he was hospitalized, the teenager was still suffering from some symptoms.
To try to find the cause, doctors swiped some vaping liquid on to his skin to see if he was allergic. They tested the vaping fluid he had used, and carried out blood tests. The team found antibodies against one of the two liquids in his blood.
A year and two months after he was first admitted, he was free of symptoms and his lungs were working as normal. But it remains unclear what caused the reaction.
The authors of the case study published in the journal Archives of Disease in Childhood noted flavored e-cigarette fluids contain chemicals which can irritate the airways, such as propylene glycol and vegetable glycerine, "that likely induce respiratory effects not seen in tobacco smokers." The chemicals the fluids released when they are vaporized can also irritate the respiratory system, they wrote.
The authors concluded: "We consider e-cigarettes as 'much safer than tobacco' at our peril."
Dr. Jayesh Mahendra Bhatt, consultant respiratory paediatrician at Nottingham Children's Hospital who treated the boy, told Newsweek he was surprised by "the fact that vaping can [make] a young person very ill."
Dr. Nick Hopkinson, medical director of the U.K. charity the British Lung Foundation and reader in Respiratory Medicine at Imperial College London, did not work on the case. He surmised in a statement that the patient could have been allergic to a component of e-cigarette vapor.
It is less likely the illness was caused by a toxic chemical in the vapor as cases haven't happened in clusters, as they have done in the U.S., he argued.
"However, in this kind of condition it can often be difficult to make an accurate diagnosis or know for certain what the cause is. This kind of lung disease can sometimes occur spontaneously without any obvious trigger," he said.
Professor John Britton, director of the U.K. Centre for Tobacco and Alcohol Studies and Consultant in Respiratory Medicine at the University of Nottingham who didn't work on the study, agreed that the boy was likely allergic to an ingredient in the liquid.
He said in a statement: "There have been a very small number of cases of this condition reported in vapers worldwide, so I think we can conclude that it happens but is thankfully very rare."
"The authors say 'we consider e-cigarettes as 'much safer than tobacco' at our peril'. I strongly disagree. Smoking kills half of long-term smokers. Rare conditions like this need to be recognized, but there is no comparison: vaping is far less risky."
However, health officials at the Centers for Disease Control (CDC) are warning users in the U.S. not to use e-cigarettes while experts investigate a country-wide outbreak of lung-related illnesses.
It is unclear whether one compound or ingredient is the cause. However the CDC now believes vitamin E acetate could play a role, but said "evidence is not yet sufficient to rule out contribution of other chemicals of concern to EVALI [ e-cigarette, or vaping, product use associated lung injury]."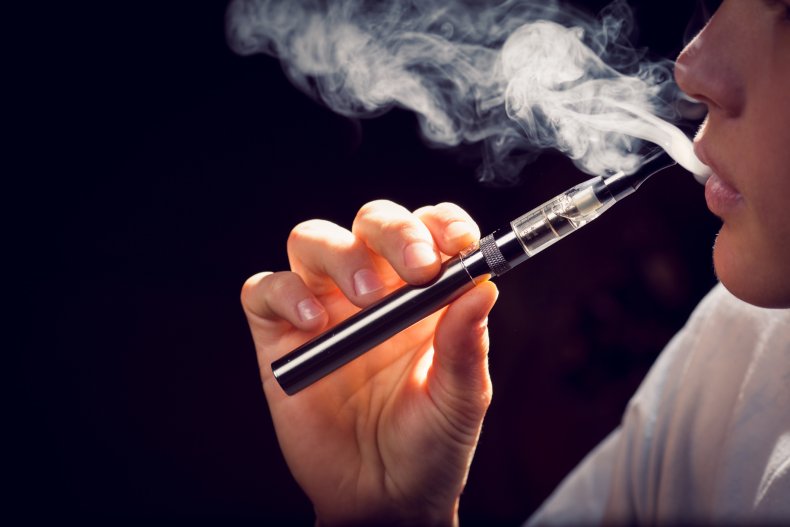 Uncommon Knowledge
Newsweek is committed to challenging conventional wisdom and finding connections in the search for common ground.
Newsweek is committed to challenging conventional wisdom and finding connections in the search for common ground.
About the writer
Kashmira Gander is Deputy Science Editor at Newsweek. Her interests include health, gender, LGBTQIA+ issues, human rights, subcultures, music, and lifestyle. Her work has also been published in the The Independent, The Independent on Sunday, The i Newspaper, the London Evening Standard and International Business Times UK.