Man Strangles Woman to Death Less Than 72 Hours After Jail Release—Police
A man who was recently released from jail allegedly killed a mother on a city bus in Phoenix, Arizona, just 72 hours after he was allowed to walk free, investigators say.
Additionally, reports suggest Joshua Bagley, 26, was only released because of "a litany of mistakes and miscommunication" by officials, according to local news channel ABC 15.
Bagley was locked up in Arizona's Maricopa County Jail but was released on the morning of May 3. Less than three days later, on May 6, Phoenix police allege he strangled 41-year-old Diane Craig who was riding a bus in the city. Bagley reportedly fled from the scene and was still at large as of May 10.
Craig was found unresponsive on the bus around 8 a.m. Police sources told People there were signs she had been strangled and she was rushed to a local hospital, where she was later pronounced dead. Investigators found "enough evidence to name Joshua Bagley a suspect in her death," a police spokesman told the magazine.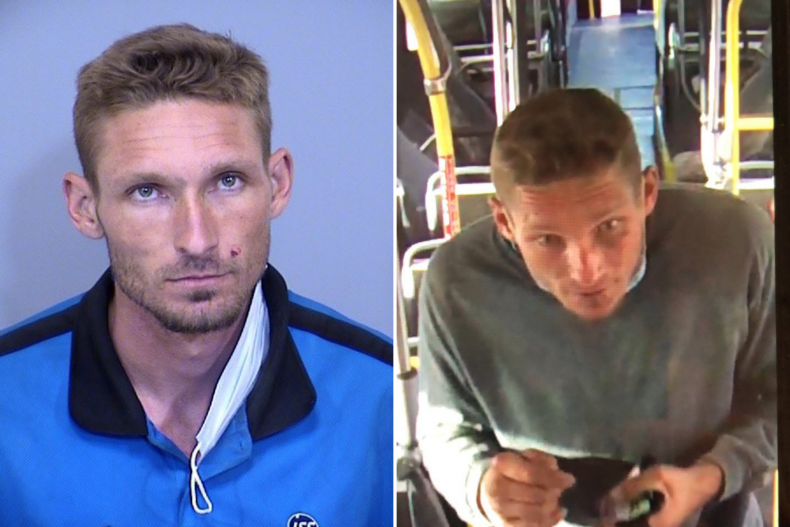 Craig's friends and relatives, many of whom affectionately called her "Bubbles," have paid tribute to their loved one. Her cousin, Roshuanda Boss, told local news station KPNX: "Diane was a wonderful person. She was so full of life." She added the whole family is "hurting" now.
Another cousin, Shontae Vinson, said: "She was like the life of the room." Referring to Craig's killer, she said: "He robbed our family. He did, he robbed our family."
But reports have suggested that opportunities to apprehend Bagley were missed.
He had been arrested twice in April by two different police departments in Arizona. However, ABC 15 reported that Bagley was never held for more than 72 hours despite the fact an active felony warrant was out for his arrest in the first instance, and he told officials about the same extradition warrant on the second occasion.
According to reports, the felony warrant had been issued by Lake Havasu City Police. The first time Bagley was arrested in April was by Mesa police, who picked him up on that warrant which should have seen him extradited back to Mohave County, the report said.
According to ABC 15, Mesa police informed the Lake Havasu City Police that Bagley was in custody, and Lake Havasu City police agreed they wanted him extradited. But the Mohave County Sheriff's Office reportedly never picked up Bagley and did not notify Lake Havasu City police that the process had not been completed.
When questioned by ABC 15 as to why neither of these actions had been done, a spokesperson for the Mohave County Sheriff's Office said they needed time to look into the matter.
The second time Bagley was arrested was at the end of April—just a week before the alleged killing. This time, he allegedly threw a crystal meth pipe out of a car window when he was pulled over by Goodyear Police Department in a stolen vehicle with a stolen license plate.
Bagley was booked in Maricopa County Jail on three felony charges and five misdemeanors. But Bagley ended up walking free without having to post any of the $750 bond, even though he had mentioned to the judge that there may be a "conflict of schedules" because he was likely to be extradited due to a case in Mohave Country.
The Maricopa County Attorney's Office chose not to charge the case immediately, according to ABC 15, and sent it back to Goodyear police for further investigation instead, paving the way for Bagley's release.
Due to the mix-up during the first extradition attempt, the warrant was in fact no longer active, the report said, and had automatically been classified as a "detainer." The arrest warrant had to be refiled in Mohave Country to reactivate it, ABC 15 said.
A new felony arrest warrant with extradition was reportedly issued in Mohave Superior Court around 9:30 p.m. on May 3. But Bagley had already walked out of the jail at 11 a.m.
Newsweek reached out to Mohave County Sheriff's Office and the Phoenix Police Department for comment.
Update 05/11/22, 11:38 a.m. ET: This article was updated with additional information.