Man Relives 'Embarrassing Date' After Swiping High School Crush on Bumble
Dipping your toe into the world of dating is daunting, and many of us will have stories of embarrassing dates and moments we'd rather forget. But one Reddit user was recently reminded of an embarrassing teen date when he matched with his high school crush on a dating app.
Taylor Bingham from Salt Lake City, Utah shared the story on Reddit's r/Tinder forum on Thursday, where it has received more than 55,000 upvotes.
In the post, he shared a screenshot from Bumble alongside the caption: "I matched with my high school crush and I got my answer as to whether she remembers the embarrassing date we went on."
In the messages, his high school crush was amazed to match with him.
She wrote: "I just had a weird dream you ripped your pants ice skating and had to drive back to your house and when you came back it was 15 years later...on bumble."
Bingham replied: "Yep... yep... yep... well it was fun catching up. I have to go bury myself alive."
In stitches at the interaction, Reddit users headed to the comments. One user wrote: "The banter is real," while another joked: "Are those wedding bells? Nope, OP's pants just ripped and his change fell out."
Recalling the date, Bingham told Newsweek: "I would have been probably 17. Us and some friends went on a group date to the local rec center. I was pretty nervous and excited because this girl had always been a major crush of mine. She lived a block away and we had always been good friends, but she was a little out of my league. If I remember correctly it was the only real date we went on.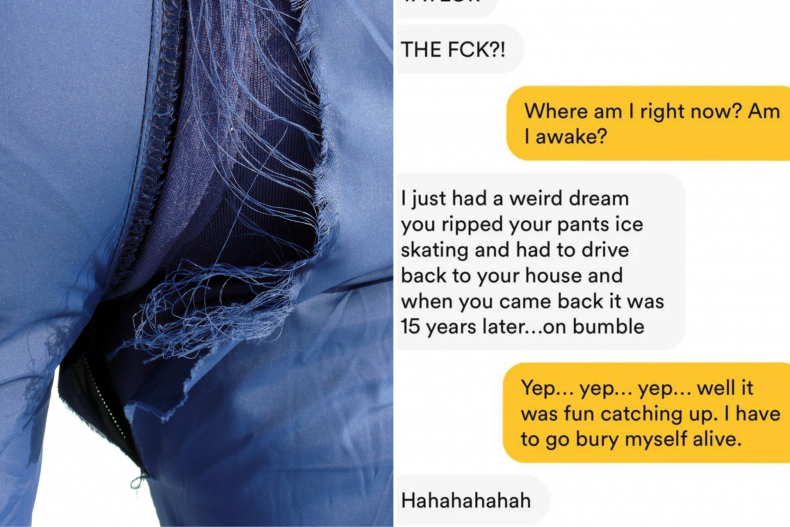 "We get to the rink and we're having a good time. After a while, my too-tight emo-kid jeans ripped. And I don't mean a little rip—this was the Grand Canyon of crotch holes. I skated over to the box where Hockey players sit and she came over too. She was doing her best not to laugh, but it was too absurd not to."
In a heroic move, his crush offered her jacket to tie around his waist so Bingham could sneak out to his car and go home to change: "It was a bit of a drive to my house so by the time I got back to the rink it was time to go home," he explained: "I was way too embarrassed to ask her out again."
Said to have been founded to challenge the antiquated rules of dating, the app Bumble has an estimated 12.3 million monthly active users, with a 19 percent market share among U.S. dating apps.
Set up by Whitney Wolfe Herd, the woman who was also one of Tinder's creators, Bumble is a dating app where women make the first move. In heterosexual matches, women are required to make the first move, while in same-gender matches, either person has the power to make the first move.
"Good for you both," wrote another Reddit commenter: "You'll have a nice meet-cute story for the grandkids." While one comment said: "This is adorable."
"We've both been married and divorced since then, and both have kids," explained Bingham: "I had seen she was single again, but when she showed up as one of my 'likes' on Bumble it blew my mind.
"So far we've mostly just talked about our breakups and caught up a little."
As to whether it'll go any further, Bingham says it depends: "I'd like to get some coffee at least and catch up, but I'm also a chicken so."