The pandemic has transformed the way we search for love, according to a survey conducted by dating app Bumble. People are more open to trying new things, it found, with 48 percent of singletons describing their approach to romance this year as "exploratory."
New dating opportunities mean new trends—and a bunch of new terms, from "coronesty" to "oystering." Here, relationship experts discuss the dating trends that should be on your radar if you're seeking love.
Coronesty
The pandemic made many people realize that life is short, so why waste time when you don't connect? "Coronesty" describes daters' willingness to be honest with themselves, as well as others, about what they want from relationships.
Emyli Lovz, co-founder of relationship coaching and matchmaking service emlovz, told Newsweek that being open about your intentions is never a bad thing. "Coronesty will get you far," she said.
Fast-Forwarding
Fast-forwarding refers to a relationship moving at breakneck speed but, according to dating and relationship coach Megan Weks, it is a speedy route to heartbreak.
She told Newsweek: "Unfortunately, it's a trend done by those who are less self-aware and who exhibit more toxic behaviors within relationships."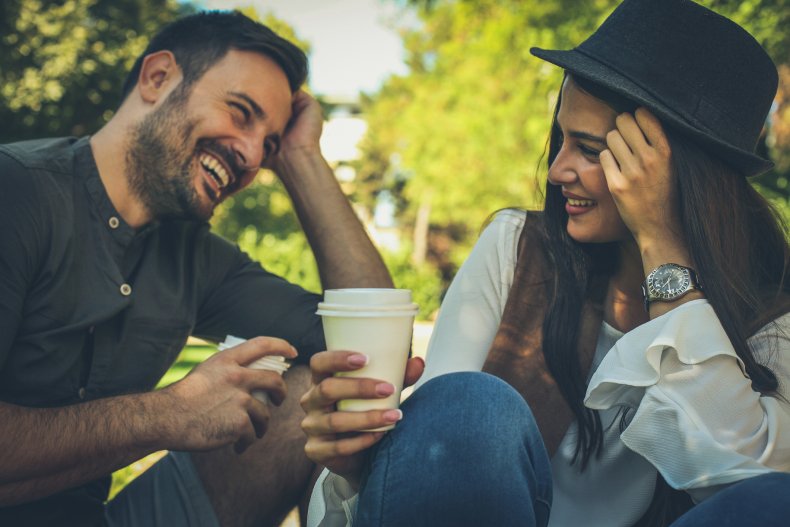 Groundhogging
Groundhog Day is a great romcom, but "groundhogging" isn't so good for your love life. The term was coined by dating app Inner Circle to describe people who date the same type over and over again, but expect a different result.
Lovz said: "Groundhogging is fine if you're getting a fulfilling experience, but if it doesn't serve you, you need to examine these patterns and find out why you're attracting this type of partner."
Hey-ter
You're excited to receive a message from a hot match—until you open it and realize they're a "hey-ter." Introducing yourself to potential dates with a "Hey" or other low-effort greeting is a big no-no, according to Lovz.
"This is the worst way to start a conversation with someone you just met on a dating app. Think about something that they've said on their profile and use it to work towards a date idea."
Need to up your game? Try these tips for perfect pick-up lines to use on dating apps.
Orbiting
They haven't messaged you for six months, but they like your selfies within minutes of upload. "Orbiting" (like a planet) is when someone ghosts you, but still watches your Instagram stories and Facebook posts. Weks recommends not bothering with these social media soul-suckers.
"Focus on those making true efforts to further a relationship with you," she said.
Oystering
About 53 percent of Bumble users told its survey that they're happy being single right now. If you're one of those, "oystering" is for you. Coined by the dating app Badoo, this practice encourages people to "see the world as their oyster" and live without worrying about romance.
It is a chance to find yourself, "to take the time to explore and find out what will truly make you happy in a partnership," added Weks.
Pocketing
Is a potential partner not introducing you to their family or friends? Depending on how long you've been dating, they may be "pocketing" you. Lovz explains that this is an update on the booty call.
"Chances are they're not looking at a long-term relationship," she said. "It would be nice if they used their coronesty to tell you how they're feeling."
Slow Dating
This means taking the time to get to know someone before meeting for a first date, allowing a potential couple to build a real connection. Weks recommends this technique to her clients and believes it leads to stronger, longer-lasting relationships.
"The pandemic challenged the dating process as people had to truly get to know one another to see if they should 'risk' meeting them. It's a shift that is here to stay," she said.
You're also less likely to end up in a catfishing situation if you get to know your date a little first.
Slow Fade
Has a torrent of steamy WhatsApp messages slowed to a trickle? This is known as the "slow fade." Your match might be losing interest, or is trying to let you down gently by ghosting you at a glacial pace.
Whatever form it takes, ghosting is unfortunately here to stay, said Weks. "It's due to people's lack of communication skills around tricky topics."
Untyping
This is not the instant regret you feel after hitting send on a bad joke, but an attempt to ditch your usual type in favor of something new. COVID has made singletons more willing to date people they wouldn't usually go for, according to Bumble, with 43 percent of the people it surveyed questioning whether their usual type is working for them.
Lovz said "untyping" was common, especially for people who've just come out of a bad relationship.
"You're rebelling against a bad experience of 'your type' and experimenting. It brings new experiences into your life and can help you to learn what 'your type' really is."
Whelming
"Whelming" is when someone brags about the number of matches they have on apps when they're out on a date, because they believe this will make them seem more desirable. As well as being tacky, it's a redundant brag, Weks said.
"The common strategy of the dating apps is to cast a very wide net. Matches on dating apps are meaningless unless they manifest into an actual date."
Zombies
That person who ghosted you weeks ago, who you kind of hoped had died? They're back and haunting your DMs. Weks recommends avoiding "zombies," unless you want your heart eaten.
"Most zombies are seeking thrills. They had found something more interesting that didn't work out, so they are coming back to you."
Lovz agrees: "This person is not very respectful and certainly not a good communicator. Get out of there."