Josef Garrett almost lost over 80 years' worth of family heirlooms he never knew existed in the first place.
Garrett, an adjunct instructor of anthropology and culture at Colorado State University, told Newsweek he had recently inherited his grandparents' home where he spent plenty of time since he was 3 years old. His grandfather died in 2011, his grandmother in 2018.
Following the decision to sell the home and move upstate for his new job at CSU, he chose to donate the home's contents rather than sell them at an estate sale. That process culminated in late summer 2021.
"Over the course of about two years I made about 50 carloads that went between Arc [Thrift Stores] and Habitat for Humanity and the Jefferson County Action Center," he said.
One of the items drew a double-take. It was a small suitcase that contained an old typewriter from decades earlier.
"It had seen some travel and was sitting next to another case similar in size and shape," Garrett said.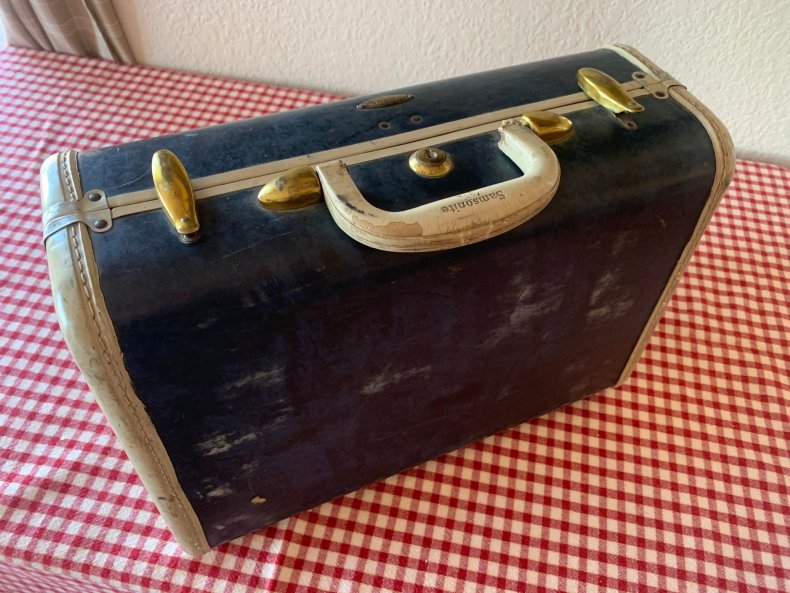 Assuming the other briefcase contained a typewriter or something similar, Garrett loaded the items in his truck and took it to Arc Thrift Store in Arvada.
Just two weeks ago, he began receiving messages via Facebook from the thrift store in addition to the president of the Colorado Archaeological Society—where Garrett is a board member through the Denver chapter. Garrett was told someone was trying to get a hold of him.
He rearranged his schedule due to living farther away and made the trek to Arvada, where he was told that the similar-sized suitcase beside the typewriter did not contain a typewriter at all. Instead, it contained family heirlooms including photographs, letters, diplomas and school report cards from as far back as 80 or 90 years ago.
There were numerous letters sent back and forth between his grandparents and great-grandparents, dating back to the late 1940s and early 50s before his grandparents married.
One of the letters was sent about 2 1/2 weeks before Garrett's father was born. "They were kind of getting ready for the big event," he said.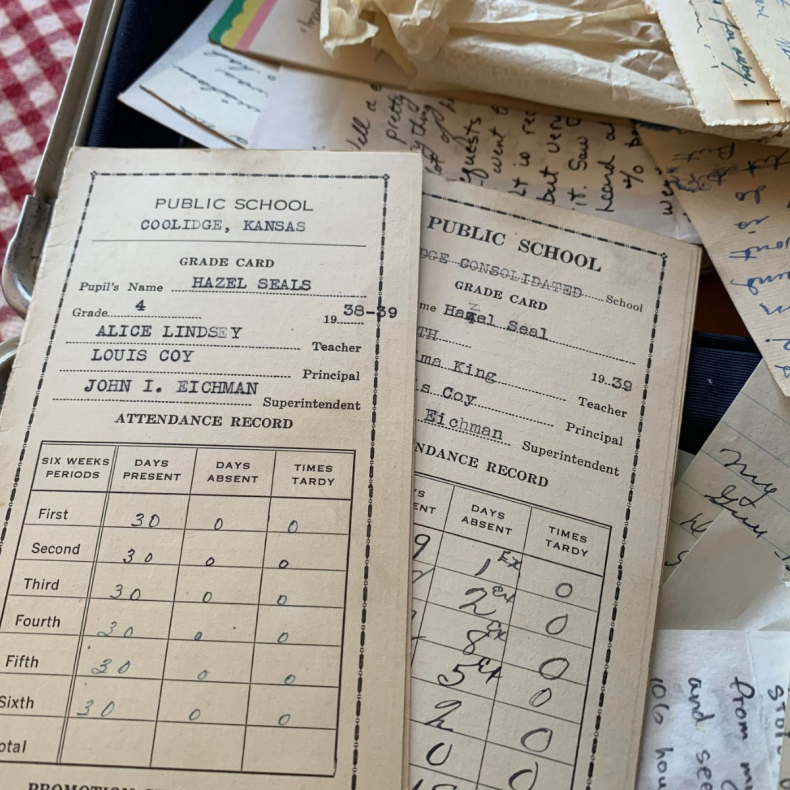 Another letter was sent by a U.S. Army commander to his grandparents, notifying them that their son and Garrett's father had arrived in Germany at the tail end of the Vietnam War.
"It was really cool," Garrett said. "It was that copy paper, so it is really fragile. Kind of surprising it survived." As an anthropologist, Garrett said the discovery not only lends a view into his own family's history but also during a distinct time in America. For example, one letter written by his great-grandmother to his grandmother mentioned how her father had been thrown from a horse and actually had the horse land on top of him.
Garrett's grandmother was the last child born of 13 in total, all from a small Kansas town called Coolidge where the family had no telephone or electricity.
"It was a shock to say the least," Garrett said. "As a professional this is the kind of stuff we like to find because we're so interested in history. Letters like these can give us insight...just finding out our parents and grandparents and ancestors, what their lives were like; what did they care about, and what were their concerns. As an anthropologist those are the things that really help us understand culture and community."
He continues to sift through the correspondence, imploring others who are either downsizing or getting rid of items due to the death of a family member to double-check what is contained in storage. "A lot of times we don't hear those stories; a lot of times those stories disappear," he said.
As for the thrift store seeking out Garrett months after his donation, he said their actions spoke to generosity and a unique display of kindness.
"It was really cool that he had actually taken the time to go through that stuff, look at it, find that there's a story associated with it and want to get it back to me," he said. "That was an amazingly heartfelt and caring thing because [the thrift store employee] had mentioned that a lot of people end up giving that kind of stuff away and never get it back."