Man Says He's 'Too Rich' After Being Turned Down for Date in Video Viewed 1.5 Million Times
As Avrey Ovard was stretching and warming up for her workout, she was approached by a man she estimated to be in his 40's. The interaction, posted to TikTok and viewed 1.5 million times, showed Ovard declining to give the man her phone number after he asked for it.
The unidentified man asked her if she was making a video at the start of the TikTok before walking away. A few minutes later, he came back and asked for her name and phone number to take her out to dinner.
"Oh, I'm sorry," Ovard, the 19-year-old responded. "I'm too young for you."
"Oh yeah?" the man responded, before walking away. "Well, I'm too rich."
Ovard has a large social media presence, with 179,300 followers on TikTok and 956,000 subscribers on YouTube, where she uploads a variety of lifestyle videos. Many of the comments on her TikTok video supported her.
"By saying you're too young holds him accountable for his actions," one commenter wrote. "Half the time we have to say 'I have a bf' and men still push for numbers and stuff."
"The way he gets immediately defensive when [you] were perfectly reasonable...lol OK fully grown man child," another commenter wrote.
"The fact that they turn so quick to insult after you say no," wrote another TikTok user.
Sharing personal experiences at the gym on TikTok is not a new trend. Many users have told their stories about feeling uncomfortable discussing unwanted stares or being photographed or recorded during a workout.
These stories have prompted people to evaluate how they want to work out.
In May, Newsweek reported on BLUSH FITNESS, an all-female gym that went viral on TikTok for offering women a safe space to break a sweat.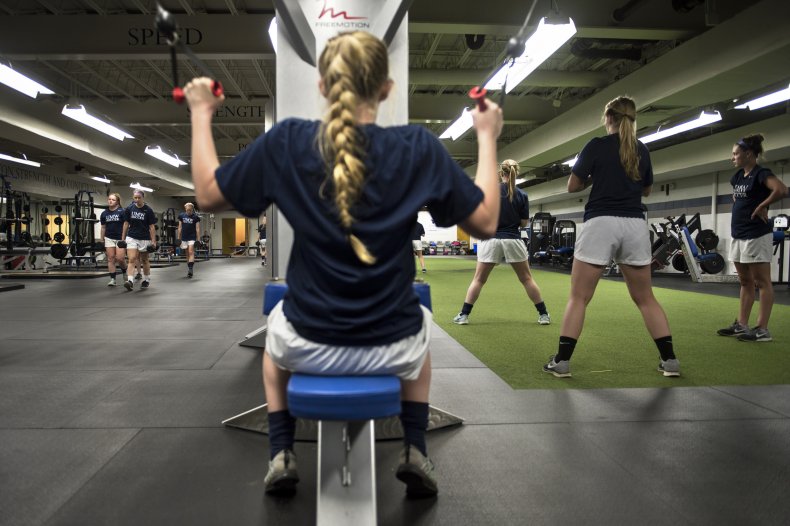 The article reported that the windows are tinted to prevent anyone from looking inside, the hours that male employees work are posted and feminine hygiene products are free.
BLUSH FITNESS owner Kelly Gellery told Newsweek that the inspiration behind opening a gym exclusively for women was the need for women to have their own space.
"My husband was a trainer for many years and whenever his female clients would come in to work out, they would avoid the free weights area due to how the men would make them feel," she said. "That's where we discovered the need for a protected and safe place for women."
Although some didn't like the idea of a women-only gym, many women defended the concept, saying they would feel safer and less judged when using the equipment.
Newsweek reached out to Avrey Ovard for comment but did not hear back by press time.