Viral All-Female Gym Divides Viewers on TikTok Over Unique Policies
Women looking for a safe space to work out might have found their ideal sanctuary after a viral TikTok showed off a gym facility dedicated to female empowerment—regardless of what critics in the comment section have to say.
In late April, 23-year-old Heather Huesman posted a video of her trip to her local workout center, BLUSH FITNESS. According to its website, BLUSH "is the only full-size health club in Kansas City area—Overland Park, Kansas—that is designed for women."
The video starts out with Huesman and a friend outside of the facility. With the text-to-voiceover option on TikTok, she tells viewers to "take a look at this all-girls gym."
She notes that the gym is "open 24/7 to women only," and that "the front door is locked so only members and women can get in."
Among the amenities offered, the windows are tinted to prevent onlookers from peeking in, the hours their male employees work are posted throughout the building, and feminine hygiene products are free. The gym also boasts a plethora of workout equipment and spaces for private or group workout sessions.
Huesman concludes her video by writing: "Had a great workout with no men in sight!" In the caption, she called BLUSH "the BEST GYM."
"We need these everywhere, we feel so safe and comfortable going to the gym, gonna be my new favorite spot!" she added.
Huesman told Newsweek that although the video from April was the first time she visited BLUSH, she immediately knew she needed to share it with others.
"My mom and sister went there and told me about it, so I went to check it out because I needed to go to the gym but was way too nervous to go to a [co-ed] gym," she explained. "It was like a breath of fresh air walking into that gym.
"I knew from the second I walked in I wanted everyone to know about this so there could be one in EVERY city!"
BLUSH FITNESS owner Kelly Gellery told Newsweek that they abide by the mission of providing "a safe and comfortable workout environment for women."
"What [inspired] my husband and me to create BLUSH FITNESS was the need for women to have their own space to exercise without being judged, stared at, or approached by the opposite sex," she explained.
"My husband was a trainer for many years and whenever his female clients would come in to work out, they would avoid the free weights area due to how the men would make them feel. That's where we discovered the need for a protected and safe place for women."
The video, since it was posted on April 28, has been viewed nearly 6 million times and liked by 1.7 million viewers. While many agreed with Huesman and appreciated BLUSH's work, several in the comments argued that "we need one of these for men."
"This is modern day segregation," one male viewer wrote.
"Yes, we love segregation," another wrote.
Gellert told Newsweek that the facility even received a phone call from an aggravated viewer on Wednesday, in which he asks them to point out a facility that did not cater to Black people.
"Every time I go to the gym, there's always a bunch of Black people staring at me and ogling me and bothering me, and I just want to get away from that," he said in the call shared with Newsweek. "I'm wondering, maybe you guys know ... I don't want to work out around the other races. They're always bothering me.
"That's the whole logic that you people use, right?" he continued. "Your kind of segregation is okay because women are somehow inherently victims and men can never be victims."
He ends the call by slamming their mission statement and calling the employees, "f*****g spoiled a** trash."
Gellert emphasized that because of instances of aggression like the phone call that they firmly stand for an all-female gym.
"If women were able to exercise in co-ed gyms without feeling judged, stared at, approached, or made uncomfortable, we wouldn't need this option," Gellert told Newsweek. "Women-only gyms are essential to women's health."
Hundreds of women flocked to the comments in defense of BLUSH and Huesman.
"I would feel soooo much safer using a machine wrong because I'm a beginner. I would feel way less judged and more comfortable asking for help," one female viewer wrote.
"This is fantastic for Muslim women too!" another noted.
Several slammed the claims of "segregation," claiming that men making women feel unsafe in public spaces is the reason they need an all-women gym.
"Wait... men.. feeling excluded.. from spaces.... wow.. wonder how women feel literally every day," one woman wrote.
"All the men in the comments section are mad and don't realize that this wouldn't be a thing if they could just control themselves," another added.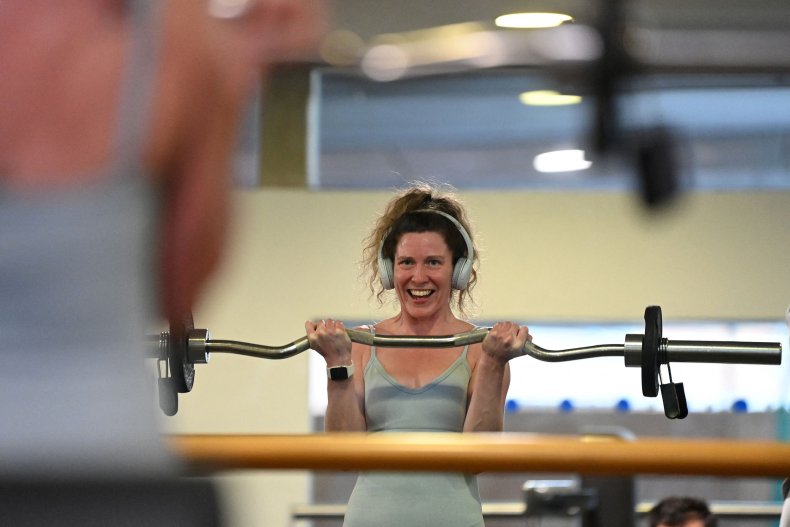 Huesman firmly disagreed with the discrimination accusations some male viewers made in the comments.
"It's not segregation at all. I think all men's gyms should actually be everywhere too," she told Newsweek. "If it makes people feel more comfortable working out at the gym, I'm all for it. The people who are mad are the ones who are the problem!"
"I love going into the gym knowing I'm safe and protected," she added. "[The women at the gym] are there to support me on my journey no matter what."
Overall, Huesman was glad to know that so many women received the video positively.
"I love that the women loved it. I knew they would!" she told Newsweek. "I know a lot of girls who would prefer to workout at home over going to a coed gym, and this definitely changes the game."
"I also saw a comment saying how she wanted to open up an all women's gym of her own but was too scared, and got so many replies reassuring her and telling her to start one," Huesman added. "It opens up so many new opportunities for women."
Huesman is not the only gym-goer gaining attention online. Last week, a young woman shocked viewers when she seemingly made her organs disappear in a "horrifying" workout move.
Newsweek, in partnership with NewsGuard, is dedicated to providing accurate and verifiable vaccine and health information. With NewsGuard's HealthGuard browser extension, users can verify if a website is a trustworthy source of health information. Visit the Newsweek VaxFacts website to learn more and to download the HealthGuard browser extension.