Man's 'Secret Family' Exposed After He Receives Two Obituaries in Newspaper
A man's "secret family" was exposed when he received two obituaries in the same newspaper from two different women.
Carlton Lloyd McLeod was a beloved father and husband, but it seems he had at least three children after near-identical pieces were placed in the local paper.
The heartfelt messages were put right next to each other—with both women using the same photo.
While McLeod died in 2016, the newspaper column has just come to light after it was shared on Twitter by CeeHawk on Wednesday.
The black-and-white image was captioned: "When your secret family loves you too."
The first obituary says: "McLeod-Carlton Lloyd. In loving memory of a dear one who left us June 10 2016. Today marks one sad & lonely year since you are gone.
"Gone & it seems as if it was yesterday, memories of your love and kindness and caring heart lingers although you are no longer with us, you will always be in our hearts and will not be forgotten. Sadly missed by: wife Ivy, children Carwin & Janielle, sister Jean, other relatives and friends."
Right below it is the second obituary, this time from a woman named Paulette, who used a nickname for McLeod and even named a third child of his.
She wrote: "McLeod-Carlton Lloyd "Mikey"—in loving memory of a dear one, who departed this life on the 10th of June 2016. One sad year. Sadly missed by: son Hugh and dear friend Paulette."
The newspaper was later identified as Jamaica's Kingston Gleaner, with the edition published on June 11, 2017.
The image has been liked more than 45,000 times online, as people speculated over who the "dear friend" was.
Some Twitter users criticized the newspaper editors for placing the messages right next to each other.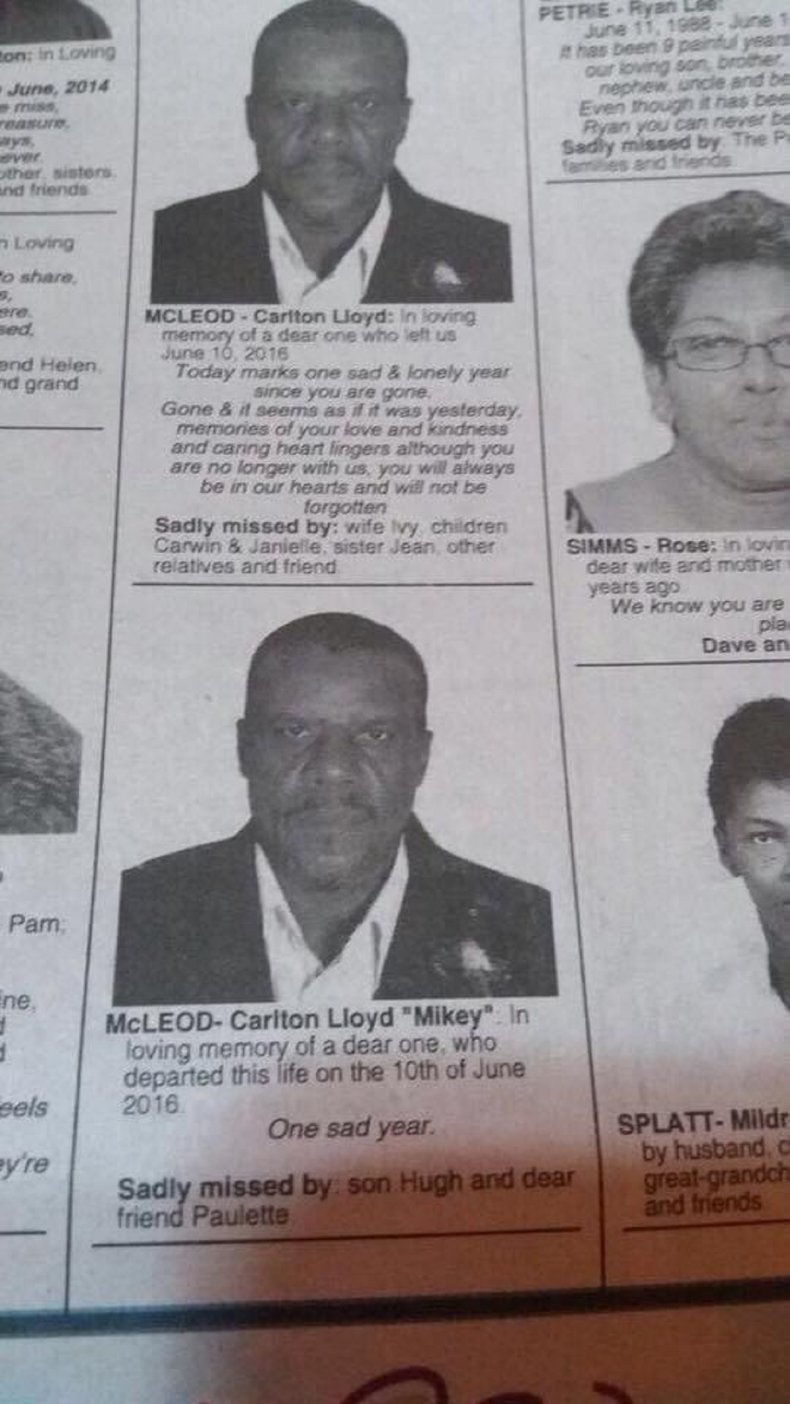 CB wrote: "And then Paulette had a whole other name for him... that's a mess."
"Whoever did the obituaries so petty for putting them together," Chanelliky Bettencourt said.
Crystal Savage commented: "Side widow really is a thing huh."
Tara Angel said: "When the newspaper got these obituary requests I knew they were shook in the office."
Jolie me reckoned: "Paulette was a bit too friendly there."
Val-Zod's Rose Bearer commented: "I both love and dislike the pettiness of the newspaper editors for this placement."
"Dear friend my ass... Paulette is messy for this," Ihatezoeee wrote.
"I think Paulette was the mistress," ArlingtonDiva reckoned.
While @notmeanspirited responded: "My favorite is that they used the same picture. Even alphabetical, with Paulette's special name for him, it COULD have been missed or glossed over as a crazy coincidence that two guys with almost the same name died the same day. but the same picture? Wooooooh."
While Trash the Akatsuki added: "You know that editor was laughing so hard before sending this to print."
Update 6/21/21, 6:38 a.m. ET: This article was updated with photos and the name of the newspaper.