Man Shares Special Moment With New Puppy Following Death of Beloved Dog
A dog owner has captured the moment her dad opened his heart to their new puppy after months mourning the loss of their beloved Golden Retriever.
In a video shared to TikTok, Bryn Evans described how her dad, David, previously said he could "never love another dog" following the death of their 12-year-old dog Mango in October 2021.
The emotional and also physical impact of losing a pet can be keenly felt. In October 2017, the New England Journal of Medicine carried a case study of a woman who experienced "broken heart syndrome" following the death of her dog.
The condition is found to be triggered by grief so severe it results in the individual experiencing symptoms that mimic those of a heart attack. There's no doubting the fact that David and the rest of his family were left heartbroken by Mango's passing.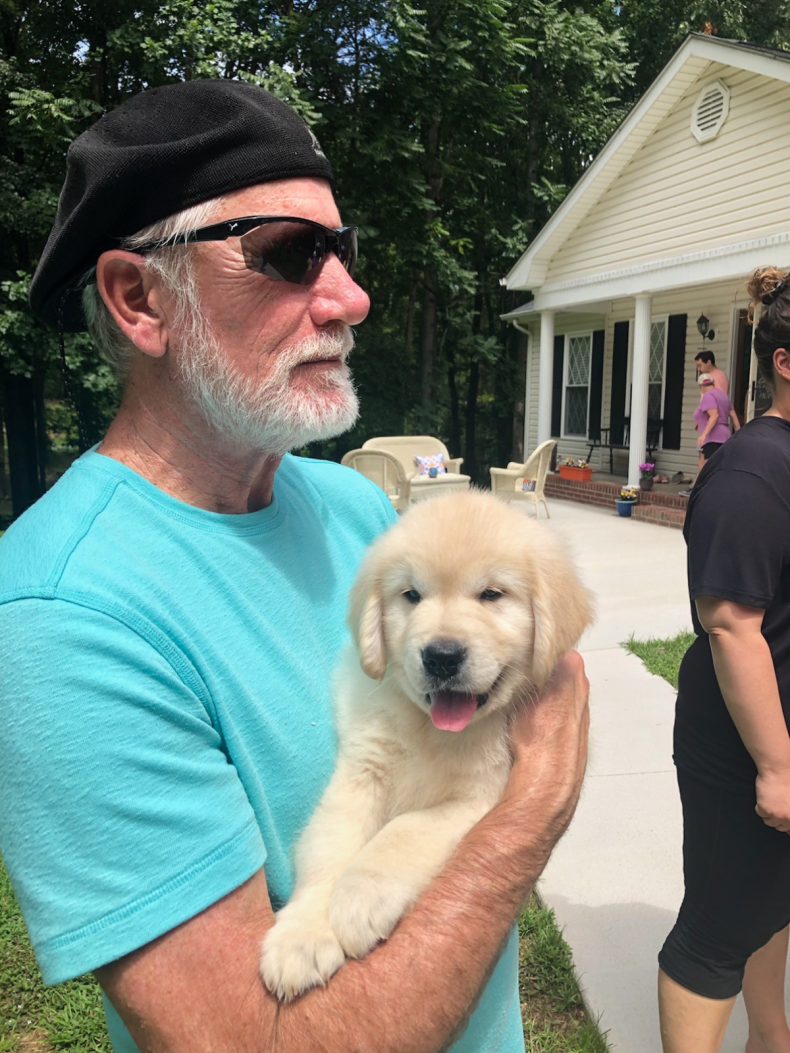 "Mango and my dad had a very special bond," Evans told Newsweek. "They had a routine of going for late night walks in the woods and my dad would listen to music while letting Mango roam free: that was his favorite thing, to go hiking under the moon with just his headphones and his best friend."
Evans said her dad got Mango when she was 17 and he had been a beloved part of the family.
While she moved around the country and traveled abroad in the years that followed, Evans returned home to be with her parents and siblings in Great Falls, Virginia, when the pandemic began.
That was when she began filming TikTok videos of Mango, posting them under the handle mango_thegoldenretriever. Evans said she is "so grateful" she got to spend that time with Mango. "We got so much quality time in that last year or so of his life. Mango got so spoiled!" she said.
Nevertheless, the golden retriever's passing, which Evans said was "sudden and happened very quickly," left a huge hole in their family and hit her dad "really hard."
"Shortly after, he started expressing that he wasn't interested in having a dog again," she said. "But I knew how much he loved having a dog companion so I didn't fully believe it."
Evans said despite David's hesitancy, the family was always open to eventually getting another dog—Mango had been their second Golden Retriever after Biscuit who had passed away before him.
"After losing Mango we felt incomplete. The house felt so empty and sad," she said. When Mango's breeder announced another litter of puppies was on the way, Evans said, unbeknownst to her dad, the family decided to fill out an application "just in case."
That was what led them to Obie.
"Obie is a complete goofball," Evans said. "He's very sweet, innocent, playful, and loving, with a stubborn streak. Everything you need in a puppy to take away some of the heartache!"
The family decided to surprise David with the new addition though Evans said they felt sure "the time was right" and her dad just needed a "little nudge."
"It was definitely a little bittersweet at first, because of all the memories," she said. "But when he looked into Obie's little face it was like, how could you not fall in love? He became very dedicated to taking care of him, taking him out to potty in the middle of the night, etc."
The viral video of David and Obie enjoying a tender moment together has been viewed over 21 million times. Filmed back in August, it captures just one of the many moments in which David let his guard down and learned to love a dog again.
Fast-forward a few months and Evans said the pair are inseparable.
"As soon as he was old enough to get on the trails and go hiking, my dad started taking him out and teaching him 'the way,'" she said.
That brief glimpse of David's journey with Obie sparked an outpouring of emotion from fellow pet owners familiar with the pain of losing a dog or cat, who are now contemplating taking another four-legged friend on. Evans would encourage them to do it.
"Welcoming a new pet doesn't mean the love for your former pet is lost, your heart just grows bigger to make room for it all. In the darkness of grief, another pet can be that little bit of light that can help you through," she said. "It won't be the same. But that doesn't mean it can't be wonderful, rewarding, and perfect in its own way."
Do you have funny and adorable videos or pictures of your pet you want to share? Send them to life@newsweek.com with some details about your best friend and they could appear in our Pet of the Week lineup.