Golden Retriever Thinking He Has to Shower When Owner Does Melts Hearts
Golden retrievers love water, but this one loves it so much that he insists on joining his owner in the shower.
In the TikTok video posted by @dukejrhankbyrne, a golden retriever puppy can be seen enjoying his owner's shower. He bites the water and even dries himself off afterwards, wrapping himself up in a towel.
One TikTok user commented: "This is unbelievable, love it."
The video has been viewed more than 500,000 times, and one viewer wrote: "that's crazy that he tries to dry himself... like I've never even seen that online before."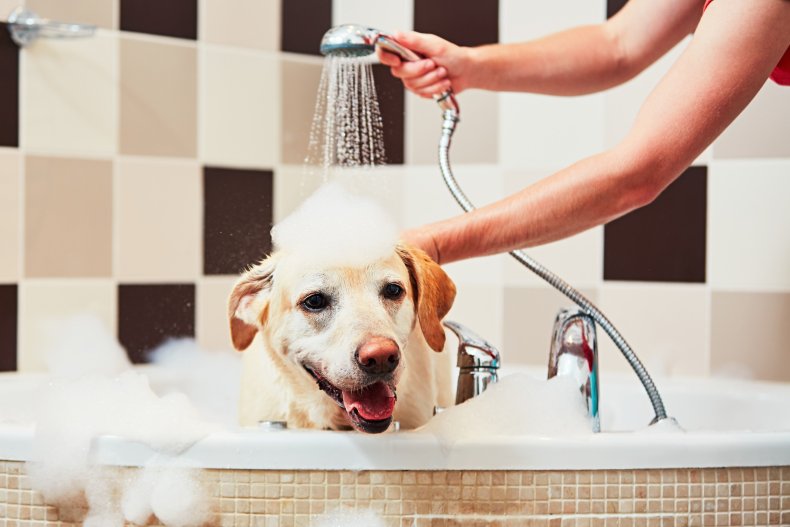 Why Do Golden Retrievers Love Water?
Easily one of the most-popular breeds of dog, golden retrievers are energetic and friendly, make great family dogs, and most of all, they love water. They were once bred for the job of retrieving ducks and other fowl for hunters in Scotland.
"They have dense, water-repellent outer coats with thick undercoats to protect them against the cold." Dog-care website Wag Walking says that it is important to get your golden retriever into the water. "It's not only a good source of physical exercise, it's also important for their mental stimulation and overall well-being."
Why Do Dogs Hate Baths?
While retrievers and most dogs love the water, many hate being forced to take a bath.
Hill's Pet Nutrition reports that there may be many reasons why your dog may not love a bath, including bad associations.
"When your dog goes swimming or splashes in a stream," the website reads, "it's a fun activity they choose to participate in.
"Baths, on the other hand, are typically forced on dogs, and involve being handled and having their bodies moved around in ways they don't like. This loss of choice and control over what happens to them can be very upsetting to a dog."
Do Dogs Need Baths?
Unless your dog has had a particularly messy day, bathing your dog is mainly down to owner preference.
"Short-haired breeds with healthy skin don't actually require bathing for their own benefit, and they don't really need to take regular baths, unless they tend to get dirty a lot," says Hill's Pet Nutrition.
"In many cases, wiping them down with pet wipes might be all that's needed. However, if you have a wrinkly breed like a pug or shar-pei, you should also be sure to wipe the folds between their skin regularly."
TikTok user KJ commented: "Mine loves baths and absolutely hates showers with all his might."
Dainty Joey wrote, "tried this with my cat and had a very different reaction," while Lauren B posted, "Mine too! "Haha it makes me laugh every time."
Newsweek has reached out to @dukejrhankbyrne for comment.
Do you have funny and adorable videos or pictures of your pet you want to share? We want to see the best ones! Send them in to life@newsweek.com and they could appear on our site.