Man Shot in Face During Brawl Between Two McDonald's Customers
A man was shot in the face inside a McDonald's after two customers became embroiled in an altercation on Wednesday evening.
The brawl occurred inside the restaurant in Walnut Hills, Cincinnati, about 4:40 p.m. ET, police said.
The disagreement escalated and one man was reportedly shot in the face inside the popular eatery on the 1100 block of East McMillan Street, the Cincinnati Police Department told The Cincinnati Enquirer.
The victim was taken to the University of Cincinnati Medical Center with life-threatening injuries, according to the newspaper.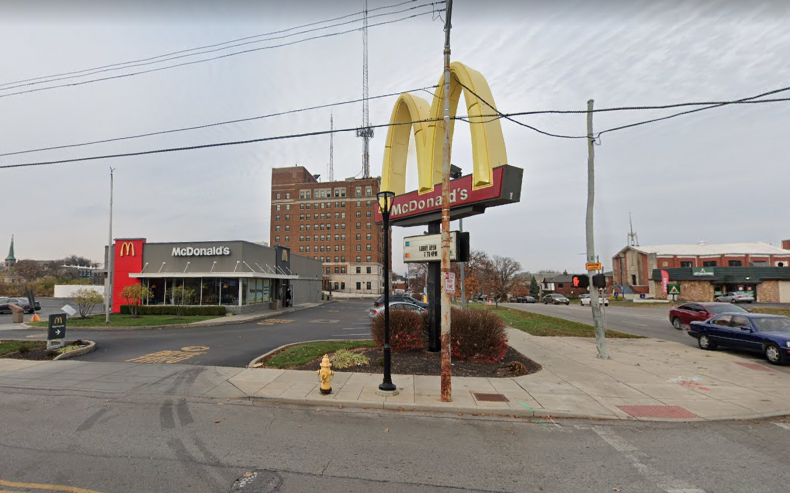 Officers told WXIX that multiple other customers witnessed the shooting but no other injuries were reported.
"For this to happen in broad daylight in a McDonalds. It would show a very, very, very callous person who has no consideration for human life," Pastor Peterson Mingo with the Cincinnati Police Department's 'God Squad' told WLWT.
"I'm praying they get this person off the street."
Mingo said he knows the victim and believes he's in his late 30s. "I see him around here. Fun-loving guy. Wasn't into it with nobody that I know of," he added.
"Somebody else might've been there, a police officer. There could have been a shootout and no telling how many people could've been hurt."
According to WXIX, the victim was a 39-year-old man who was shot in the face and left thigh.
The two men were seen arguing inside the restaurant and both pulled guns before the suspect walked out and left on foot, the outlet reported.
Police have not yet released any suspect information.
Newsweek has contacted the Cincinnati Police Department for comment.
Earlier this year, a young girl was fatally shot and her father seriously wounded at a Chicago McDonald's drive-thru.
The 7-year-old girl and man, 29, were in their vehicle at the McDonald's drive-thru on the 3200-block of W. Roosevelt at around 4:15 p.m. on Sunday, April 18.
A McDonald's employee told local media outlets he saw two men jump out of another car in the drive-thru lane and open fire when they got close to the vehicle.
The young girl was shot multiple times and pronounced dead after she arrived at hospital.
And a McDonald's in Nevada also witnessed a fatal shooting after a gunman shot a teenage girl working at the drive-thru.
Kylee Leniz, aged 16, of Elko, Nevada, was working at the fast-food chain just off Interstate 80 when a man pulled up and shot her through the window.
The teenager was rushed to a local hospital but she was later pronounced dead.