Man Shows How to Spot Camouflaged ATM Skimmer in Viral Clip
A video that first went viral in 2016 for exposing an ATM skimmer proved to still be useful to viewers after it went viral on the Reddit forum "Interesting as F**k."
Ben Tedesco posted the video of himself finding a skimmer while he was at an ATM in Vienna, Austria, and it was viewed more than 23 million times on YouTube.
Reddit user u/c**pool uploaded the video on Reddit where it amassed more than 30,000 votes and prompted viewers to write about their experience with the devices.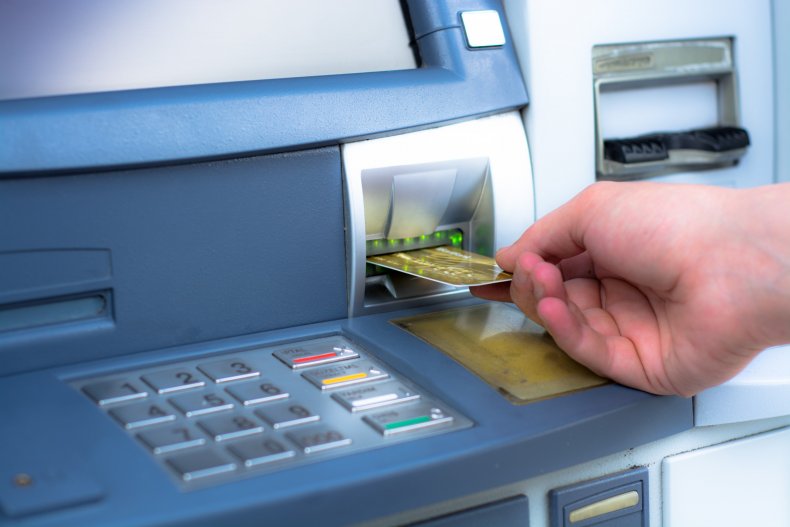 Skimmers are not new, and they've been used to steal information from people for years, but there are steps people can take to protect themselves.
Forbes reported that finding a device may require an examination of the machine to find any alignment issues or whether the card reader can be removed from it.
"Authentic card readers are robustly manufactured, meaning if any part of the card reader can easily move around, then it's probably been installed illegally by a thief," the piece by Forbes stated. "If the buttons on an ATM's keypad are too hard to push, don't use that ATM and try another one."
Those who use their debit card when making a purchase are encouraged to cover their hand while they punch in their pin.
In his video, Tedesco showed the card reader at the ATM and pointed out the glue that lined the outside of it.
He explained he was "paranoid" and decided to tug on the card reader, which resulted in him removing the skimming device.
"This is very well made, you can see it's an exact replica," Tedesco said, before warning the woman at the machine next to him.
He tugged at the card reader on the machine the woman was standing in front of, but it did not have a skimming device.
"It pays to be paranoid," Tedesco said in the full version of the video. "Cybersecurity 101."
He zoomed in to show the inside of the device and said there were "a little bit of electronics."
"I've known about this for a few years and now I compulsively give the card readers a yank before using them," a Reddit user wrote.
Another agreed and noted that skimmers are often found at gas stations, convenience stores and ATMs.
"Always jiggle or pull the card slot before use," they advised.
One viewer wrote that these skimmers give them a reason to pause before using an ATM altogether.
A Redditor who said they work in cyber security wrote that they also tug on the card reader anywhere cards need to be inserted.
"These videos make me jiggle the thing every time...haven't found one yet but I feel that makes me lucky," read a comment.
Other viral posts have stunned viewers, including one that showed footage of a tornado that tore through a man's fence.
A photo that was also shared on the Reddit forum "Interesting As F**k" revealed a bees' nest that was built between a window and the window's shutters.
Another photo that was posted on the Reddit forum "Mildly Infuriating" showed a large and spiky caterpillar that was found on a pillow, though its exact species was not definitively identified.