Andover Tornado 'Swallows' Man's Fence in Terrifying Video: 'Hell on Earth'
Terrifying footage of the moment last week's Andover tornado swallowed one man's fence has gone viral.
The video, filmed by Taylor Train, was shared in Reddit's "Interesting as F**k" forum on Wednesday by u/superponda, who wrote: "Man continues filming Andover tornado right up [until] it swallows his yard." It has amassed nearly 70,000 upvotes and over 2,200 comments from Redditors who were shocked to learn just how destructive tornadoes can be.
The Andover tornado—which reportedly reached a speed of 300 mph—caused "major damage" throughout Andover and Wichita on Friday.
"The storms from the afternoon through the overnight from Kansas and Nebraska to Oklahoma and Missouri were powered by an area of low pressure which took shape in central Kansas, earlier on Friday," AccuWeather meteorologist Joseph Bauer said of the tornado.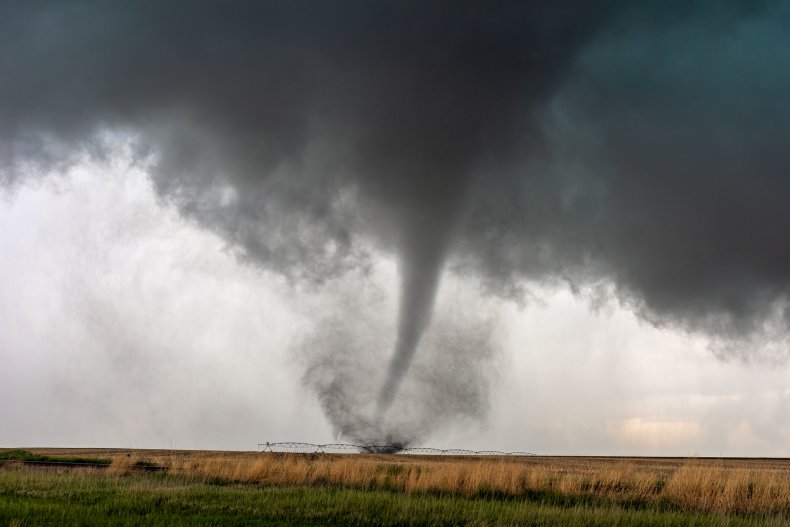 Those with AccuWeather further explained that the tornado caused thousands of power outages and destroyed dozens of buildings. Sadly, Train's home was one of the buildings destroyed by the twister.
In his now-viral video, the Andover tornado can be seen barrelling toward Train's house, sending debris flying. At first glance, the tornado appears to be moving rather slowly. But when Train's fence goes flying at the video's 20-second mark, it becomes abundantly clear that the tornado is moving at an alarming speed.
"Holy s**t," Train said as the tornado entered his yard. "Holy f**k."
At that moment, Train stopped recording and ran downstairs to shelter with his wife and kids, reported ABC affiliate station KAKE. Once he reached the top of the stairs, however, he was "blown back by the storm."
"It was just, you know hell on earth really, I mean, it was just unbelievable. The sounds, the just the feeling in your body," he told KAKE.
Thankfully, neither Train nor his family was injured in the storm. However, they lost "everything." In an effort to help, a man named Brian Rawson—whose life was saved by Train last year—started a GoFundMe page for the family.
"[L]ast year, my heart stopped in the 20th mile of a bike ride. This young man, Taylor Train, saw me fall, immediately turned his truck around, and within 60 seconds was administering CPR to a stranger—because it was the right thing to do," Rawson said in the description of the GoFundMe campaign.
"[His family] lost everything in the tornado that touched down in Andover, Kansas last night...their lives were spared, but the home for which they scrimped and saved and sacrificed was not. If you can join Linda and me in helping them, please do so," Rawson concluded.
As of Thursday, the fundraiser has surpassed its $10,000 goal.
Many Redditors were stunned by Train's video and said it taught them a thing or two about the destructive power of tornadoes.
"I thought..it doesn't look THAT bad, then the fence got sucked up like toothpicks," wrote u/DFX1212.
"It's absolutely insane how quickly tornados travel. From a distance, they may seem rather slow-moving. In reality, within seconds it goes from 200 yards away to being on your doorstep," said u/IndoorBurrito.
"Until now, I definitely thought the winds were more localized and had no idea there were fence-shredding wind speeds from that far," admitted u/thatswhat5hesasa1d.
"Note to self: the damaging winds are much wider than the dusty cone in the middle," added u/5kyl3r.
Train's tornado video isn't the first of its kind to garner online attention this month. Earlier this week, several videos of a "violent" tornado sweeping across the Texas-Oklahoma border went viral on Twitter. And on Thursday, videos of the destruction caused by that very same twister went viral as well.