A large tornado ripped through Lockett, Texas on Wednesday causing destruction across the community.
Videos and images of the property damage caused by the twister have begun to circulate on social media now.
Storm chaser and National News Director at Severe Weather AU Daniel Shaw posted an image of a downed power line and said, at this time, there were no reports of serious injuries.
"Just finished search and rescue in Lockett, Texas assisting the sheriff department with other first responders," he wrote in a tweet.
"Pleased to report there were no serious injuries and damage was limited to the NE side of town."
Storm Chaser Josh Moore also posted a video showing the damage caused by the tornado and reported it had flipped some cars and damaged some homes.
"Damaging tornado just went through [Lockett] Texas. A vehicle was flipped over. Extensive structural damage it appears."
In the video, one building can be seen with a caved in roof alongside a knocked over tree. Lightning flashes can also be seen as it pours down with rain.
A video from the YouTube page, StormChasing Video also showed drone footage of the aftermath of the tornado.
In the footage, a red truck can be seen significantly damaged and dented. Buildings are also seen with parts of their roof missing. Emergency responders are also seen removing fallen trees that were uprooted during the tornado.
The National Weather Service also announced that a tornado watch would be in place until 4:00 a.m. CT for multiple counties in Oklahoma and Texas.
For Texas, the counties included are Archer, Baylor, Clay, Foard, Hardeman, Haskell, Jack, Knox, Montague, Throckmorton, Wichita, Wilbarger and Young.
For Oklahoma, the counties includes are Adar, Atoka, Bryan, Caddo, Carter, Cherokee, Cleveland, Coal, Comanche, Cotton, Garvin, Grady, Haskell, Hughes, Jackson, Jefferson, Johnston, Kiowa, Latimer, Le Flore, Love, Marshall, McClain, McIntosh, Murray, Muskogee, Okfuskee, Okmulgee, Pittsburg, Pontotoc, Pottawatomie, Pushmataha, Seminole, Sequoyah, Stephens, Tillman and Wagoner.
The Weather Channel Twitter page also posted a video of a Lockett resident, Jason Streit, retelling how he and his family had their home destroyed.
"My phone alarm went off so I got my wife and kids in the basement, I went to the backyard so I could see because I knew it was supposed to be six miles at the Lockett which is bout four miles south of me," he said.
"I could hear it but I couldn't see it and finally I lost power, when I lost power the lightning struck, when the lightning struck I could see it was just less than a of a mile down here.
"I ran inside, got to the basement, made it downstairs and by the time I got downstairs we heard it hit.
"Once it hit, you knew it was bad but what made it worse was that I could smell all the insulation in the basement which meant my roof was gone."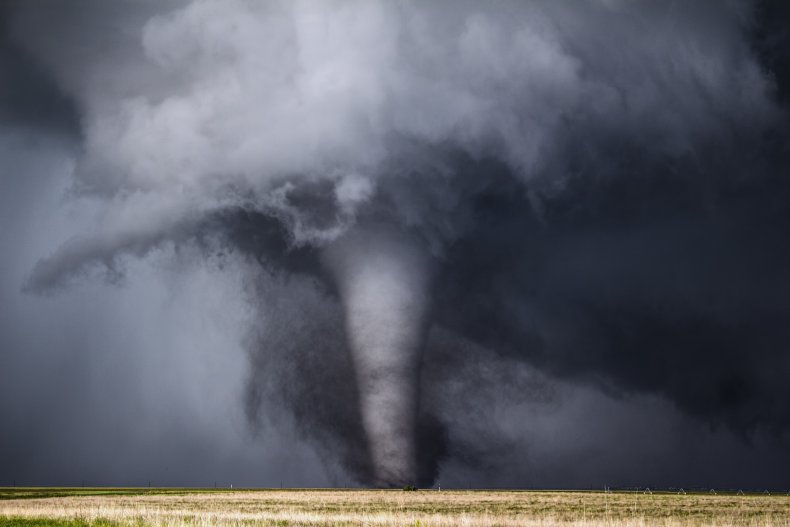 Update 5/5/22, 3:21 a.m. ET: This article was updated with additional information.