Lightning Strikes Car During Iowa Tornado as Storms Pummel America
The moment a car was struck by lightning in the midst of a tornado in Iowa has been caught on camera, with the dramatic footage showing the bolt hitting the rear window.
Tornadoes are currently pummeling the central states, with storms recorded from Texas through to Nebraska. Blizzards and supercells are also being recorded in the region, as the severe weather season sets in.
On April 12 in Gilmore City, Iowa, storm chaser Christopher Riske was driving when his friend's car was hit by lightning. He posted the footage to YouTube, saying it was a "once in a lifetime shot." On Twitter, Riske said the Prius was "totally fried" and that the car "might be totaled."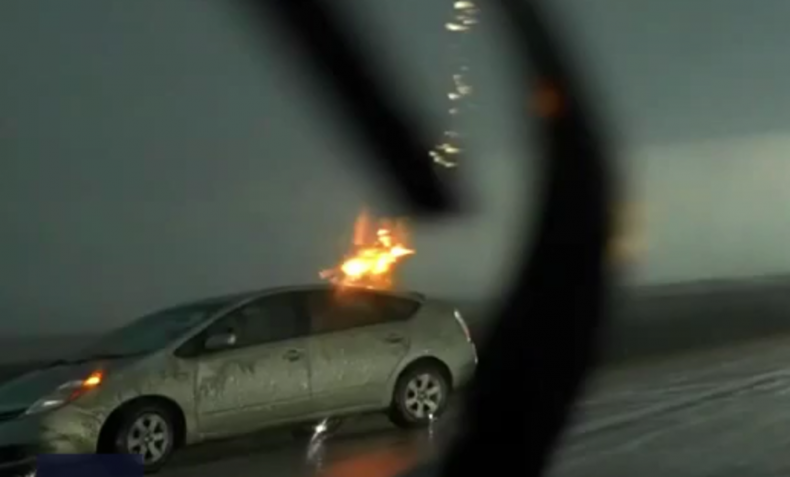 He told Storyful: "I have never seen anything like this before, this is an extremely rare occurrence." The passenger, he said, was fine.
The tornado in the Gilmore City area was classed as an EF-2, which means the storm has the potential to cause considerable damage. This tornado is one of over 160 that have been recorded in April—a figure high above average.
"As of [April 12], April so far has 163 preliminary tornado reports, most of those tied to an outbreak on the fifth," Christopher Weiss, Professor of Atmospheric Science at Texas Tech University, told Newsweek. "The average count for April over the last three years is 203, so we are certainly on pace to have an above-average month."
An EF-3 tornado hit Texas on April 12, causing widespread damage and dropping giant hail that measured 5.5 inches in diameter. A large part of Taopi, Minnesota, has been flattened by a tornado that hit overnight on April 14. "Half the town is gone," City Clerk Jim Kiefer told the Star Tribune.
"March saw a record number of tornados hit, with 218 recorded. So far, 2022 is well above average for the reported number of tornadoes, but it is too early to tell if April will also set a record," William Bunting, Chief of Forecast Operations at the NOAA/NWS Storm Prediction Center, told Newsweek. "It typically takes several weeks to confirm the number of tornadoes each month, so the exact number won't be known for some time.
"The 2022 severe weather season has certainly been more active than normal through early May, but an active early start doesn't necessarily point to a more active remainder of the season. April and May are among the peak months for tornadoes in the U.S., so climatologically speaking we are moving into the most active time of the year."
In 2021, over 100 people were killed as a result of tornadoes. The vast majority of these were in December, when an EF-4 tore through 11 counties, causing catastrophic damage and killing an estimated 90 people.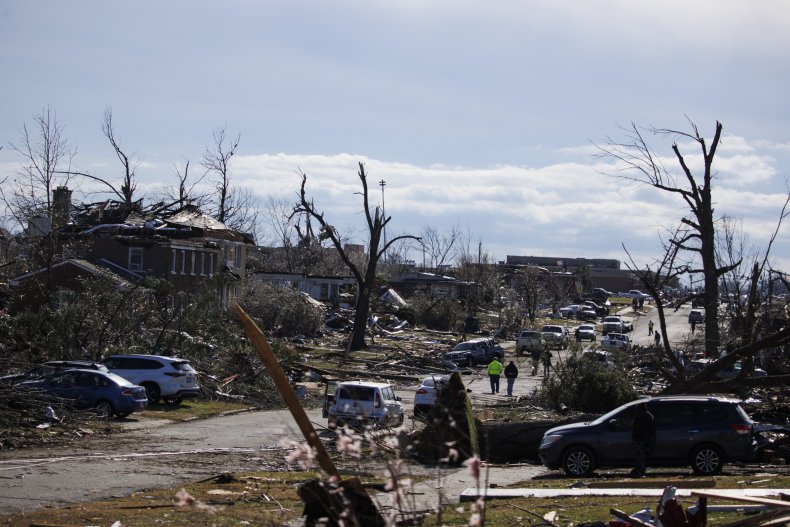 Scientists' ability to predict when and where tornadoes are going to hit is improving significantly.
"Compared to a couple of decades ago, we have become much better at predicting supercell thunderstorms, the parent storms that produce most violent tornadoes," Weiss said. "These supercell storms feature strong rotation on the scale of the storm itself—called a mesocyclone, about five miles across, on average. That storm-scale rotation is what our operational radar network is really adept at detecting; most tornado warnings from the National Weather Service are driven by radar observations of mesocyclones.
"However, the linkage between the mesocyclone and the actual production of a tornado remains elusive. Not even the majority of supercells produce tornadoes. That, unfortunately, leads to a high false-alarm rate for tornado warnings, about 70 percent currently."
There were over 1,300 tornados recorded in 2021. The year before, about 1,050 were confirmed. So far this year, just over 360 tornadoes have been confirmed.
"What remains a daunting challenge is forecasting the exact path that a tornado will take more than a few minutes in advance, and its intensity as it moves along that path," Bunting said. "Both of these variables influence the impacts within a community and, ultimately, the level of response by local officials. Efforts to improve our ability to predict the specific locations that will be impacted by severe storms with greater lead time have been underway for several years and show promise."