Man Slammed for Asking Fiancée to Remove Memorial Tattoo Honoring Late Son
Commenters criticized a man after he asked his fiancée to remove her tattoo memorializing her late son and husband.
The anonymous woman, known only as u/iLoveMnMs33, posted about the situation on Reddit's popular r/AmITheA**hole forum where it received more than 11,600 upvotes and 1,500 comments in 19 hours, with many users criticizing her fiancé for being "insecure" about a late partner and child.
In an article for marriage.com, clinical social worker Jenni Jacobsen writes that honesty about the past is vital for having a healthy relationship after your or a partner's loss.
Jacobsen explained that some individuals might feel insecure about their partner mourning the loss of a previous spouse. This is why it is important to ensure the new partner is comfortable with the widower's situation in order to not face negativity toward any lingering feelings.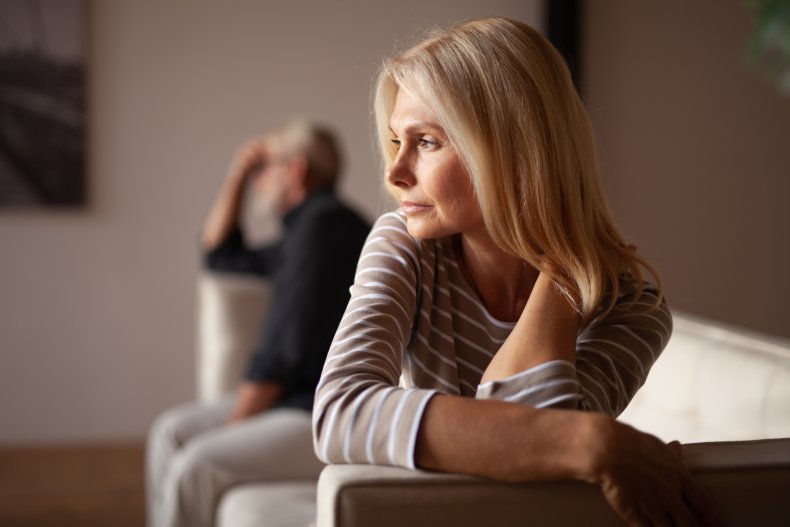 In the post titled "AITA for refusing to have my tattoo removed even if it makes my future husband uncomfortable and insecure?" the woman explained that she was a widow for three years before meeting her fiancé Julius.
"I lost my husband and 4 year old son in a boating accident. When I got back on my feet after losing them, I had their names tattooed on my chest," the post read. "Nothing grand, it's just their names in cursive and two hearts."
The woman explained that she told Julius about her past when they met, including her depression and how she had to depend on and move back in with her parents for a few years.
She said that Julius was "very understanding" and proposed to her after dating for a little over a year.
"Yesterday, while I was getting out of the shower, Julius asked me when I plan to have my tattoo removed," the post read. "He said he knows someone who's really good and he could give us a discount."
The woman said she didn't know how to respond because this was his first time mentioning her removing her tattoo but replied that she has no plans of having her tattoo removed. But during dinner later that night, Julius once again asked about her tattoo.
"He said we're about to get married and it's time for me to move on," the post read. "I told him I have already moved on. He said it's hardly moving on when I still have their names on my chest, that he can see every time we're intimate."
He also told her that it makes him "uncomfortable and insecure" about her love for him because he feels that she "can't let go" of her past.
"He's been giving me the cold shoulder since," the post read. "I told my mom about what happened and she told me she understands how Julius feels. AITA?"
More than 1,500 users commented on the woman's post, with the majority calling out her fiancé for being insecure about her late son and husband.
"NTA. It takes some champion level insecurity to feel threatened by someone's late husband AND CHILD," one user commented. "How callous can you get? He needs to love and accept all of who you are, not cut away or hide the parts he'd rather not see."
"If he's feeling this way towards two loved ones who aren't and will never be around again, that to me is a massive red flag," another user commented. "Is he going to have a problem when an anniversary or birthday comes around and you miss them? Moving on doesn't mean forgetting, it's accepting and moving on with life, which is exactly what you've done and are currently doing."
"One of the realities of a relationship with a widow is that, along with their deep strength and maturity, they come into the relationship with a past partner they didn't break up with," another user added. "The most egregious part, to me, is him expecting you to remove both names. While being intimidated by a man who's already passed on is troubling, expecting you to erase your son's name for him is just horrendous."
Others mentioned that she should be on the lookout and prepared for Julius' insecurity to escalate as their relationship continues.
"OP should be careful if she still has items that belonged to her husband and son, fiancé might throw them out to 'help' her move on," one user commented.
Newsweek reached out to u/iLoveMnMs33 for comment.