Man Strangled by 18ft Pet Boa Constrictor Dies After Police Shot Snake Dead
A man who was strangled by his 18 foot pet boa constrictor has died four days after the attack.
Pennsylvania man Elliot Senseman, 27, was found with the huge snake coiling around his neck on July 20 at the Upper Macungie Township, WPVI reported.
Police arrived at the property to find him unconscious, suffering a cardiac arrest, as the snake continued constricting the victim. Officers managed to shoot the serpent dead without injuring Senseman, who was immediately rushed to hospital.
An Upper Macungie Township Police Department spokesperson told Newsweek in an email that "unfortunately, the victim [...] passed away."
The county coroner's office told WFMZ he was pronounced dead on July 24.
Senseman died of brain injuries after the snake completely cut off oxygen to his brain, the news outlet reported.
The death has been declared an accident.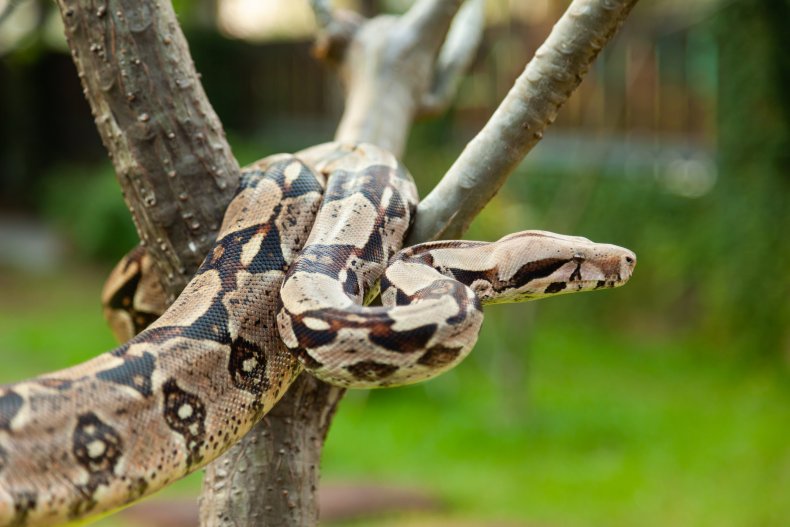 Boa constrictors are a large non-venomous snake species. They kill their prey by suffocation and cutting off their blood supply. The snakes tend to catch their prey in their jaws, before throwing coils around them and squeezing tightly. With each breath the victim takes, the snake squeezes more and more tightly, until it dies.
The snakes are frequently bred in captivity and can grow up to 18 feet, however this is rare.
Following the attack, Peter Nickischer at the Upper Macungie Township Police Department told WPVI that the snake's midsection had been wrapped around the man's throat, while the head was "just far enough away" to make a "split second decision."
"They realized it was a matter of life and death with seconds to make that decision. Praise the officers. They did what they had to do. It was a safe shoot," he told the news outlet. "I think one of the officer's described it as a scene from a horror movie, and that's probably the most appropriate way to describe it."
The snake started to slither away from the victims neck after it was shot.
Neighbors told Action News that Senseman had been seen with the snake before, occasionally holding it in his front yard.
Constrictor snakes are popular exotic pets. They are advertised as being safe and low maintenance. The snakes are not considered particularly aggressive, and it is believed they can become quite tame with regular handling.
However snakes can become defensive if provoked, and if incorrectly handled, they may begin to constrict. The snakes are able to exert 6 to 12 pounds of pressure per square inch, meaning they can be incredibly difficult to remove once they begin constricting. The snakes also tend to squeeze tighter as its victim struggles.
Update 7/26/22, 6:26 a.m. ET: This article has been updated to include comment from an Upper Macungie Township Police Department spokesperson.