Elderly Man Mistakenly Declared Dead in New York Files Lawsuit
An elderly New Yorker is suing the city and one of its hospitals after he was mistakenly declared dead last year, prompting months of anguish as he struggled to resolve the error.
Shirajul Khan, 70, was left without insurance for eight months after Kings County Hospital declared him dead in April last year, the the New York Daily News reported.
But Khan, of Queens, has never been a patient at the hospital in the East Flatbush borough of Brooklyn. It was a different Shirajul Khan who died on April 21 last year after racking up around $90,000 in medical bills, after insurance, for treatment related to COVID, the newspaper said.
According to Khan's lawsuit, which was filed in Brooklyn Supreme Court on Friday, he stopped getting his social security payments and didn't receive federal stimulus checks because of the mix-up.
Khan went to Medicare to resolve the issue with his insurance and was told to visit the hospital, which he did in May last year. The hospital allegedly passed the issue from department to department for months.
"This has caused me great pain and suffering... I was clearly not deceased," Khan said in the lawsuit, which also claims that he fell behind on his mortgage payments by around $40,000 after being declared dead.
Khan said resolving the issue was difficult at a time when New York City, an early epicenter of the pandemic, was being ravaged by COVID.
"It has been exceedingly difficult for me and my family to deal with and resolve, especially since it all happened during the first months when the global pandemic caused by the Novel Coronavirus (COVID-19) was starting to take over New York City," he added in the lawsuit.
Khan is suing the city of New York and Kings County Hospital, which is run by the city, for more than $400,000 in damages, according to the Daily News.
A spokesman for the city hospital system declined to comment when contacted by Newsweek, citing the pending litigation. Khan and his family couldn't immediately be reached for further comment.
Khan's case isn't the first time someone has struggled to clear matters up after being declared dead by mistake.
Last month, it was reported that an 84-year-old Navy veteran had spent months trying to prove he wasn't dead after a bureaucratic error.
Charles Roberts' social security checks stopped coming after he underwent a minor operation at the VA Medical Center in Washington, D.C., in December, NBC Washington reported.
When a family member contacted the Social Security Administration, they discovered Roberts had been marked as deceased.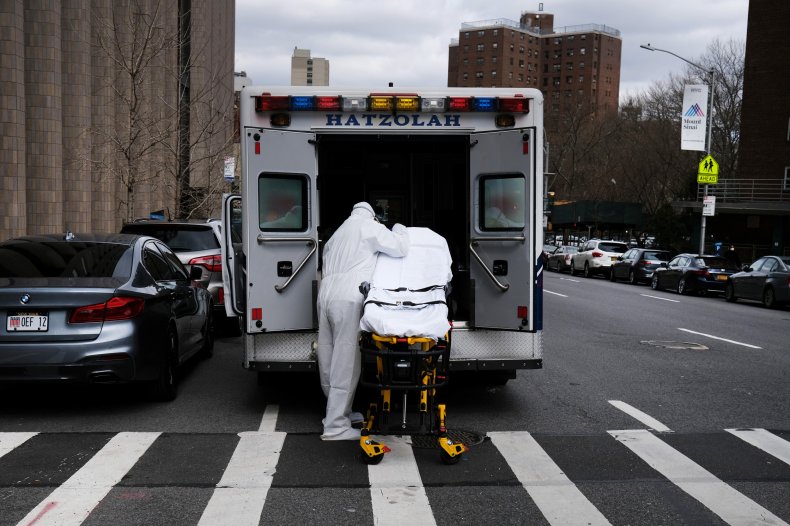 Update 10/6 8.30 a.m. ET: This article has been updated to reflect that the city hospital system's spokesman declined to comment.