Man Surprises 100-Year-Old Veteran With Trip to Disneyland: 'Dreaming'
A man who surprised a 100-year-old veteran with a trip to Disneyland has gained viral attention online this week.
According to figures from 2019, around 43 percent of male Americans over the age of 75 were veterans.
Recently, President Joe Biden raised the requested budget for the Veterans Administration (VA)—the department that administers benefit programs for veterans, their families, and their survivors—by double-digit percentages, with the request for the fiscal year 2023 reaching $301 billion.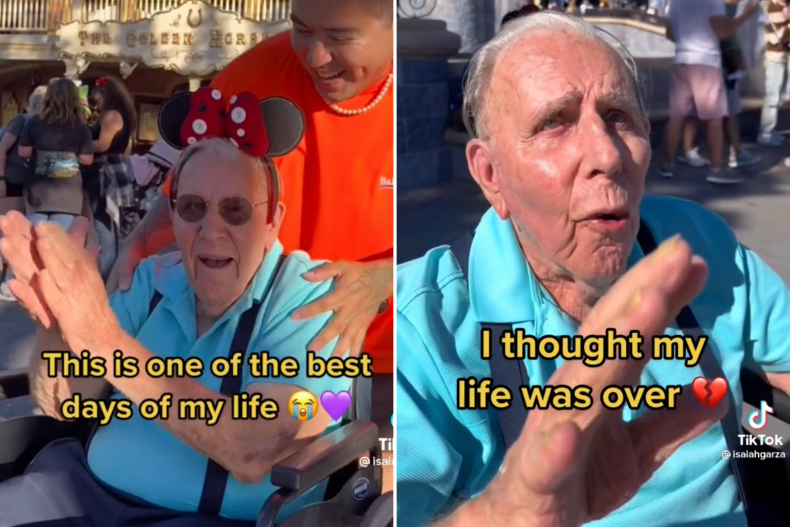 But Isaiah Garza from Los Angeles has taken a unique approach to giving back to one veteran in a now-viral video that shared the day he took 100-year-old Mr. Good to Disneyland in Anaheim, California.
Often dubbed the "happiest place on Earth," Disneyland opened in 1955 after it was designed and built under the direct supervision of Walt Disney himself. With millions of visitors each year, the park is loved by generations for its unique brand of escapism.
Garza has over 1.49 million subscribers on YouTube, where he shares videos designed to make people smile—offering strangers a bit of kindness, helping people have new experiences, and offering support.
He tells Newsweek: "I've struggled most [of] my life, I was homeless just a few years ago. There's nothing I love more than philanthropy and helping others. It makes me feel like I have meaning in life."
In the now-viral video that has had millions of views across YouTube and TikTok, Garza approached Mr. Good and asked: "I've had a really rough day. Do you want to go to Disneyland with me?"
Surprised, the veteran agreed, delighted by the suggestion, and said: "You'd really take me? I can't believe this."
Garza coordinated the surprise with Mr. Good's caregiver and the pair spent the day going around the park as the veteran donned a pair of iconic Mickey Mouse ears.
"We had ice cream, we rode rides, we talked about life and the future—we started a new beautiful friendship," said Garza. "Disneyland is a place we can all go and be a kid again."
In the video, Garza asked the 100-year-old how he felt about his day, to which he tearfully responded: "This is one of the best days of my life. I feel like I might be dreaming or something. I thought my life was over. I will remember this day for a long time. You don't know how much I appreciate this."
"I think a lot of seniors get forgotten these days," said Garza. "Some people just want someone they can spend a little time with and show someone cares. I thought taking someone to Disneyland would be special."