Man Taking Lie Detector Test For Police Job Admits Having Child Porn
A 25-year-old man was arrested in Arizona after allegedly admitting he possessed child pornography during a police job interview, whilst taking a polygraph test.
Sergio Celaya arrived at the El Mirage Police Department on February 6 hoping to get hired as a police assistant.
However, according to court documents submitted on Monday, whilst doing a polygraph test Celaya reportedly confessed to having videos showing underage girls having sex on his computer.
After Celaya's reported confession police searched his home, by the intersection between 75th and Glendale avenues, where they seemingly found a flash drive holding thousands of pornographic videos and photographs, including one of children aged 12-13, the submission said.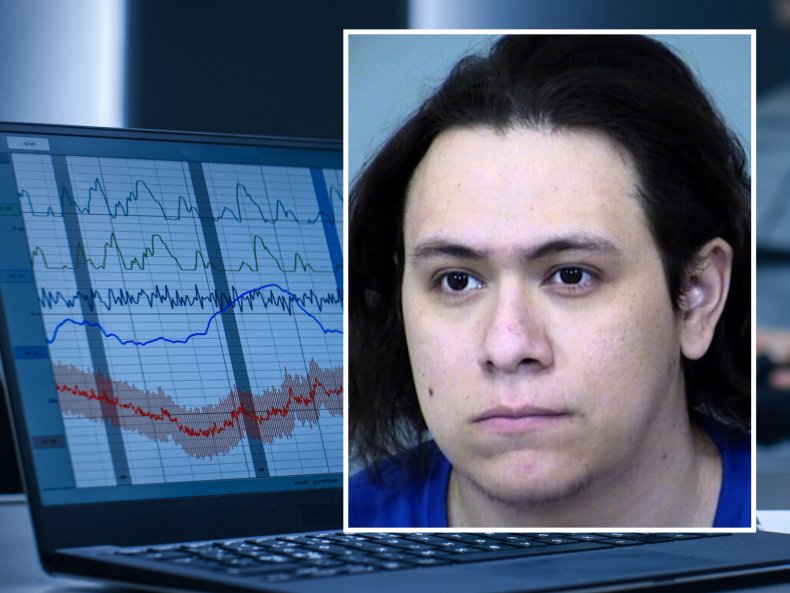 Police also said they recovered sexual footage involving Celaya and an ex-girlfriend, taken when both were teenagers.
According to law enforcement, Celaya admitted to being sent video showing underaged girls having sex via online chat website Omegle, which he then saved onto his flash drive.
Celaya reportedly said he knew it was illegal to have child pornography, and had considered throwing the flash drive away, but in the end decided against this.
According to court paperwork investigators are continuing to analyse the thousands of photos and videos found on the flash drive.
Police have charged Celaya with four counts of exploiting a minor and booked into the Maricopa County jail.
In a statement posted on Facebook, El Mirage Police Chief Paul Marzocca commented: "My detectives acted swiftly once learning of the statements by the suspect.
"There is no place in any community for possessing this type of material or engaging in this type of behavior."
In 2021, around $5.4 billion was spend at the federal and state level to imprison people convicted of sex crimes involving children, according to a study from the Johns Hopkins Bloomberg School of Health (published in the journal, Sexual Abuse).
That year there were 127,282 people incarcerated for child sexual offenses in state prisons across the U.S., with another 12,850 being held in federal prisons.
According to the federal Centers for Disease Control and Prevention, around one in four girls, and one in 13 boys, are victims of child sexual abuse.
In December, acting on intelligence from U.S. authorities, police in Switzerland arrested 96 people on suspicion of sharing or downloading images of child sexual abuse. Police raided 42 houses, and seized 311 computers, according to local news site SwissInfo.
The U.S. Attorney's Office confirmed to Newsweek in October that Nathan Larson, a 41-year-old who ran for office on the platform of legalizing child pornography, had died in custody.
He was being held on charges of soliciting child pornography.