Man Tells Abortion Rights Activists 'Your Body Is Mine' in Viral Video
A viral video showing a man telling abortion rights protesters that "your body is mine" and "you're having my baby" has sparked outrage on social media.
Protesters rallied in cities across the country at the weekend, days after a leaked draft opinion from the U.S. Supreme Court suggested it was poised to overturn the landmark 1973 ruling in Roe v. Wade that legalized abortion nationwide.
The leak prompted many more protesters than usual to gather outside the Old St. Patrick's Cathedral in New York City on Saturday, calling for abortion to remain a legal option nationwide.
"Not the church, not the state, the people must decide their fate," they chanted, according to the video.
Their chants drew a response from a man among a group of anti-abortion protesters on the steps of the church, who regularly go from the church to protest at a nearby Planned Parenthood.
"I am the people, I am the people, I am the people, the people have decided, the court has decided, you lose," he responded to the crowd.
In response to another chant, the man—who was wearing an "America First" hat—said: "You have no choice. Not your body, not your choice, your body is mine and you're having my baby."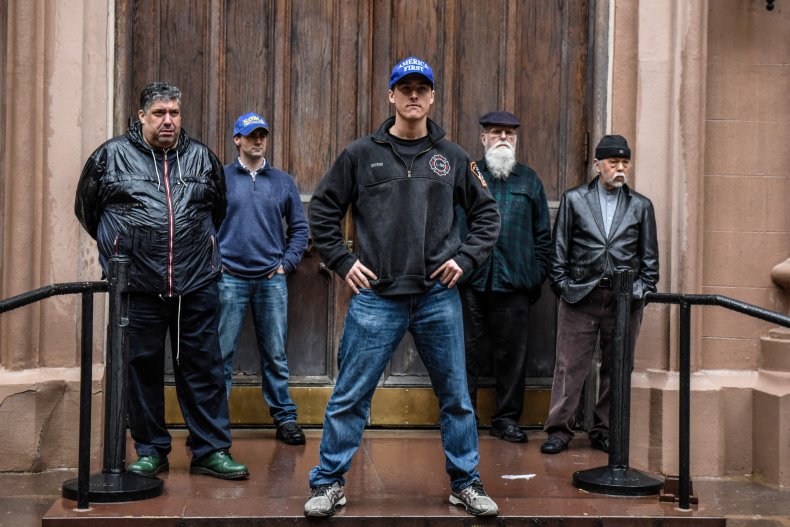 Closed captions on the clip described the man as "FDNY" (New York Fire Department), but it is not clear if the man is actually affiliated with the city's fire department.
He is seen wearing a sweatshirt bearing FDNY insignia in the clip, but an FDNY spokesperson told Newsweek the man is not a member of the department.
"A video circulating from a protest in Manhattan over the weekend shows an individual wearing a FDNY sweatshirt," Frank Dwyer, the FDNY's deputy commissioner of public information, said.
"The individual in the video is not a member of the FDNY. The comments made do not represent the views of the FDNY. The matter is under investigation."
The clip, which was initially posted on Instagram by an organizer, amassed more than a million views after it was shared widely on Twitter and prompted "FDNY" to trend on the platform.
"Important: despite the CC, we still don't know if this fascist is actually from FDNY. What we do know is that the Archdiocese of NY @NY_Arch are hosting fascists + giving them a platform," NYC for Abortion Rights wrote on Twitter. The group and the Archdiocese of New York have also been contacted for comment.
"Today in NYC hundreds of pro-abortion folks showed up to counter clinic harassers," Joshua Potash wrote in a tweet. "You can see the horrifying truth of what anti-abortion extremists really think when one says 'your body is mine.'"
"If this guy really is @FDNY, he's gotta go," Jeff Sharlet tweeted. "Imagine the terror a rape survivor might feel if this guy, who says he owns women's bodies and forces them bear his children, comes into her home. He made his choice. He chose threats over his job. He's literally unsafe."
Alyssa Miller wrote: "If there was any doubt about the ideology driving anti-abortion perspectives, this @FDNY firefighter just put it right out there. 'Not your choice, not your body, your body is mine.' The absolute glee he takes in saying it should disturb literally every woman everywhere."
Amy Siskind wrote: "As horrible as his public statements are, as is @FDNY silence, let's acknowledge that this scumbag is saying out loud what so many Republicans white men are already thinking and saying in private. This is their plan."
The anti-abortion protesters, including the man seen in the video, were praised by GOP Reps. Marjorie Taylor Greene and Paul Gosar.
"The men holding rosaries, Bibles, and wearing America First hats bravely defending their churches against the abortionist horde are heroes, every single one of them. Heroes," Gosar tweeted.
Greene retweeted Gosar's tweet and said: "God bless them. [folded hands emoji] They are heroes."
Update 5/9/22, 11:15 a.m. ET: This article has been updated with a statement from the FDNY and details about tweets from Reps. Paul Gosar and Marjorie Taylor Greene.