Only 31% Back Overturning Roe v Wade in Poll Done After Supreme Court Leak
Fewer than one-third of Americans say they support overturning Roe v. Wade, according to a poll conducted in the days after the Supreme Court's majority draft opinion to strike down the decision was leaked.
The survey completed by Yahoo News and YouGov between May 3 and May 6 shows that 31 percent of Americans back overturning the landmark abortion decision, while 51 percent say it shouldn't be overturned. Of those surveyed, 18 percent said they weren't sure.
On Monday, Politico first reported on a leaked draft majority opinion written by Justice Samuel Alito showing the Supreme Court had voted to jettison Roe v. Wade. If the case was no longer on the books, Center for Reproductive Rights, a group that supports the legal protection of abortion, estimates that 24 states would move to prohibit or severely restrict access to abortions. In 13 states, abortion would instantly become illegal.
The poll, which surveyed 1,577 adults, found that 56 percent of respondents believe that abortion is "a constitutional right that women in all states should have some access to." On the other hand, 33 percent said they wanted their states to make abortion illegal.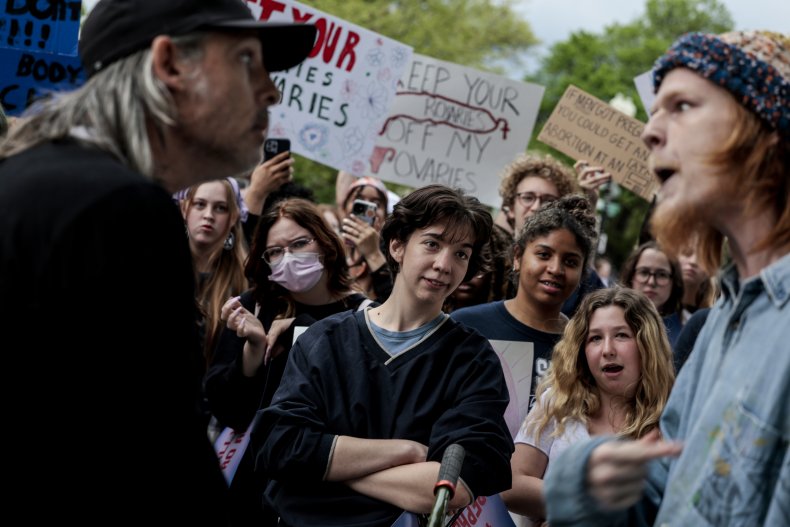 A poll published by CNN after the draft opinion was leaked this week had similar findings. Of those surveyed, 66 percent said they opposed overturning Roe v. Wade while 34 percent said they were in favor of doing so.
The findings are also consistent with other public opinions surveys that have been done on Roe v. Wade in recent years. Gallup has found that opposition to overturning the decision has hovered between just above and well-over 50 percent since the late 1980s.
Last year, the organization found that 58 percent of Americans opposed overturning Roe v. Wade while 32 percent backed doing so.
It's unclear how the leaked Supreme Court draft decision might impact the upcoming midterm elections.
The Yahoo News poll found that 44 percent of voters preferred a generic Democrat, while 39 percent favored a generic Republican hypothetical congressional election. The poll also noted that "when voters were asked to choose instead between a 'pro-choice Democrat' and a 'pro-life Republican,' GOP support fell to 31% while Democratic support held steady—more than doubling the gap between the two candidates."
CNN's poll on the other hand, found that Republicans lead Democrats 49 percent to 42 percent on a generic ballot, with the news outlet noting that this represents "a slight improvement for Republicans compared with the poll conducted immediately before the ruling."