The possibility that the U.S. Supreme Court could overturn the landmark abortion ruling in 1973's Roe v. Wade may not have a major effect on Republicans' chances in the midterm elections.
Though there has already been speculation that overturning Roe will become a major issue in the 2022 midterms and could harm the GOP's chances of retaking the House of Representatives and the Senate, polling from Gallup suggests that Americans are far less concerned about abortion than other issues.
Speculation about the midterms comes after Politico on Monday published what appeared to be a leaked Supreme Court majority opinion authored by Associate Justice Samuel Alito that would overturn Roe v. Wade.
Politico cited "a person familiar with the court's deliberations" who had told the outlet that Justices Clarence Thomas, Neil Gorsuch, Brett Kavanaugh and Amy Coney Barrett had voted with Alito in conference.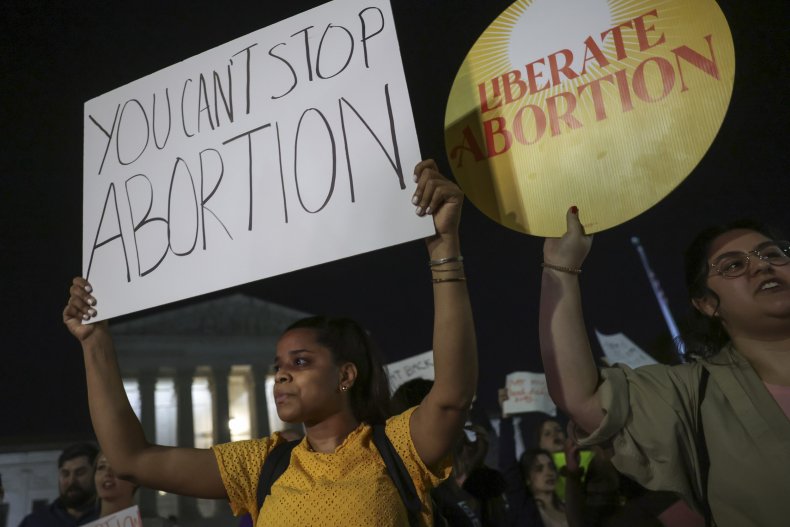 All five justices were appointed by Republican presidents and some Republican members of Congress have already celebrated the possibility of Roe being overturned. However, it is not clear if Republicans would pay an electoral price if the Supreme Court strikes Roe down.
Gallup conducts annual polling on the issue of abortion and its most recent figures from May 2021 showed that the nation was almost evenly divided between those who consider themselves "pro-choice" and those who say they are "pro-life."
The poll found that 49 percent of Americans identified themselves as "pro-choice," while 47 percent said they were "pro-life."
Forty-eight percent of respondents said that abortion should only be legal under certain circumstances, though the poll did not ask for specifics about those circumstances. A further 32 percent said abortion should be legal under all circumstances, 19 percent said it should be illegal under any circumstances and just 2 percent said they had no opinion.
Perhaps more significantly, Gallup also found in March 2022 that abortion is not considered among what Americans consider to be the most important problems in the U.S. Less than one percent of respondents told Gallup that abortion was "the most important problem facing the country today." In its February 2022 survey, that figure was less than 0.5 percent.
The three most important issues were the government/poor leadership at 22 percent, high cost of living/Inflation at 17 percent and the economy in general at 11 percent.
Recent polls have also shown Republicans with a slim lead over Democrats in the generic ballot for the 2022 midterm. Poll tracker FiveThirtyEight tracks the generic ballot by analyzing a variety of polls and through its own system of pollster ratings.
FiveThirtyEight's analysis showed that the GOP enjoyed 45.2 percent support compared to Democrats' 42.8 percent support as of May 2. It remains to be seen if Roe will affect the polls.
The draft opinion Politico published on Monday is not the Supreme Court's official opinion—that could be published in June or July—and justices are known to change their votes during the process.
However, many Democrats reacted with anger to the draft opinion and have called for abortion rights to be codified through federal legislation. Some have argued that the filibuster should be abolished in order to achieve this. President Joe Biden previously expressed support for codifying abortion rights into law, particularly if Roe is overturned, and abortion could become a major election issue.
A Silent Majority
Thomas Gift, founding director of University College London's Centre on U.S. Politics, told Newsweek on Tuesday that much could depend on the "silent majority" of U.S. voters' reaction to the potential repeal of Roe.
"A repudiation of Roe will have the predictable effect of galvanizing two sides of the debate: the progressive left, who will cast the decision as an historic assault on women's rights; and the Evangelical right, who will herald the outcome as a major moral victory," Gift said.
However, Gift said that outcome was "obvious" and the political consequences could largely be a "wash out."
"The big question for 2022 and beyond is how the 'silent majority' reacts," he said. "Data show that most Americans don't want abortion completely criminalized. Even if abortion ranks relatively low in 'most important problem' polling, that could change now that the issue is on the ballot in a big way."
Shifting Votes
Gift suggested it was possible that some moderate voters could change their minds about voting for the GOP in the crucial midterm elections.
"Will some fraction of Americans—who were planning to vote Republican based on inflation, immigration, and other issues—now be willing to shift their vote based on the abortion issue? That's hard to predict," Gift said.
"But if some are—especially moderate, suburban women—it could give a marginal boost to Democrats heading into the midterms," he said. "It seems doubtful, however, that overturning Roe will have earthquake-sized effects on electoral math, precisely because the country is so divided on the controversy."
Urgency
Mark Shanahan, an associate professor at the Department of Politics and International Relations at Reading University in the U.K., and co-editor of The Trump Presidency: From Campaign Trail to World Stage told Newsweek that if Roe is struck down, it could have a profound effect on how Democrats approach the midterms.
"The leak of Alito's draft opinion has suddenly galvanized a midterm cycle that, so far, had lacked any real focus," Shanahan said. "Now both sides have an issue to latch onto and a greater imperative to get the vote out. For Democrats, the striking-down of Roe v. Wade—if that's what happens—brings much greater urgency to protect the House and the Senate."
A Challenge for the GOP
Shanahan said that if the Supreme Court overturns its precedent on reproductive rights then "the only way that the liberal view will prevail will be through federal codifying of abortion laws, and potentially court-packing through presidential appointment."
"That will happen only if there are working majorities for the Democrats both in the House and Senate," he said. "But that throws up an equal challenge for the GOP. If conservatives achieve their social nirvana with a reversal of Roe v. Wade, it will just be the start of a battle to embed socially conservative policy."
"That will be made so much easier with Congressional control—not just by Republicans, but by avowed socially-conservative Republicans. State by state, the GOP Primaries just got a whole lot more interesting," he added.
Follow Newsweek's live blog for the latest updates on Roe v. Wade.
Update 05/03/22, 10:10 a.m. ET: This article was updated to include expert commentary from Thomas Gift and Mark Shanahan.