Connecticut Man Tested New Guns by Firing Them Into a Park Full of Kids, Police Report
A senior citizen in Connecticut was arrested after reportedly fired two guns into a public park where kids were playing softball.
Police in Stamford say 68-year-old James Denardo claimed he was "testing" to see if the firearms worked.
It was around 6:30pm on Wednesday, August 21, when emergency dispatchers received reports of a man firing his guns from a parked car near Scalzi Park. Officers investigating the tip found veteran James Denardo sitting in his Cadillac at the intersection of Fourth Street and Washington Boulevard. They approached him with their guns drawn, ordering him to keep his hands in the air.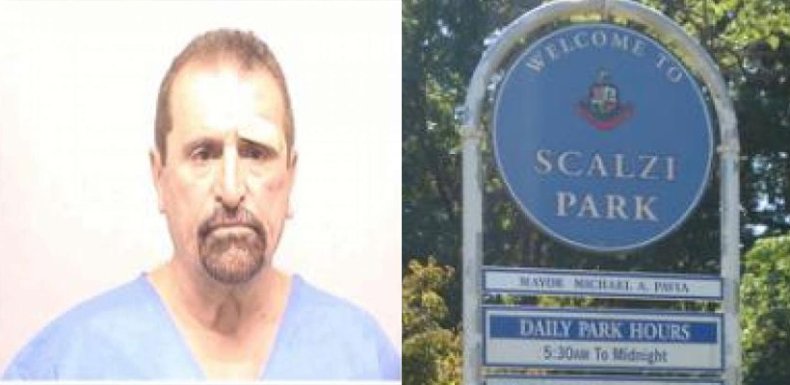 Newsweek subscription offers >
When they reached the car, they found Denardo had a two-shot derringer pistol in his lap.
After a short struggle, Denardo was removed from his vehicle and handcuffed. A search revealed he had a loaded 9mm Beretta in addition to the derringer. A pair of spent shell casings were also found outside of the car. Police found multiple miniature bottles of vodka inside the car, some of which were empty.
When questioned, Denardo denied firing the shots into the park. Once in custody Denardo told officers that after he purchased the guns he "wanted to see how they worked."
Scalzi Park is Stamford's largest public recreation area. At the time of the shooting, two adult football games and a youth softball practice were in progress. Witnesses report seeing two bullets land in the dirt on the softball field, but no injuries were reported.
Newsweek subscription offers >
"This was really serious," police captain Diedrich Hohn told the Stamford Advocate. "The guy is lucky he didn't kill anyone and didn't get killed himself. He put a lot of people in danger because what he did was a very reckless act."
Both guns had been purchased that morning at Bob's Gun Exchange in Darien. Denardo reportedly has a permit for firearms ownership issued in 2015.
His neighbors told CBS he had previously been employed as a security guard but a shoulder injury made him unable to work. "I think he's a wonderful person from my interactions with him," said one. "From what I've heard about what happened my guess is he just did something stupid but no ill intent."
Denardo has been charged with unlawful discharge of a firearm, interfering with police, 50 counts of first-degree reckless endangerment and 22 counts of risk of injury to a minor. He is being held in Bridgeport Correction Center on $75,000 bail.
In June 2017, a gunman opened fire on a group of GOP elected officials practicing in an Alexandria, Virginia park for their annual Congressional baseball game. House Majority Whip Steve Scalise was injured, as well as a congressional aide, a lobbyist and a Capitol Police officer.
Connecticut Man Tested New Guns by Firing Them Into a Park Full of Kids, Police Report | News