A man in Orange County, Florida, attempted to enter Walt Disney World with a gun and ammunition late last month, according to a local sheriff's office.
The man, Aaron Josue Lopez, 35, was allegedly stopped in a parking garage in Disney Springs on May 27, after he was sent to a secondary security screening, per an incident report from Orange County Sheriff's Office that was provided to Newsweek.
On its website, Disney Springs is described as "an eclectic mix of unique boutiques, one-of-a-kind eateries and jaw-dropping entertainment" located at Disney World.
According to the report, a security employee told sheriff's deputies that after saying he wanted to search Lopez's bag, Lopez allegedly said he had a folding knife in his bag, and later added that there was something else he wanted to put back in his vehicle.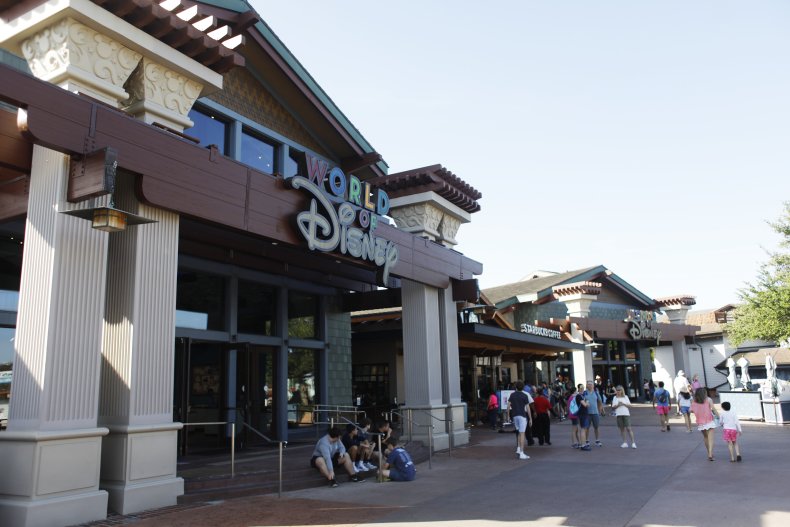 The sheriff's office said Lopez was allegedly carrying a 9mm Glock 19 "kit gun," two Glock 19 magazines, and a small box of ammo.
Lopez did not have a license to carry a concealed weapon and has been charged with carrying a concealed firearm, per the sheriff's office.
In its incident report, the sheriff's office stated: "We checked the firearm for a serial number none could be located. We were told by Aaron that the firearm is a Glock clone and he has to submit paperwork to the state to have a serial number assigned."
"Aaron told me that he had a valid carry conceal firearm license but as mentioned above none could be located through any law enforcement database," the office continued.
Florida news station WPLG reported that Lopez has been booked into the Orange County Jail.
In a separate incident in Texas last month, a man was arrested after buying a firearm accessory and threatening to go "human hunting." The Laredo Police Department said the man allegedly purchased an optic scope and told the seller of his supposed plans. The man was charged with third-degree terroristic threats.
Meanwhile, police in San Jose, California, recently announced that they had seized several firearms, and ammunition from a man who was accused of stalking his co-workers. That person, a former worker at a construction company, "engaged in escalating behavior of cyber stalking, including posting pictures of himself pointing firearms on social media," the San Jose Police Department said in a statement.
Also in May, police in Texas arrested a juvenile after receiving a report that the student allegedly carried a firearm to a nearby high school.