'Human Hunting' Threat Leads to Multiple Rifles, Ammo Discovery: Police
A Texas man was arrested on Thursday after purchasing a firearm accessory and threatening that he intended to go "human hunting," police said.
The Laredo Police Department said it received a tip about the man on Wednesday after he purchased an optic scope for one of his guns and told the seller of his grisly supposed plans when they met in person, according to a statement sent to Newsweek. The seller, whose identity has not been disclosed to the public, was alarmed by this statement and reported it to the police.
Laredo, Texas, is about 130 miles south of Uvalde, Texas, where 19 children and two teachers were killed in a mass shooting at Robb Elementary last week. The incident prompted an international conversation about gun laws across the U.S. as well as in other countries.
An investigation was then launched by the Laredo Police Crimes Against Persons Unit and the LPD Juvenile and Gang Enforcement Team, attempting to determine the man's identity and locate him. Authorities eventually determined that the man was Javier Torres, 37.
An arrest warrant was issued for Torres on Thursday, charging him with third-degree terroristic threats, a felony-level offense. The same day, police executed a search warrant on his residence where he submitted to arrest "without incident."
A further search of his home turned up a sizeable cache of weaponry, including "several handguns, extended magazines, long rifles, a bulletproof vest with armor plates, and hundreds of rounds of ammunition."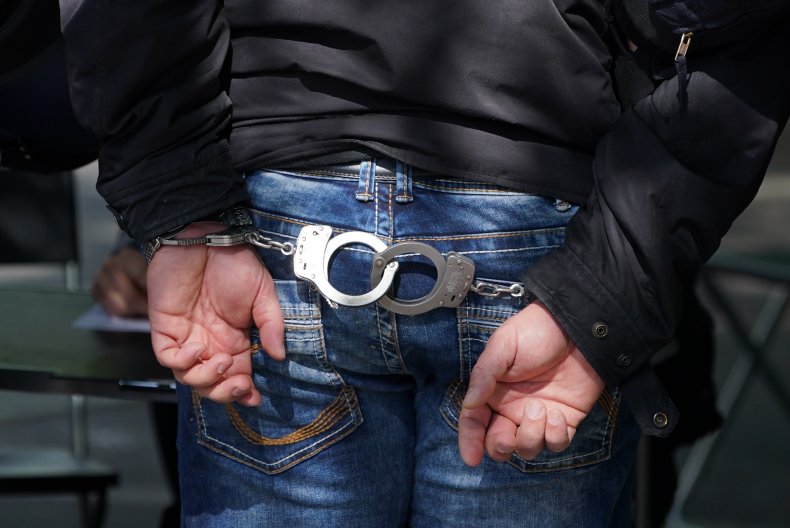 The investigation into Torres and his alleged threats remains ongoing.
Coming less than a week after the deadly elementary school mass shooting roughly 130 miles away in Uvalde, Texas, police noted that Torres's home was located in close proximity to a school.
"It is important to note that the home of Torres is less than 1,000 feet from an elementary school," the Laredo Police's statement on Facebook noted.
"There were NO direct threats made to the faculty or students of the school in this case. Due to the proximity of the school, the L.I.S.D. Police Department was briefed on the investigation and will be included in all future updates of this case."
Police also commended the unnamed seller for reporting Torres's alarming claims to authorities and urged members of the public to do to the same in the future.
"We would like to specifically thank the actions of the caring citizen who took the time to inform law enforcement authorities about the concerns regarding this threatening statement made," the statement concluded. "We encourage anyone in the community to communicate any information that may pose a threat to anyone's safety. If you see something, say something."
Gun Statistics and Laws in Texas
A survey conducted by the advocacy group Texas Gun Sense estimated that at least 37 percent of Texans own guns.
It also found that around 1.7 million residents of the state held a state-issued license to carry firearms, as of the end of 2021.
As Newsweek previously reported, Texas is known for its unrestricted gun legislation, as you can openly carry rifles in public without a permit.
After the 2018 to 2020 mass shootings in Texas, including the Santa Fe high school shooting and the El Paso shooting, Texas Governor Greg Abbot decided to expand gun rights rather than restrict them.
You can read more about the Texas Gun Laws here.
And unfortunately, it's not the only alarming arrest since Uvalde.
Among those, a Florida 10-year-old was arrested after allegedly sending via text mass-shooting threats, and police in Virginia said a man was arrested for threatening violence against a school on social media.
Update: 05/21/22 7:15 p.m. ET: This article was updated to reflect information sent by the Laredo Police Department.