Man Trying to Kill Spider Arrested After Starting 60-Acre Wildfire: Police
The Utah County Sheriff's Office (UCSO) arrested a man on Monday who purportedly started a massive wildfire while attempting to kill a spider.
In a public tweet, UCSO said the man told officers he tried to burn the spider with a lighter. He now faces a reckless burning charge, which carries a penalty of up to one year in prison and a fine of up to $2,500, KTVX reported.
According to NBC affiliate station KSL, the Springville Fire Department received reports of a fire "north of town on the mountainside" at around 5 p.m. on Monday. Utah County Sheriff's Sergeant Spencer Cannon told the station that the suspect, whose name has not been released, was found walking his dog at the scene when fire crews arrived.
"As fire [crews] responded, they got to the area where it appeared that the fire had started, and there was a man there with his dog," Cannon said. "[He] told them that he was there and that he was the one who started it and that he had been using a lighter to burn a spider. We don't know why he was doing that."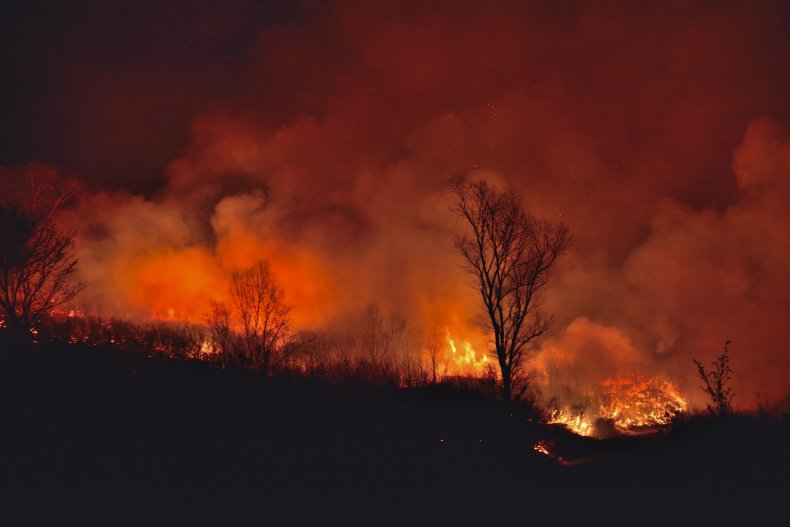 The fire was at approximately 40 acres "and growing" when fire crews first arrived at the scene, KSL said. By Tuesday morning, the fire had grown to roughly 60 acres, said Utah Fire Info.
"[The Springville Fire is] 10 percent contained," Utah Fire Info tweeted Tuesday. "Firefighters expect the containment to drastically increase by end of shift. Two crews, one engine and one squad will be on [the] scene."
As previously mentioned, the suspect was arrested on Monday. However, police said they found "drugs and paraphernalia in his backpack" after the arrest, and he now faces a drug possession charge in addition to the aforementioned reckless burning charge.
Newsweek reached out to the UCSO for comment.
In response to the news, Utah Governor Spencer Cox tweeted: "Um, don't do drugs kids (and don't start spiders on fire during a drought)."
Utah Drought
According to KSL, the U.S. Drought Monitor lists nearly 84 percent of Utah in "at least extreme drought" and 99 percent of the state in "at least severe drought."
"Despite recent monsoons that have brought much-needed rain to some areas of the state, hot, bone dry conditions continue to bake our parched vegetation," Joel Ferry, the acting executive director of the Department of Natural Resources, said in a public statement via KSL.
"With temperatures in the triple digits and high winds, it doesn't take much to spark a destructive wildfire. We need people to use good fire sense and help stretch our water supply," Ferry continued.
One way to conserve water, said Utah Representative Tim Hawkins, is to turn off automatic sprinkler timers.
"With heavy rain over much of Utah last night, one of the best things one can do to conserve water is to *turn off the automatic sprinkling timer.* Water again 5-7 days from now. Thanks. Every drop counts!" Hawkins tweeted Tuesday.
Residents can also conserve water by fixing leaks quickly, washing their dogs near flower beds and removing weeds from their yards, Slow the Flow said.
Other U.S. Wildfires
Fire crews in California are currently battling the state's largest wildfire this year—the McKinney Fire. Meanwhile, fires are popping up around Montanna and Oregon, causing a decrease in the state's air quality.
And last month, Alaska experienced several wildfires as a result of a lightning storm.