Man Who Allegedly Stabbed Gas Station Clerk in Mask Dispute Arrested
Police in Seattle arrested a man who is accused of stabbing a gas station clerk who told him to leave the store because he wasn't wearing a mask.
The suspect entered the store on Monday, around 7:15 p.m. "and was quickly turned away by the clerk for not wearing a mask inside the station's convenience store," according to the Seattle Police Department blotter.
The police said the man stabbed the clerk in the chest and abdomen and fled the scene. The clerk was transported to a hospital for treatment, and at the time police "searched the area but were unable to find the suspect."
On Thursday, police said they had made an arrest in connection with the stabbing. They identified an 18-year-old suspect and had determined a possible address for him.
"Police surveilled the home for multiple hours Wednesday afternoon and eventually knocked on the front door and spoke with a family member of the suspect," they wrote in a statement.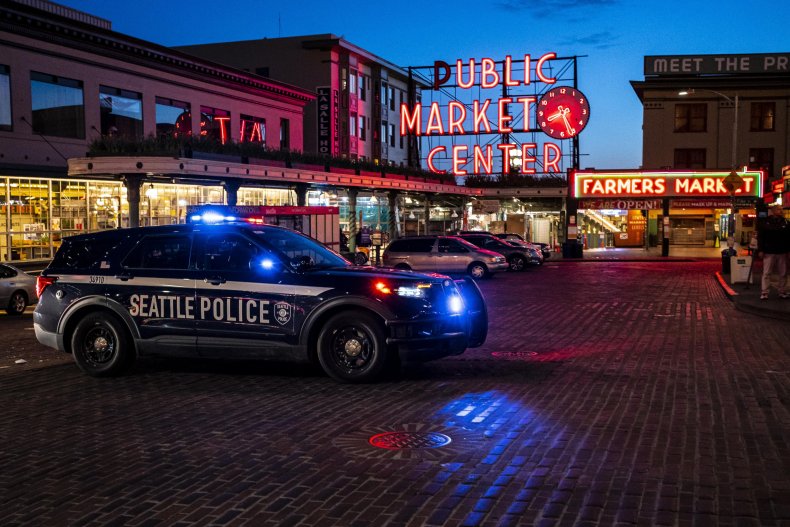 "The family member denied the suspect was in the home but as they were speaking, the suspect attempted to sneak out the back door and was apprehended by officers who were waiting for him," they added.
The suspect, who has not been identified, was booked into the Kings County Jail. Police said the man will be charged with assault.
Seattle Police referred Newsweek to their statement when contacted for comment.
The Seattle stabbing marks the latest instance of employees being allegedly assaulted after attempting to enforce COVID-19 public health protocols.
Earlier this month, two people in Eugene, Oregon were arrested and accused of assaulting a cookie store owner after they refused to wear masks in her store.
In October, a man at an Apple Store in New York City stabbed a security guard "following a dispute over wearing a mask inside the store," the NYPD said at the time.
Also last month, police in Wisconsin arrested a man after he allegedly refused to wear a mask inside a restaurant and punched a manager in the face.
And in March, a man in Texas allegedly stabbed a Jack in the Box manager after refusing to wear a mask in the restaurant when the employee asked him to.