A Canadian family has called the nation's quarantine project "utterly useless" after a 74-year-old man contracted a COVID-19 variant strain that infected his whole family after his hotel stay.
According to a report from CP24, Syed Shah flew into the Pearson International Airport in Ontario after a business trip in Pakistan. Per airport policy, Shah was swabbed for a PCR test to detect a COVID-19 infection. As his family waited on the results, his son Syed Haider booked Shah a room at the Sheraton Hotel and Conference Centre, a facility that was participating in the national hotel quarantine project.
Haider told CP24 that service at the hotel was not up to par, with his father noting, "I can't believe this is a Sheraton ... They don't have water, the hot water wasn't working, the phones were down."
The two claim that due to poor Wi-Fi reception, Shah spent $12.70 per call on the hotel room phone, but alleges the calls "never went through." They also claim there was an issue with room cleanliness and that Shah "had quite a lot of visitors from the hotel itself."
When Shah's airport PCR test came back with a negative result on March 5, quarantine officials deemed it safe for him to return home to finish his quarantine. Shah was given an at-home COVID test that had to be submitted on the 10th day of isolation, as well as a $1546.56 hotel bill for his three-night stay.
But on March 10, Shah and Haider claim that the rest of the household showed symptoms consistent with COVID. Shah's two sons, daughter and wife subsequently tested positive for COVID-19. Due to federal regulations surrounding his international trip, Shah could not leave his house to be tested with his family, but Haider confirmed he shared similar symptoms.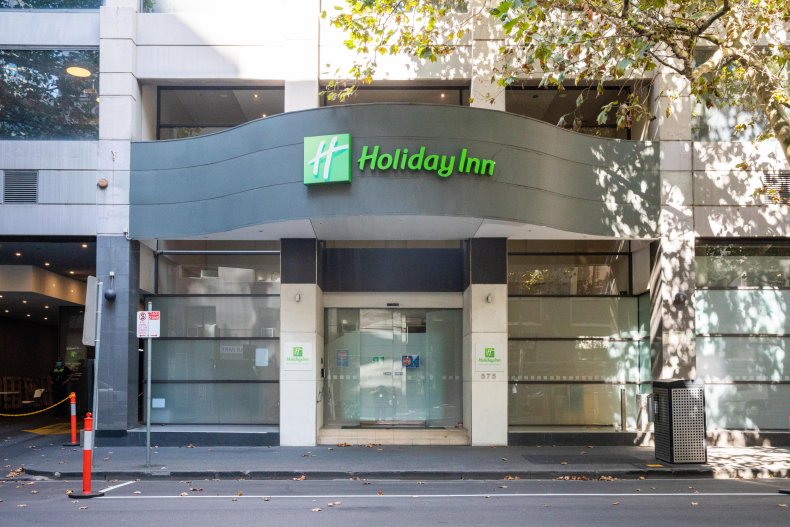 On March 17, Shah's at-home test yielded a positive result. His family firmly believes that Shah was infected while staying at the Sheraton, but the hotel did not answer their calls and Toronto Public Health (TPH) officials brushed off their concern.
"There was no effort," Haider told CP24. "They just asked general questions, how many people are in the house, can you self isolate."
In late March, Shah was contacted by TPH, who initially said his case "did not merit" contact tracing, to inform him that his household had contacted a "concerning" COVID virus — B.1.1.7, colloquially known as the "U.K. variant." This mutation is considered to be 30 percent deadlier than other strains and has been linked to more rapid transmission.
Shah and his family think that it was contracted via the plumbing or vents at the hotel.
"I am pretty angry," Haider said. "We didn't break any rules, we did what we were supposed to do and even following the protocol, we got sick from the variant of concern."
Haider added that he and his family "take the pandemic very seriously" and have limited socialization outside of their household.
"The whole system is broken," he said. "What's the point of spending the money [for a hotel] if we're going to get sick anyway."
Marriott, which owns the Sheraton franchise, and Larco Hospitality, the Sheraton's operator, both declined requests for comment. The Public Health Agency of Canada did acknowledge that they were "aware" of Shah's situation but offered no other comment.
Back in December, Manitoba's Prime Minister slammed the nation after issuing a "Code Red" travel restriction, telling Canadians: "If you don't think that COVID is real right now, you're an idiot."