Manchin Pulls Energy Bill, Warns Putin Will Keep 'Weaponizing' Resources
West Virginia Senator Joe Manchin said that the Senate's failure to vote in favor of his proposed energy permitting reform will only "embolden" world leaders like Russian President Vladimir Putin "who wish to see America fail."
The statement posted on Manchin's Twitter account Tuesday follows news that the moderate Democrat asked Senate Majority Leader Chuck Schumer to scratch the energy bill Manchin proposed as part of a short-term government spending package that the Senate was set to vote on later in the day.
The package, which includes $12 billion in aid to Ukraine as well as funds to address the water crisis in Jackson, Mississippi, was passed by the Senate in a 72-23 vote, reported The Washington Post.
"It is unfortunate that members of the United States Senate are allowing politics to put the energy security of our nation at risk," Manchin posted on Twitter. "The last several months, we have seen firsthand the destruction that is possible as Vladimir Putin continues to weaponize energy."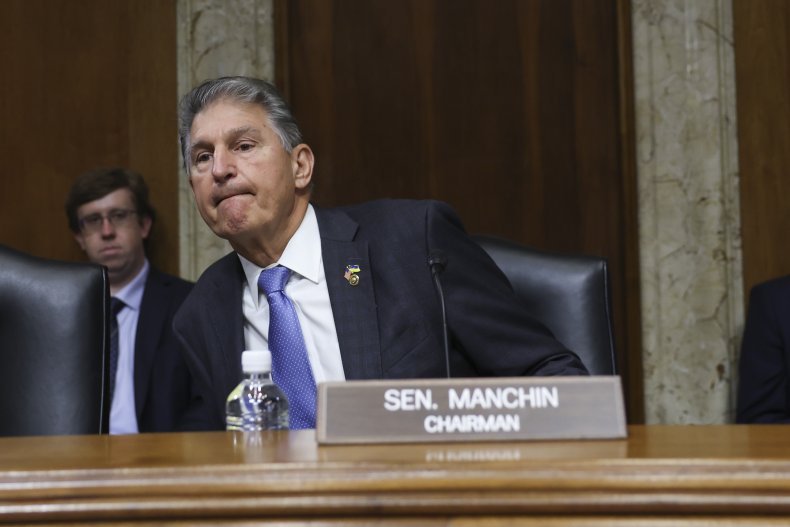 Manchin, who serves as chairman of the Senate Energy and Natural Resources Committee, released the energy permitting package last week as part of the continuing resolution that, if had not passed, could have resulted in a government shutdown starting October 1.
Manchin said in his statement that he asked Schumer to eliminate the permitting reform to avoid the chance of a shutdown. Politico reported that Schumer said on the floor Tuesday that he and Manchin will "continue to have conversations about the best way" to move forward on reforming permitting efforts before the end of the year.
The bill received backlash from both sides of the aisle when it was first introduced by Manchin on September 21, including from Senate Minority Leader Mitch McConnell, who called Manchin's addition to the spending package a "poison pill," reported Reuters. Several Republican leaders had threatened to block the continuing resolution if Manchin's energy proposal was a part of the larger spending bill.
McConnell was also critical of Manchin voting in favor of President Joe Biden's Inflation Reduction Act in August in exchange for support from Biden, Schumer and House Speaker Nancy Pelosi to pass his energy reform package.
Environmental leaders were also concerned that Manchin's bill would boost fossil fuel projects, such as guaranteeing permits within 30 days of passage for the Mountain Valley Pipeline, which has been long delayed by environmental regulations.
Among the bill's most vocal critics was the youth-led environmental advocacy group Sunrise Movement, which had repeatedly campaigned on Twitter to "#StopTheDirtyDeal" and called upon other senators to pledge blocking the bill.
"Today, people power won, big oil lost and @Sen_JoeManchin can go home and cry on his yacht," the Sunrise Movement tweeted Tuesday after the bill was cut.
Independent Vermont Senator Bernie Sanders also released a statement celebrating the removal of Manchin's "side deal" from the spending package Tuesday night, and had argued that the bill would have profited big oil companies at the expense of environmental efforts.
"I want to congratulate the more than 650 environmental groups and community organizations who made clear that, in the midst of the horrific climate crisis that we face, the last thing we need is a side deal which would build more pipelines and fossil fuel projects that would sustainably increase carbon emissions," Sanders' statement said.
Newsweek has reached out to Manchin for comment.