Manchin Stays Mum on Which Way He'll Vote for $3.5T Reconciliation Package
Senator Joe Manchin is staying quiet as to how he plans to vote on the Democrats' $3.5 trillion reconciliation package, saying he's made "no commitments" to President Joe Biden on the spending bill.
When asked about a top-line number, Manchin told reporters on Capitol Hill, "There was no commitments made at all."
"Just good negotiations, talking about the needs of our country," the senator added on Tuesday.
The West Virginia senator has previously publicly opposed the package, saying he is a "hard no" on supporting the bill, and that Senate Majority Leader Chuck Schumer "will not have my vote on the 3.5."
In a Wall Street Journal op-ed published earlier this month, Manchin suggested that Democrats should "pause" on rushing to pass the key component of Biden's legislative agenda, arguing that halt deliberations "will provide more clarity on the trajectory of the pandemic, and it will allow us to determine whether inflation is transitory or not."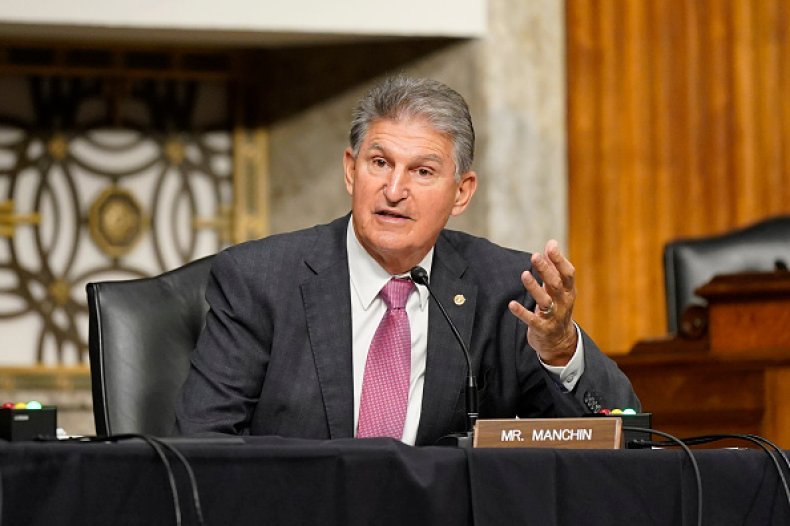 "While some have suggested this reconciliation legislation must be passed now, I believe that making budgetary decisions under artificial political deadlines never leads to good policy or sound decisions," Manchin wrote.
He continued, "I have always said if I can't explain it, I can't vote for it, and I can't explain why my Democratic colleagues are rushing to spend $3.5 trillion."
Manchin's opposition has drawn criticisms from progressives in his own party, including Senator Bernie Sanders, who called Manchin's stance "absolutely not acceptable."
"Let's be crystal clear. If the bipartisan infrastructure bill is passed on its own on Thursday, this will be in violation of an agreement that was reached within the Democratic Caucus in Congress," Sanders tweeted on Tuesday.
On Monday, protestors were also seen outside Manchin's houseboat with signs like "Don't Sink West Virginia" and "No Climate No Deal."
Democrats have argued the high price tag is necessary in order to address climate change, free education, Medicare expansion and paid leave.
Time is running out for members of Congress.
If they are unable to pass a federal funding bill by Thursday at midnight, the federal government will face a partial shutdown until a dealing can be reached.
Several Democrats have called for both the bipartisan infrastructure bill and the proposed reconciliation bill to be passed together.
White House Press Secretary Jen Psaki has also reiterated Biden's commitment to passing both bills.
"One is absolutely not getting dropped. Anyone who thinks that, that's not true or accurate. We certainly trust the Speaker, we trust Leader Schumer, and the president is playing his role on getting these pieces across the finish line," Psaki told reporters on Tuesday.