What Happened to Cara Dune? 'The Mandalorian' Season 3 Confirms Her Fate
The Mandalorian has addressed the fate of Gina Carano's Cara Dune in the first episode of its third season.
Carano was fired from the Disney+ Star Wars show in 2021 after sharing a series of social media posts that were considered offensive. The actor and ex-MMA fighter had compared the experience of being a Republican today to that of the Jewish people during the Holocaust in one post on Instagram.
The actor portrayed the supporting character in both Seasons 1 and 2 of the sci-fi epic, but Lucasfilm, which is owned by Disney, shared a statement in 2021 announcing she would not appear in the show in future.
The statement read: "Gina Carano is not currently employed by Lucasfilm and there are no plans for her to be in the future. Nevertheless, her social media posts denigrating people based on their cultural and religious identities are abhorrent and unacceptable."
As a result, fans of The Mandalorian have wondered how her exit from the show might be addressed, and Season 3's opening episode has offered an explanation.
What Happened to Cara Dune? 'The Mandalorian' Season 3 Confirms Her Fate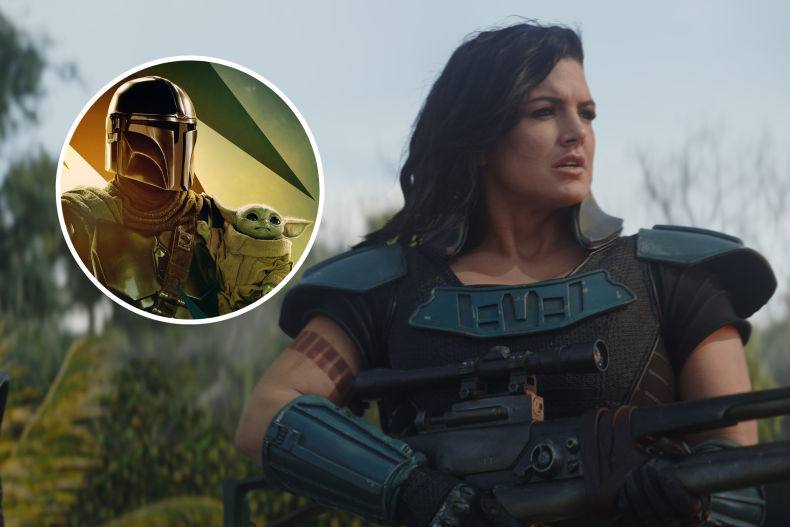 In Episode 1, Din Djarin (Pedro Pascal) returns to Nevarro to meet Greef Karga (Carl Weathers) on his journey to Mandalore, where he hopes to seek redemption from his clan after removing his helmet in seasons past.
While discussing how the planet has grown into a thriving town, Greef tells Din how he is in need of a new marshal and feels that the Mandalorian would make a good one. This prompts Pascal's character to ask what happened to Cara Dune, who had the role before.
Greef explained that after Cara had helped in the capture of Moff Gideon in Season 2's finale she was "recruited into special forces," and so is no longer living in the system.
This confirms what director and executive producer Rick Famuyiwa told Deadline in a preview of the forthcoming season, that co-creators Jon Favreau and Dave Filoni didn't want to kill off Cara Dune.
Famuyiwa explained: "Cara was a big part and continues as a character to be part of the world.
"It had to be addressed in the creative and [Jon Favreau] took the time to think about that. It was something that was discussed as we knew it was going to have impact on the show, but at the same time, what has been at the heart of the show are the two characters—Din Djarin and Grogu—so ultimately it felt like a servicing of that, and around the Mandalorians."
Filoni also told the website: "It's a big galaxy, and we have many characters in it—many characters are fighting for their screen time. We'll just have to see as the season unfolds what the adventures are, but it's a great character, someone who was vital to Din Djarin's beginnings; we'll see if he has evolved beyond that."
The Mandalorian Season 3 airs Wednesdays on Disney+.