Man Sneezing in Costco Membership Photo Delights Internet: 'Masterpiece'
In the era of selfies and social media, we're used to having control over how we present ourselves to the world. So, it's humbling when confronted with a good old-fashioned ID card photo.
Universally unflattering, ID card photos are the great equalizer. Whether it's your driving license or your student card, one of the worst things about ID snaps is that you don't get a do-over—meaning that truly awful photograph is going to stick around for a long, long time.
One man also has internet strangers to remind him of his ID photo failure, after an unfortunately-timed sneeze went viral on Reddit.
User BabyJesusAnalingus, real name Domenic Merenda, shared his new Costco card to the r/funny forum on Saturday, along with the caption: "So Costco apparently doesn't re-take membership card photos if you sneeze."
The post has received more than 140,000 upvotes and over 1,000 comments from Redditors comparing his expression to everything from a big toe to the Addams Family's Uncle Fester.
Kittywitch9 said: "You look like Voldemort on the back of Professor Quirrell's head."
PRtheRights commented: "Dude was morphing into a catfish. Don't hate."
ChrisCrossNathaniel got poetic, writing: "Humpty Dumpty paid the membership fees
"Humpty Dumpty had a great big sneeze
"All the Costco men wouldn't retake Humpty's pic again."
Dieth joked: "You are now the Ogre of Costco."
According to Statista, there were 111 million Costco members in 2021. The number of cardholders has risen consistently since 2014, when 76.4 million people had a Costco membership. Last year, Costco was the sixth most valuable retail brand worldwide, with an estimated brand value of $35.1 billion.
It's not just Costco card photos or school portraits that make us wince. Research from 2017 found that despite liking our own selfies, we find other people's cringe-worthy. The study, called "The Selfie Paradox," explored why we keep taking selfies but judge others for doing the same thing. The survey of 238 people discovered that 77 percent regularly took selfies, despite seeing it as a sign of narcissism or inauthenticity in other people.
On the other hand, a 2019 study found that people who shared photographs of themselves taken by someone else—dubbed "posies"—were assumed to be more likable, successful and confident than their selfie-loving counterparts, at least to strangers—unless of course, it's a mid-sneeze ID card photo.
Merenda, who lives in Chicago, told Newsweek: "I have the 'gold' [Costco] membership.
"I decided to get it because Groupon had a deal where Costco effectively pays you to become a member.
"I intend to maximize the value of my membership by grazing on samples and sucking down cheap hotdogs."
When asked how he feels about the overwhelming response to his photo fail, he said: "It's been very odd, especially since I have been recognized several times in public.
"A bunch of my friends sent memes of me from around the internet.
"It's funny to see all of the places it's cropped up. People are using it as Discord emojis, profile pictures, and I saw someone trying to sell shirts already."
Many Redditors pointed out that Costco does offer re-takes of their membership card photographs, but suggested that the store employee told Domenic otherwise to mess with him.
Wizard_of_awesome62 said: "They knew they had gold on their hands so they convinced OP their policy is to not retake photos. This is too good to redo."
Kakiblack679 agreed, commenting: "They probably do but the person who took it wasnt gonna let go of this moment."
However, Merenda explained that the manager seemed to be in a bit of a tough spot at the time, so he decided not to bother them.
He said: "I am sure they would have let me re-take it, but the store manager was five feet away being screamed at by an angry customer.
"We all felt so bad for him that I think we collectively agreed to just leave it. I'm happy we did, as it's brought so much joy to the internet!"
Others wanted to know why Domenic would even want a re-do.
Rustyrussell2015 said: "Are you kidding me?? I would be so proud of this photo. I would show it off everywhere I went."
RedditisTedious wrote: "Why would you want a new picture after that masterpiece?"
WhiskerTwitch commented: "You've gotta keep it, you'll make all the Costco-checkers' smile or laugh which is a f******* gift these days.
"Seriously great pic dude!"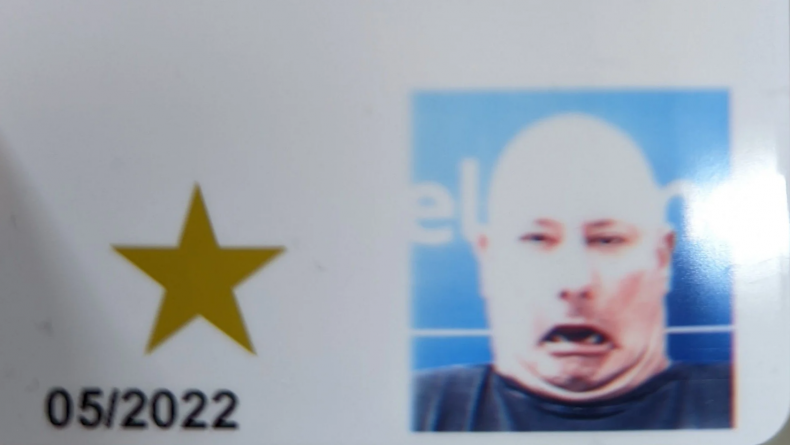 01/06/22 06:56 a.m. ET - This article was updated with further information and comments from Domenic Merenda.