Man's Final Riddle About 'Dead People' on His Gravestone Puzzles Internet
As Donald Trump has shocked many commentators after burying his ex-wife Ivana Trump in what some considered to be a sparse grave on a golf course he owns, one man who ensured his burial is exactly as he wants it—with a touch of personality—has gained viral attention online this week.
The witty gravestone of Philip Albert Straus, Jr. was shared on Reddit on Tuesday where it has since received more than 33,000 upvotes.
Ir wasn't the only memorial stone to capture attention. Earlier in 2022, a headstone in Polk County, Iowa, sparked anger when it was discovered there was a hidden profane message spelled out. The thoughtful words engraved on the stone had been arranged so that the phrase "F*** off" was spelled out vertically, a move that the man's family said he had decided upon before his death.
In a similar move, Philip Albert Straus, Jr. had also chosen his headstone wording with some thought—sharing a riddle for all who walk past to attempt to solve.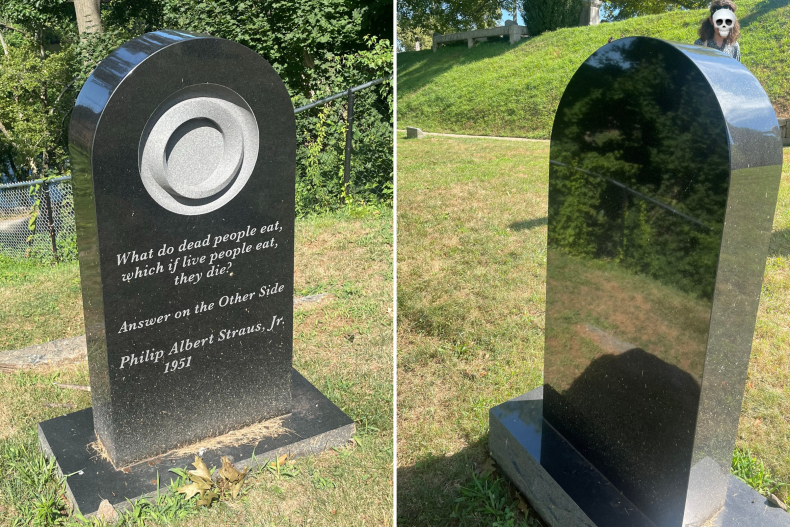 On the stone the engraved words read: "What do dead people eat, which if live people eat, they die? Answer on the Other Side."
The headstone was spotted by Matt Kodner from New York City during a trip to Philadelphia, Pennsylvania. Walking through Laurel Hill Cemetery, he and his friends were stopped by the headstone with an unusual engraving.
"My friend Dan solved it out loud before I could," Kodner told Newsweek: "He got it pretty quickly, maybe in 30 seconds which is embarrassing because one of my hobbies is, weirdly, making up my own riddles."
Kodner has been sharing his own brain teasers and riddles on his social media and blog wrongideas.net for his friends and family to solve, so the man's final riddle was particularly interesting to him.
"There's that line about the answer being on the other side, so I went around the back and saw that there was nothing written on the back. That also took me a second to get," said Kodner. "When I re-read it, I noticed that 'Other Side' was capitalized, it was yet another bit of playfulness."
Viewed more than 4 million times, Reddit users were quick to share their answers and reactions.
"Tell me why this gravestone is about to make me compete for Dream Island," joked one commenter.
Another Redditor said: "I love fun epitaphs."
"I'd bet there's nothing written on the other side," said another reply.
After visiting the graveyard and seeing the unusual riddle, Kodner said: "I don't know who Mr. Straus was or anything about him, but his riddle got me to stop at his final resting place for a few minutes. I feel like that's the most you could hope for when you're dead and buried, that you'll be thought of and visited with. And it's a really good riddle too, it's playful and sad and funny all at once."
In case you're still scratching your head over Mr. Straus' final riddle, the answer is simply... nothing.