Reviving Manufacturing Is a 'Pipe Dream': Jobs Report Shows Sector's Meager 3,000 Payroll Increase
President Donald Trump's ambitions to revive America's manufacturing jobs are a "pipe dream," an economist told Newsweek after Labor Department figures showed a meager increase in the manufacturing sector's payroll.
Non-farm payrolls increased by just 75,000in May, far below the 180,000 predicted by economists, whilethe unemployment rate remained at the 3.6 percent posted in April, the lowest level in half a century.
The report only indicated slow growth for one month, but manufacturing posted the third straight month of slow growth, adding just 3,000 jobs.
The situation for those already working in manufacturing is also underwhelming.Dean Baker, the co-founder of the Center for Economic Policy Research, noted that government data shows annual wage growth for the manufacturing industry was slower than the private sector, coming in at 2.2 percent.
"Mr. Trump for over two years has been huffing and puffing about reviving manufacturing employment. This is a pipe dream," Lawrence White, an economics professor at NYU's Stern School of Business, told Newsweek.
"Manufacturing is not going to disappear from the U.S., but the long-run trend for the last 40 years has been downward in terms of contribution to GDP and especially in terms of employment. We have been increasingly a services-oriented economy, and that is likely to continue," he said.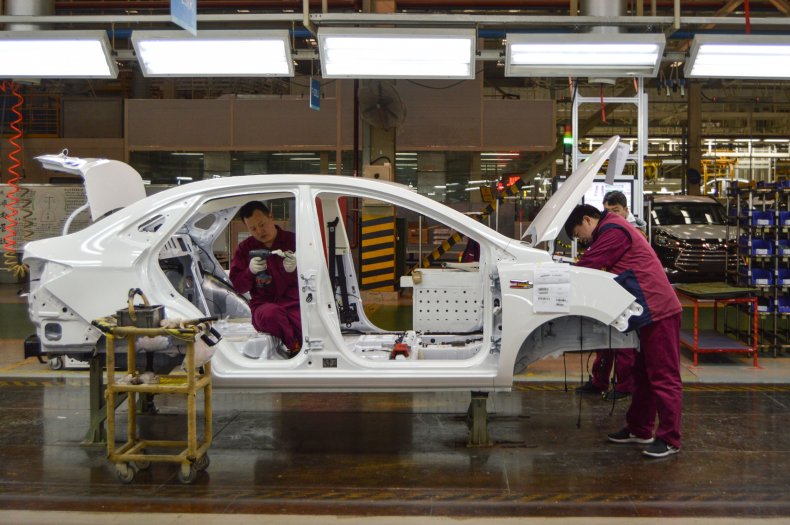 Trump's inability to revitalize the manufacturing sector isn't a personal failure as much as an indicator of shifts in the domestic labor market. But escalating trade tensions with China aren't helping Trump's declared intention of boosting manufacturing jobs, White and Baker said.
The president's decision to increase tariffs from 10 percent to 25 percent on Chinese imports last month, which prompted China to retaliate by raising tariffs as much as 25 percent on $60 billion of goods it imports from the U.S., has amplified concerns about the state of the global economy.
The trade escalations have also led to disruptions in supply chains.
Baker told Newsweek that the impact of Trump's trade war on manufacturing has been exaggerated but expressed concern that the president's threat to implement a tariff on all Mexican imports would have a more significant impact on the economy.
"We're much more integrated with Mexico," Baker said, noting that the U.S. automobile industry would particularly suffer. Deutsche Bank analysis estimated that General Motors imports 29 percent of car parts and 17 percent of vehicles from Mexico, while Ford and Fiat Chrysler also import a significant amount of parts and cars from America's southern neighbor.
"You're in effect putting tariffs on GM cars," which would likely have to pass some costs on to consumers, Baker continued. "That's going to encourage people to buy cars from other companies, non-U.S. companies."