The Organization for Economic Cooperation and Development warned that "the world economy is in a dangerous place" and signaled that an intensification of the trade tensions between the U.S. and China would have a negative impact on the American and global economies.
Describing projected global economic growth in the next two years as "moderate but fragile," the organization warned Tuesday that increasing international trade tensions could "further curb strong and sustainable medium-term growth worldwide." It said the slow growth rates would not lead to major improvements in living standards or employment.
"The world economy is in a dangerous place. Unless there is a de-escalation of trade tensions, the outcome could be much worse than in our central scenario," OECD Secretary-General Ángel Gurría said. "Global trade growth has already fallen markedly, from 5.5 percent in 2017 to projected rates of 2.1 percent in 2019 and 3.1 percent in 2020. It should be growing at double the rate of GDP [gross domestic product]." He reiterated the comments when speaking with CNBC saying that the "spillover effect" of the U.S.-China trade tensions "is becoming more and more evident," and "uncertainty," which is exacerbated by trade tensions, "is the greatest enemy of growth."
The organization released projections on Tuesday saying that the U.S. GDP would grow 2.8 percent in 2019 but only 2.3 percent in 2020. The world GDP is projected to grow by 3.2 percent in 2019 and 3.4 percent in 2020. Trump promised on the campaign trail to promote economic growth above above 3 percent and said in 2017 that he hoped to have growth as high as 6 percent—levels far above what was seen during the prior administration.
"The Outlook identifies continuing trade tensions as the principal factor weighing on the world economy," a Tuesday press release from the organization said. "It underlines that the current cycle of trade disputes is hurting manufacturing, disrupting global value chains and generating significant uncertainty that is weighing on investment decisions, and highlights the risk of further disruption."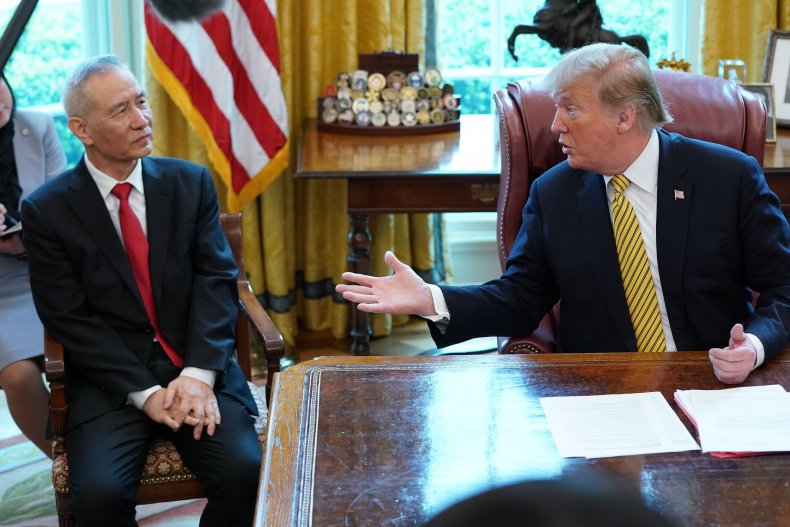 The warnings from the economic organization come after the recent escalation of trade tensions between the U.S. and China that have prompted cautions from large financial institutions about the possibility of recession and generated concern from economic analysts.
Earlier this month, President Donald Trump, who has regularly accused Beijing of unfair trade practices, increased tariffs from 10 percent to 25 percent on $200 billion of Chinese imports. China retaliated by raising tariffs as high as 25 percent on $60 billion of goods it imports from the U.S.
Trump has falsely claimed that China is paying for the tariffs, but studies have shown that the U.S. is absorbing the costs. Last week, Goldman Sachs said that the costs of the tariffs levied last year had "fallen entirely on U.S. businesses and households."
Farmers, who overwhelmingly voted for Trump in 2016, have been impacted by the retaliatory tariffs from China. As the trade tensions drag on, some are voicing dissent and renouncing the president. On Monday, Kansas Senator Jerry Moran, a Republican, urged Trump to resolve the tensions.
"Kansas farmers and ranchers understand the need to hold China accountable for bad behavior on trade. Yet, net farm income has fallen by 50 percent since 2013 and the trade war has pushed commodity prices down even further," he wrote in a letter to Agriculture Secretary Sonny Perdue. "Many farmers and ranchers are on the verge of financial collapse."