Many Heralded the Biden Administration but More Immigration Work is Needed | Opinion
On a recent afternoon my phone rang. On the other end was a woman named Veronica, who explained in Spanish that her friend Lucia recommended contacting me. Veronica was an undocumented immigrant from Mexico and needed help.
I had met Lucia nearly three years ago at a clinic for undocumented immigrants in New York City. She, along with dozens of other asylum seekers, sought legal support, referrals and assistance with asylum applications and court appearances.
Under the tutelage of attorneys and trained volunteers, I filed applications, tracked documentation and made calls to organizations offering free legal representation. Along the way, I learned details of these immigrants' stories, including that of Lucia, who had made the agonizing decision to bring her oldest daughter to the United States, leaving two younger children in Mexico in her parents' care while she pled asylum from an abusive spouse. For months, we tried unsuccessfully to secure an attorney who would represent her in her initial hearing. Every pro bono lawyer in the city was overwhelmed. I sometimes saw these same lawyers hustling along 6th Avenue in Manhattan, phone to ear, scribbling frantically on scraps of paper.
Lucia called me before her master calendar hearing—the preliminary appearance before an immigration judge to determine what form of relief she was seeking and to set future deadlines and hearing dates. She was terrified that, as had happened recently to an acquaintance, ICE officials would arrest her at the courthouse. She called again before her merit hearing.
Mid-pandemic, she was weighing the risk of catching COVID on the subway with possible arrest if she missed court. That hearing was postponed indefinitely and Lucia called a third time, unsure how to ascertain the rescheduled date. That same predicament was why, months later, Veronica sought my advice.
Immigration advocates heralded the arrival of the Biden administration and its commitment to immigrants' rights, but the crisis is far from over. To be clear, the word crisis does not apply to some mythical surge of migrants at the border but to the challenges facing those bottle-necked in the throes of an inadequate immigration system and the root causes motivating migration in the first place. Millions of immigrants, Lucia and Veronica among them, languish in the system, awaiting a verdict that will either grant them asylum or deport them to their home countries. Thousands more bide time in holding facilities throughout the U.S.
I visited detention centers under the auspices of The Center for Human Rights & Constitutional Law (CHRCL), which represents all minors detained under the Flores Settlement Agreement. CHRCL is the only non-governmental organization authorized to visit every detention site holding children and to monitor the government's compliance with the Flores Settlement. The settlement sets standards for the humane treatment, detention and prompt release of immigrant children in federal custody.
Despite stipulations that children must be released "without unnecessary delay" to an appropriate sponsor, whether that is a parent, relative, or parental designee, I interviewed children who ranged in age from single digits through 17, primarily from Mexico and Central America, who were in custody upwards of nine months. Many of these children had relatives in the United States, yet deliberate, bureaucratic delays meant they spent far longer than necessary in institutional settings, where contact with family was limited to two, 20 minute calls per week. Every movement was monitored by staff, and sweatshirts and sneakers were devoid of laces, a preventative measure to ward off potential suicide attempts.
When I recounted these observations to a group of conservative-leaning businessmen at a pre-COVID gathering, they—who had just been exchanging false, right wing media-informed proclamations on immigration—fell silent.
"What do we do?" one of them finally asked. "What do you suggest we do?"
Effective immigration reform must address multiple issues, including:
—Developing an orderly process for managing asylum seekers and addressing the humanitarian crisis at the border;
—Shifting the narrative to dispel immigration myths and misinformation;
—Coordinating with the global community to resolve the root causes of migration;
—Rescinding barriers to immigration due to religion, country of origin, or LGBTQ+ status;
—Decriminalizing undocumented immigration status;
—Providing educational and employment opportunities and a path to citizenship for Dreamers and Temporary Protected Status holders;
—Ending family separation and reunite families separated under this inhumane policy.
The Biden administration's proposal addresses many of these issues. However, acceptance and implementation of that plan cannot occur exclusively at the federal level. Successfully resolving the immigration crisis necessitates taking an honest account of who we are as a nation, who we want to be and what work we're willing to do. It demands a shift in perspective and policy that we, through generations of waves of immigration, have never achieved. It requires holding elected officials accountable and asking, "What can I do?"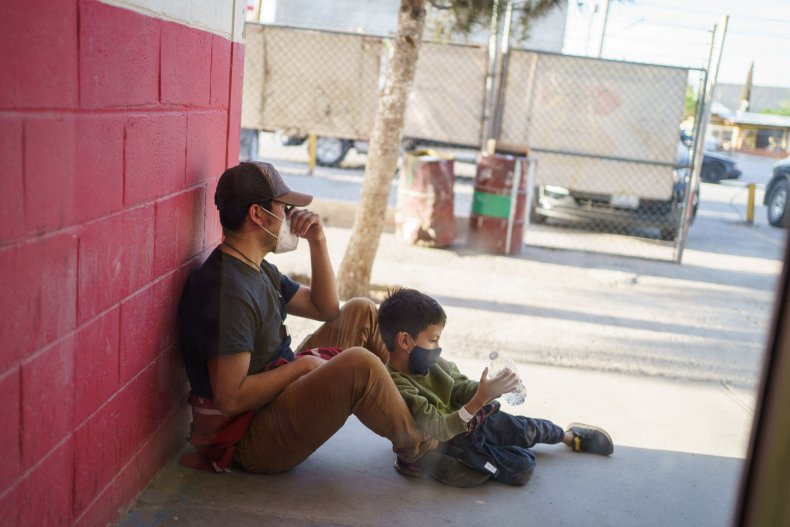 We must begin with education, with unraveling the myths that have been allowed to fester for far too long. Immigrants live in nearly every community across the United States, but most Americans are vastly under-educated on the complexities facing this population.
Immigrants do not arrive at our borders wishing to abuse our welfare system, scam Social Security, or establish drug cartels. In fact, arrest rates for violent crimes are much higher among the general U.S. population than among undocumented immigrants—research that directly contradicts the previous administration's politically fueled and factually inaccurate claims.
The average immigrant is much likelier to be a father working a low-paying job in a meatpacking plant so his children can sleep in warm beds, even if those beds are mattresses on the floor. Immigrants are likely to be a mother who drags her young daughter to her night job cleaning offices because shift cleaning is the only employment she can find, or a 16 year old struggling in school because he works until 1 a.m. and the district's alternative education program is full. These are all stories of individuals I've worked with during two decades of immigrant advocacy. I've spoken to parents who trusted their babies to strangers promising to carry them safely across the border, to siblings who crossed the Rio Grande on rafts, huddled for warmth against freezing night air and children who hiked thousands of miles across the desert alone.
They flee violence, abuse, poverty, discrimination, climate change effects and political instability, situations that many of us, generations removed from our own ancestral immigration experiences, cannot imagine. They believe that whatever awaits them here is better than what they leave behind.
Hand-in-hand with education is the need for informed action. The Biden administration's far-reaching plan provides a path to citizenship for over 1 million Dreamers and TPS holders, commits to keeping families together, clears the backlog Lucia, Veronica and over 10,000,000 undocumented immigrants face, eliminates religion-affiliated discrimination against asylum seekers from select countries and establishes a commission to support workers' rights. It promises to fund local organizations working with immigrants, provide greater education to Border Patrol agents and strengthen the court system. It is ambitious and addresses many immigration advocates' top priorities, but it is not guaranteed to pass, nor succeed.
Success depends upon all of us. It depends upon bipartisan, multilateral support, coordination between federal and state agencies and community partners and a national attitudinal shift. It depends upon our willingness to empathize with immigrants' plights and do what we can within our own communities. Through education, advocacy and assistance, we can each play a role, wherever we live.
Immigrant justice work does not just take place at the border but in cities and small towns across the country, in New York, in Los Angeles and in Portland, Maine. It takes many forms—staffing crisis hotlines, donating supplies to organizations doing direct service work, contacting legislators to advocate for humane policies and spreading awareness on social media. The fate of millions, including Lucia and Veronica, depend on the actions we take next, on whether we turn our collective back or finally heed their cries.
Names have been changed to protect privacy.
Samantha Facciolo writes about education, immigration and social justice for outlets including Marie Claire, Sojourners and The Philadelphia Inquirer. She is on Twitter @seesamwrite.
The views expressed in this article are the writer's own.