A new map of the United States shows which areas across the country are still struggling to contain the spread of the coronavirus.
The map, which was shared on Twitter Friday by Politico health care reporter Erin Banco, uses five classifications to determine "areas of concern" as the nation continues to grapple with the pandemic.
Those classifications are low or moderate burden areas, emerging hot spots, hot spots, sustained hot spots, and high or moderate burden areas that are resolving.
According to the map, states across the Northeast—Pennsylvania, New York, New Jersey and Massachusetts—as well as areas in North Carolina, South Carolina and Florida are largely considered sustained hot spots.
That means a number of communities in those areas "have had a high sustained case burden and may be at higher risk for experiencing health care resource limitations," the map says.
Additionally, the map shows that across the Great Plains and Midwest, states are largely experiencing a low or moderate burden of virus cases. Those areas represent communities with minimal virus activity or a moderate decrease.
One of the most notable aspects of the map shows that Missouri is almost entirely classified as a virus hot spot. According to data compiled by The New York Times, over the past week Missouri has seen a 27 percent increase of new virus cases across the state.
The new diagram comes at a time when virus cases have been generally falling across the U.S. amid growing success with the country's vaccine rollout. However, experts have warned that concerns could arise as states begin to ease virus restrictions too early, and with fast-spreading variants of the virus.
"The performance of our current immunity, whether naturally acquired or through vaccination, against the variant strains of the coronavirus is unknown, and the science has been mixed," Lewis Nelson, chair of Emergency Medicine at Rutgers New Jersey Medical School, told Newsweek last week.
"If a variant escapes detection by our immune system, it can propagate rapidly through the U.S. population, just as the native strain did back last March. For this reason, we cannot yet stop wearing masks, socially distancing, washing our hands and being smart about our activities," Nelson added.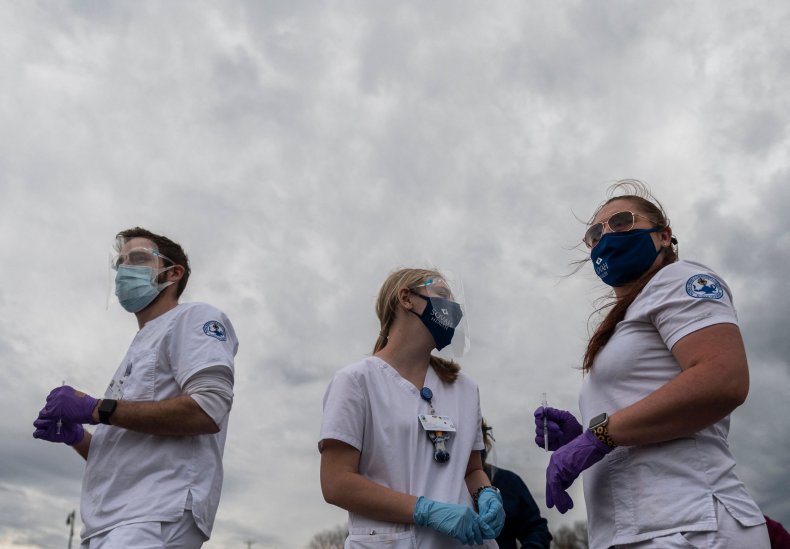 So far, over 77 million U.S. adults, or 23 percent of the population, have received at least one dose of the vaccine. According to the Centers for Disease Control and Prevention, 41 million Americans have been fully vaccinated.
Last week, President Joe Biden said that he directed states, tribes and territories to make all adults eligible for a vaccine by May 1. He added that his hope is to get the nation closer to "normal" by the Fourth of July.
"We're going to go from the million shots a day that I promised in December, before I was sworn in, to beating our current pace of 2 million shots a day, outpacing the rest of the world," Biden said on March 11.
However, some states, including South Dakota, Hawaii, North Dakota, Connecticut, West Virginia and New Mexico, are already moving closer to herd immunity and could soon reach a point where a majority of their population is inoculated.