Marble Racing Trends Among Desperate Sports Fans as Major Events Suspended Due to Coronavirus Pandemic
Americans have been finding new ways to amuse themselves now many sports have been postponed due to the coronavirus disease 2019 (COVID-19)—leading to a burst of interest n marble racing.
Terms such as "Comet" and "Pollo Loco" are trending, leading curious social media users to videos of marble racing—which is proving to be a great replacement for the NBA, the NHL, MLS. and the MLB, which have all been suspended due to the COVID-19 pandemic. President Donald Trump declared a national emergency in response to the pandemic on March 13, 2020.
What is Marble Racing?
The sport sees where marbles released down a track, and whichever marble gets to the bottom or the end first will claim the victory. According to the Marble League Wiki, all competitors have to be 16mm (0.6 inches) in diameter and there can be disqualifications for incidents such as pushing a block off the track, blocking another marble, jumping into another lane or false starts.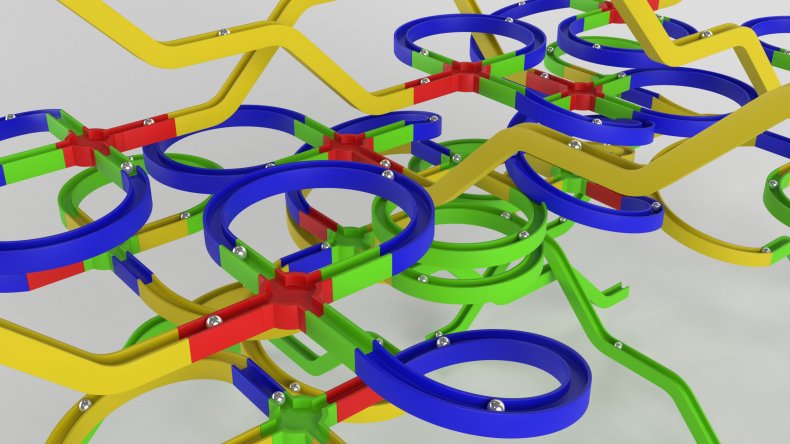 Each season has 16 events, with points awarded for placements in each race. The points are as follows, according to The Marble League:
1st—25 points
2nd—20 points
3rd—15 points
4th—12 points
5th—11 points
6th—10 points
7th—9 points
8th—8 points
9th—7 points
10th—6 points
11th—5 points
12th—4 points
13th—3 points
14th—2 points
15th—1 point
As on March 9, the Marble League YouTube page had 600,000 subscribers, with its last Marbula One race attracting 11,000 live viewers.
Who are Comet and Pollo Loco?
Many social media users have seen that "Comet" and "Pollo Loco" are trending. These terms are names of marbles that compete in the Marble League. Videos that people are watching on trends are from the 2019 season, with the 2020 season underway on YouTube.
Teams in the mix include:
Balls of Chaos
Bumblebees
Chocolatiers
Crazy Cat's Eyes
Green Ducks
Hazers
Hornets
Indigo Stars
Jawbreakers
Jungle Jumpers
Kobalts
Limers
Mellow Yellow
Midnight Wisps
Minty Maniacs
O'rangers
Oceanics
Pinkies
Raspberry Racers
Rojo Rollers
Savage Speeders
Shining Swarm
Snowballs
Team Galactic
Team Momo
Team Primary
Thunderbolts
Turtle Sliders
Where Can I Watch Marble Racing Live?
The Marble League is run by Jelle's Marble Runs Committee, which also runs Marble League Showdown—a qualifier for the Marble League—Sand Marble Rally and Marbula One.
The Sand Marble Rally, which features Comet and Pollo Loco, has finished its 2019 season and can be watched on Jelle Marble Runs' YouTube channel.
The 2020 season of Marbula One is underway and can also be watched on the YouTube channel. Season 1, Race 5—Greenstone GP—aired on March 15, 2020.
The Marble League 2020 season will start in June 2020.