Thousands of people took to the streets of major cities across the country on Saturday June 11 as part of a nationwide demonstration against gun violence organized by the March for Our Lives group.
The student-led organization was born in 2018 after the shooting at Marjory Stoneman Douglas High School in Parkland, Florida, where 17 people were killed and 17 more injured by a 19-year-old gunman.
After the May 24 shooting at Robb Elementary School in Uvalde, Texas, where 19 students and two teachers were killed, the group organized another big day of protests on June 11.
Survivors of gun violence and the families and friends of victims of mass shootings made impassioned speeches about their experiences, calling for stricter gun control legislation. Here's some of the best quotes from the day.
"Enough Is Enough"
District of Columbia Mayor Muriel Bowser, who attended the rally in her city, told the crowd of protesters that "enough is enough."
"I speak as a mayor, a mom, and I speak for millions of Americans and America's mayors who are demanding that Congress do its job. And its job is to protect us, to protect our children from gun violence."
"I'm Sorry. I'm So Angry"
David Hogg, a survivor of the 2018 massacre at Marjory Stoneman Douglas High School in Parkland and a founder of March For Our Lives, said he was "so angry."
"As we gather here, the next shooter is plotting his attack," he said. "If our government can't do anything to stop 19 kids from being killed and slaughtered in their own school, and decapitated, it's time to change who is in government."
"Our Elected Officials Betrayed Us"
On stage with Hogg was Manuel Oliver, whose 17-year-old son, Joaquin, was killed in Parkland.
"Our elected officials betrayed us and have avoided the responsibility to end gun violence," Oliver said.
He called for nationwide school strikes if politicians fail to impose stricter gun control legislation.
"Avoid attending school if your leaders fail ... to keep us safe," he said. "Avoid going back to school if President Biden fails to open a White House Office of Gun Violence Prevention so that we can finally give this issue the attention that it deserves."
"We Don't Have To Live Like This"
"We've been here before, and we have been here before too many times. We don't have to live like this," Mayor Bowser told the crowd in D.C.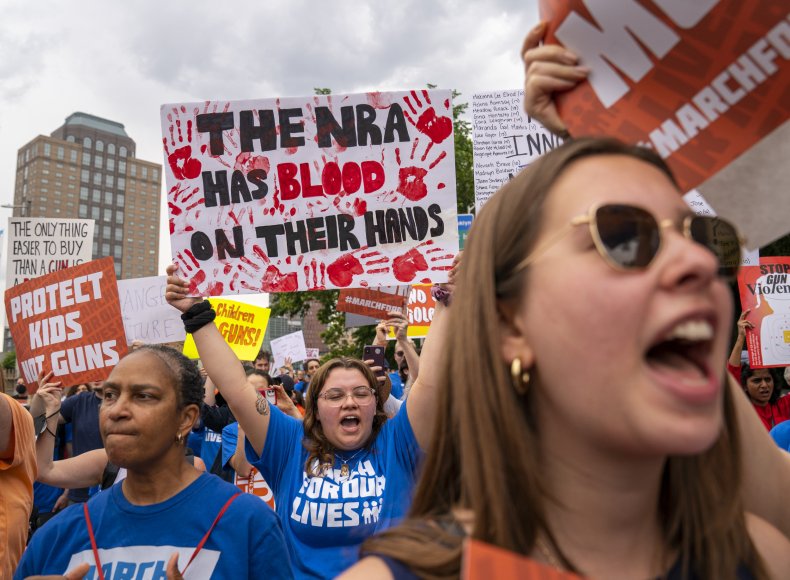 "Until it Happened to Us, We Were Sitting on the Sidelines"
In Washington D.C. was also Garnell Whitfield Jr., the son of 86-year-old Ruth Whitfield, who was killed during the racist mass shooting in Buffalo, New York, in May.
"We were being naive to think that it couldn't happen to us. And until it happened to us, we were sitting on the sidelines," he told the crowd. He said guns were only one part of the problem that needed to be addressed, and called for the passage of an anti-white supremacy hate crime bill as well as gun control legislation.
"I'm Going To Create Some Real Change"
At the demonstrations in Austin, Texas, Jazmin Cazares, the sister of Jackie Cazares, one of the victims of the May 24 Uvalde school shooting, was present with her dad.
"I am unbelievably angry, but I'm not going to turn my anger into hate," Jazmin, 17, told the crowd.
"I'm going to channel that anger. I'm going to create some real change. [...] I have no way to express how I feel, how hurt I feel, and the hurt everybody in Uvalde feels. I'm doing this for you, sister. If you can see me, I'm doing this for you. You will be remembered. I promise you."
"Generation Z Is Done With The 'Thoughts And Prayers'"
In Los Angeles, Santiago Mayer, executive director of Voters of Tomorrow, expressed the frustration of Gen Z for the current situation.
"We have grown up in a world where we all jump when a balloon pops. In a world where we have to scan every single exit and the movements of our classmates at school," he told the California crowd.
"We don't live like this because we like it, we live like this because every single day the people in power make the conscious decision to put the NRA's money over our lives," Mayer said. "It's incredibly frustrating to keep talking about this, because every time that we try and do something, the other side just throws their hands up in the air and gives us 'thoughts and prayers.' Generation Z is done with the games, done with the 'thoughts and prayers'," he added, calling for a ban on assault-style rifles and raising the minimum age to buy a gun to 21.
"When We Fight, We Win"
In Milwaukee, Wisconsin, college student and gun control activist Tess Murphy told the crowd she was angry and frustrated about the current situation.
"But one thing I'm not is hopeless," she said. "When we fight, we win."