Marco Rubio Backs Union over Amazon in Alabama Battle
Senator Marco Rubio has backed workers unionizing at an Amazon warehouse in Alabama as he has accused the firm of burning bridges and waging a "culture war" against working-class values.
The Florida Republican wrote in a USA Today op-ed that he was standing with Amazon workers organizing at a Bessemer warehouse, and said "uniquely malicious" behavior from the tech titan justified an "adversarial approach to labor relations."
He also said Amazon would find itself "sorely mistaken" if it assumed that conservatives would rally to its aid in the face of the crucial union drive, which could spark a raft of organizing efforts at other facilities.
In his op-ed published on Friday, Sen. Rubio said: "When the conflict is between working Americans and a company whose leadership has decided to wage culture war against working-class values, the choice is easy — I support the workers. And that's why I stand with those at Amazon's Bessemer warehouse today."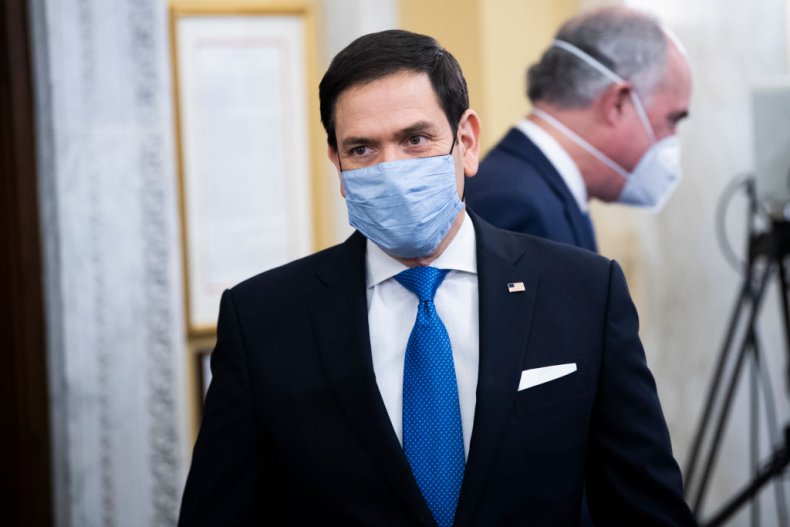 The potential 2024 candidate later said marching with his father and other Culinary Workers Union members was one of his earliest political memories—pitching himself as a pro-worker conservative.
"[Amazon] workers are right to suspect that its management doesn't have their best interests in mind," Rubio added. "Wealthy woke CEOs instead view them as a cog in a machine that consistently prioritizes global profit margins and stoking cheap culture wars. The company's workers deserve better."
Newsweek has contacted Amazon for comment on the op-ed and union drive.
The Associated Press reported that around 6,000 Amazon workers in Bessemer, Alabama began voting on forming a union in February this year, with the process expected to continue to the end of March. The union drive is the largest attempt at organizing Amazon workers in the company's three-decade long history.
Senator Rubio is not the only lawmaker to have backed the union faction. A number of progressive Democratic lawmakers have given their backing to the union effort, and lashed out at the firm's use of anti-union tactics.
President Joe Biden has also offered his support to unions and workers fighting to organize as the highly publicized Amazon drive has moved forward since the start of the year.
"I have long said America wasn't built by Wall Street, it was built by the middle class. And unions built the middle class," the president said in February. "Unions put power in the hands of the workers. They level the playing field."
He also issued a pointed warning to firms that they should not use threats or intimidation tactics to try and bust union organizing efforts.