Marco Rubio Criticizes Biden's 'Ivy League' Cabinet Picks, but Some Trump Appointees Also Attended Ivies
Florida Senator Marco Rubio on Tuesday criticized President-elect Joe Biden's "Ivy League" Cabinet picks, despite the fact that several of President Donald Trump's Cabinet members also attended Ivies.
"Biden's cabinet picks went to Ivy League schools, have strong resumes, attend all the right conferences & will be polite & orderly caretakers of America's decline," Rubio wrote in a tweet. "I support American greatness. And I have no interest in returning to the 'normal' that left us dependent on China."
Rubio's comments come shortly after Biden announced several new choices for his Cabinet, as well as a few non–Cabinet level picks, many of whom did attend Ivy League schools.
Antony Blinken, who attended Harvard College and Columbia Law School was picked for secretary of state; Janet Yellen, who was tapped for treasury secretary, graduated summa cum laude from Brown University in 1967 and received a doctorate in economics from Yale University; John Kerry, who was named a special presidential envoy for climate, attended Yale University; and Jake Sullivan, who was named a national security adviser, holds a B.A. in political science and international studies and a J.D. from Yale. Cabinet-level appointees require confirmation by the Senate.
Biden also announced several other new picks, including Alejandro Mayorkas as the secretary of homeland security; Linda Thomas-Greenfield, as the U.S. ambassador to the United Nations; and Avril Haines, as the director of national intelligence.
Kerry, Sullivan and Thomas-Greenfield are not Cabinet-level picks for Biden's administration, and so would not require Senate approval.
Newsweek reached out to Biden's transition team for comment but did not receive a response in time for publication.
While several of Biden's choices did previously graduate from an Ivy League school, a number of Trump's Cabinet choices did as well, including the president himself. Trump attended Fordham University for just two years and later received a bachelor's degree from University of Pennsylvania's Wharton School.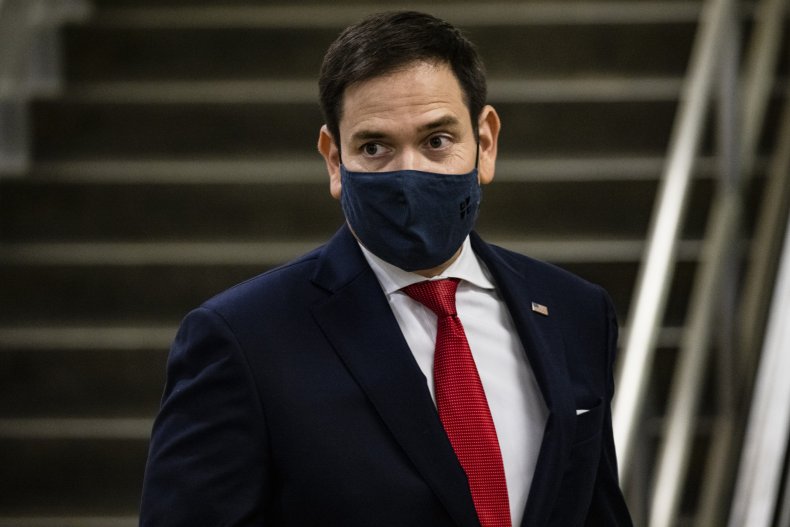 Secretary of State Mike Pompeo graduated from Harvard Law School after graduating from West Point; Treasury Secretary Steven Mnuchin graduated from Yale University; Attorney General Bill Barr graduated from Columbia University; Secretary of Commerce Wilbur Ross graduated from Yale University and Harvard Business School; Secretary of Health and Human Services Alex Azar graduated summa cum laude from Dartmouth College and received his law degree from Yale; Secretary of Housing and Urban Development Ben Carson graduated from Yale University; Secretary of Transportation Elaine Chao earned her MBA from Harvard Business School and trade adviser Peter Navarro received a Ph.D. in economics from Harvard University.
Additionally, Trump's former secretary of defense, Mark Esper and former secretary of labor, Alexander Acosta, both graduated from Harvard University.
Newsweek reached out to Rubio's office for comment but did not receive a response in time for publication.