Marco Rubio Faces Backlash After Calling Omicron Concerns 'Irrational Hysteria'
Senator Marco Rubio faced backlash Friday and Saturday for calling Omicron concerns "irrational hysteria" as COVID cases continue to rise across the United States.
Rubio, a Florida Republican, tweeted on Friday: "Record numbers testing positive for a sore throat isn't a crisis. And people in the hospital for car accidents testing positive isn't a surge."
He added: "The real crisis is the irrational hysteria which has people with no symptoms waiting hours for a test or missing work for 10 days."
Twitter users, including doctors and health experts, quickly condemned the tweet. Many pointed out that cases and hospitalizations have increased in recent weeks as the Omicron variant became prominent in the U.S.
Krutika Kuppalli, who serves on the World Health Organization's COVID-19 technical team, wrote the tweet is "exactly the narrative" she was worried about.
"We still don't know #Omicron causes less severe disease but has become so politicized leaders say it only causes a 'sore throat' without thinking of the immediate & long term (post #COVID19 condition #LongCovid) effects," she wrote.
Kuppalli continued, writing that Omicron "does not only cause a 'soar throat'" and that hospitalizations are also rising. She wrote that while many people infected with it may experience more mild symptoms, they can still give the virus to those who are immunocompromised.
"The strain this is putting on healthcare systems and workers is tremendous. Procedures that are non-emergent like cardiac catheterizations, biopsies, & other important surgeries are being postponed. This may lead to delays in diagnosis of things like cancer & adverse outcomes," she wrote.
Jonathan Reiner, a professor of medicine and surgery and George Washington University, wrote: "Cases are up 1047% (10x) in the last 2 weeks. Yes, Senator that's a surge. You can keep your head buried in the sand but hospitalizations are now rising sharply (up 129%) and 62,000 Floridians have died from this virus. Keep up the good work."
MSNBC Host Mehdi Hasan pointed out the virus's soaring death toll.
"Covid continues to produce a 9/11 death toll in this country every 3 days but one of the GOP's biggest hawks - in between posting verses from the Bible - shows he doesn't actually give a damn about American lives lost and thinks the worst pandemic in a century is a 'sore throat,'" he wrote.
Twitter user Jeff Tiedrich wrote: "Marco Rubio needs to work three straight shifts in a hospital intensive care ward and then get back to me about what America needs right now."
Coronavirus cases have soared in recent weeks. On Friday, the United States had a seven-day-average of 378,516 new cases per day—the highest of the pandemic. One month earlier on November 30, that number was 83,217, according to The New York Times.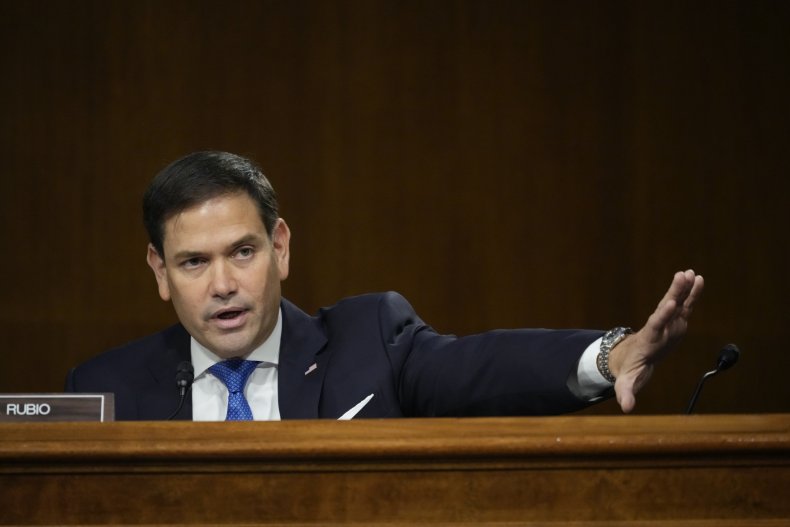 Even as some researchers say Omicron may lead to less severe illness than other variants, hospitalizations have increased. Friday saw an average of 85,902 hospitalized patients across the U.S., up from 55,346 on November 30, according to the Times.
Newsweek reached out to Rubio's office for comment on Saturday but did not hear back by publication. This story will be updated with any response.