Marco Rubio: 'I Don't Think' FBI Did Anything Wrong in Carter Page Surveillance
Senator Marco Rubio of Florida said Sunday he does not think the FBI acted inappropriately in its surveillance of Donald Trump campaign aide Carter Page, who, Rubio said "went around the world bragging about his connections in Russia."
"By the Trump campaign's own admission, Carter Page was not a big player in their campaign," Rubio said on CNN. "I don't believe that them looking into Carter Page means they were spying on the campaign. I also don't think it proves anything about collusion or anything like that."
Rubio's comments come one day after the FBI released a previously classified warrant from 2016 that allowed the organization to conduct surveillance on Page, who served on the Trump campaign as a foreign policy adviser. "The FBI believes that Page has been collaborating and conspiring with the Russian government," the document said.
President Trump, without supporting evidence, tweeted Saturday after the documents were released that they "confirm with little doubt that the Department of 'justice' and FBI misled the courts. Witch Hunt Rigged, a Scam!"
Minutes later, he added, "Looking more & more like the Trump campaign for President was illegally being spied upon (surveillance) for the political gain of Crooked Hillary Clinton and the DNC. Ask her how that worked out- she did better with Crazy Bernie. Republicans must get tough now," he said. "An illegal Scam!"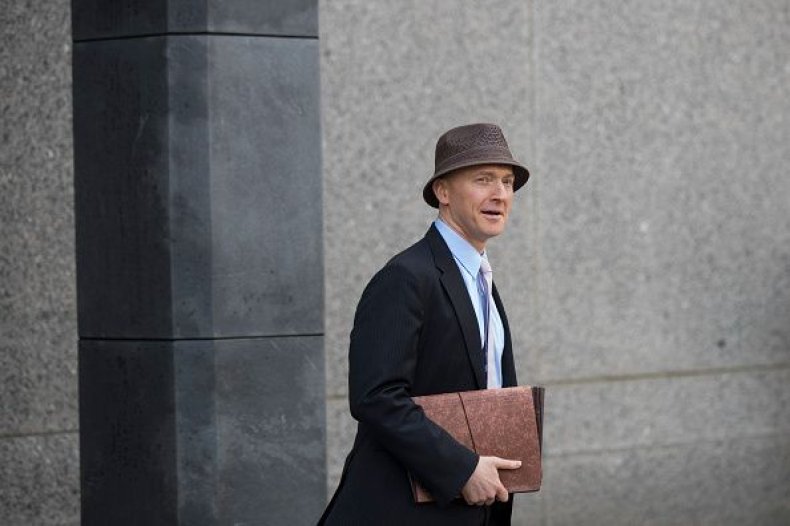 Page has repeatedly denied he made any deals with Russia on behalf of the Trump campaign. "This is so ridiculous it's just beyond words," Page said on CNN Sunday. "I've never been an agent of a foreign power by any stretch of the imagination."
He also directed a tweet at Rubio Sunday that linked to an October 2017 Newsweek article that detailed Paul Singer, an initital donor to Rubio's 2016 campaign for president, whose website, the Washington Free Beacon, was the first to engage Fusion GPS, the Washington D.C. reasearch firm behind the Trump-Russia dossier.
"Given alleged connections between one of your large 2016 donors and the Oppo Research firm that commissioned the FISA abuse #DodgyDossier, what did you know and when did you know it?"
Rubio pushed back on Trump's assertion Sunday that his campaign had been spied on in a tweet that said, "The @FBI had many reasons to look into this guy. And looking into him is not "spying" on Trump campaign, because as the White House made clear last year, he was "not an 'advisor' to Mr. Trump in any sense of the word."
Rubio also positioned himself opposite President Trump on the controversial Helsinki press conference the president held alongside Russian President Vladimir Putin last week wherein he promoted the Russian leader's denial of US election interference, but later claimed he misspoke.
"I don't like the way this was handled throughout the week," he said. "I wish it had gone differently."