Marco Rubio Proposes Modest Gun Control Measures
Florida Senator Marco Rubio on Thursday announced a series of modest gun control measures he either endorses or plans to introduce in the wake of the mass shooting at a high school about an hour's drive from his Miami office.
Rubio called the Valentine's Day massacre at Marjory Stoneman Douglas High School two weeks ago "the result of a massive multi-systemic failure" as he outlined new legislation for background checks and school safety on the Senate floor.
"It is this failure which I hope we will focus on by addressing the shortcomings and vulnerabilities in our current laws and in our current policies," he said.
"I wanted to come here today for a few minutes and announce a comprehensive plan," he said. "A series of measures that I believe could prevent these attacks before they happen."
Rubio, who the NRA gave an "A+" rating and $3.3 million in contributions over his career, proposed six bills aimed at preventing another tragedy like the one that occurred in Parkland.
One potential bill he detailed was an iteration of what are commonly referred to as "red flag laws." In Rubio's version, law enforcement would be able to seek a court order, or "gun violence restraining orders," to remove firearms from people suspected of posing a threat to themselves or others. (Taking a shot a Trump, who on Wednesday expressed support for unlawfully removing guns from people prior to due process, Rubio added, "to be clear, the due process in such a situation would be on the front end, not on the back.")
Rubio also announced his plan to introduce a "Lie and Try" bill. The measure would require the FBI to alert local law enforcement if someone within their jurisdiction who's barred from purchasing a firearm tries to do so and fails a background check. Such individuals could then be prosecuted.
The senator said he would also look to crack down on "straw purchases," or when people purchase weapons for an individual who can't legally do so.
RELATED: Here's Why the NRA Is So Powerful and Why Gun Control Advocates Have Reason for Hope
David Jolly, a Republican and former Florida Congressman who introduced a modest gun bill after the Pulse nightclub shooting in Orlando in 2016, applauded Rubio for taking up the gun control debate but said his "comprehensive plan" amounted only to "incremental change."
"We need to give credit to any Republican willing to approach any kind of reasonable gun control," Jolly told Newsweek. But, he added, "Rubio's proposals do nothing to address where I think the American people's priorities are right now."
"He's trying to put a lot of passion behind incremental changes. I think right now the American people want comprehensive gun reform," Jolly continued. "They want comprehensive and universal background checks and an assault weapons ban."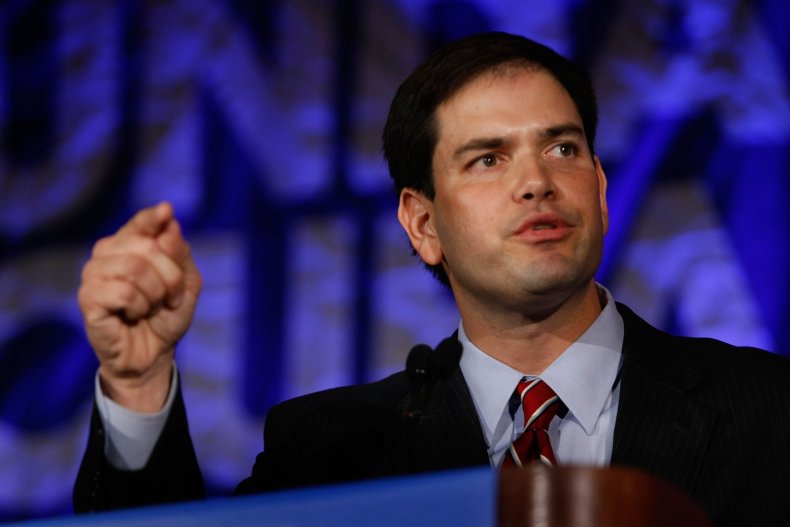 Jolly said that while the willingness to cross the NRA is commendable, Rubio's proposals fall shy of real change and amount to little more than political obfuscation.
"The American people see through these kinds of false screens and incremental changes are just insufficient," he said.
Rubio's proposed regulations did not address raising the minimum age for buying a rifle or limiting high capacity magazines, reforms the NRA opposes and Congressional Republicans have not broadly supported.
"These reforms do not enjoy the sort of widespread support in Congress that the other measures announced today enjoy," he said.
His statutes may not be particularly drastic, but they are passable, Rubio said.
"I believe these ideas will all enjoy bipartisan support," he said. "These are ideas that I outline not just because they work but because I believe we can pass them."