Florida Senator Marco Rubio says Hispanics are set to become "permanent" GOP voters as long as Republicans stick to what former President Donald Trump taught the party about fighting "socialism" and touting "common sense" conservative values.
Rubio told Breitbart News in an interview published Monday that he believes the Hispanic community has begun an overwhelming shift toward voting Republican, largely because Democrats "abandoned" working-class values and embraced "socialist" policies. Although November 2020 exit polls show Joe Biden won two-thirds of the country's Hispanic vote overall, Cuban-Americans in South Florida broke 56-41 for Trump, decisively handing the GOP incumbent the state's 29 Electoral College votes.
Rubio, when asked why Miami Latinos largely swung to Trump in 2020, said it's because many escaped socialist policies to come to the U.S. and the former president's platform was based on "common sense."
"That's what [Hispanic people's] life is built on," Rubio told Breitbart.
"Those are two things the left has abandoned. You hear lots of people talk about whether it's socialism. Socialism is a part of it. Socialism is a part of the common sense part of it. In their mind, if I were to step in the shoes of someone who maybe voted for Obama in 2012, then voted for Donald Trump in 2020, they would say to you, 'Look, I came from a socialist country. I fled it. Why the hell would we do that here?' It makes no sense to them," the senator continued.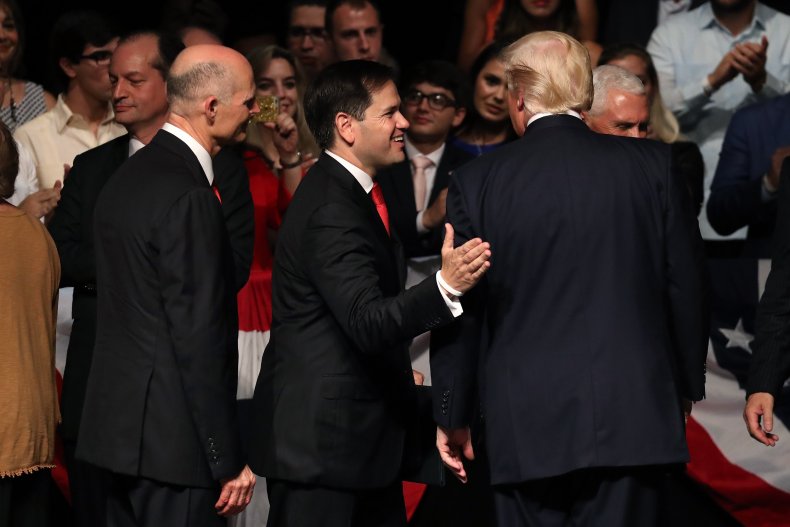 Rubio, who is a Miami native and Cuban-American, reiterated that Hispanic voters are hoping to move away from "socialist" Democratic policies and that the GOP establishment must not revert back to its pre-Trump ways. He cited liberal views of "gender" and support for the George Floyd protests last year as specific items which have turned many Hispanic voters away from the Democratic Party.
"These guys just got turned off by all that, and I think it accelerated through the summer on the pandemic and the rioting and all of that. I think that shift is permanent unless we as Republicans go back to being who we used to be—then we give these people no political home," Rubio added.
The Republican senator went on to accuse the Biden administration of twisting several pandemic benefit programs including the Paycheck Protection Program and enhanced federal unemployment benefits, corroding U.S. small businesses and the workforce as a whole. Rubio claimed the Trump administration "bent over backward" to make PPP work and now Biden has "changed the rules" and created a "catastrophe" where Americans would rather collect unemployment than get back to work.
Rubio's 2022 Democratic senate challenger, Florida Representative Val Demings, is being pushed by her inner circle to double down on Latino voters and to rebuke "defund the police" narratives about the Democratic Party.
Newsweek reached out to Rubio's office Monday afternoon for additional remarks about his view of the Hispanic shift toward a pro-Trump Republican Party.